Stetson Trustees Hyatt and Cici Brown Donate $18M for Science, Health Education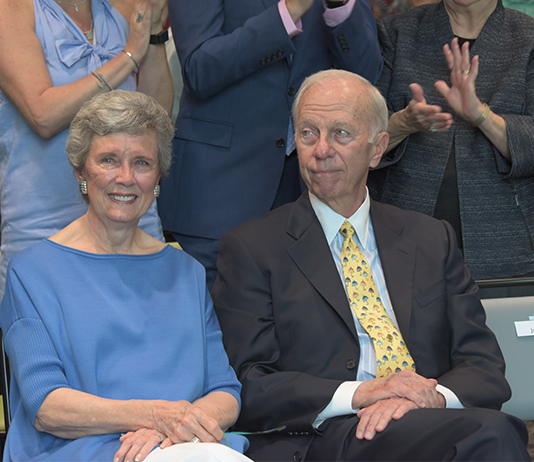 Hyatt and Cici Brown, longtime Stetson University Trustees and supporters, will donate $18 million — the largest single gift in the university's history — to construct a new science building on the DeLand campus and expand science programs.
The gift, announced Monday morning to faculty, staff, students and others in the Marshall & Vera Lea Rinker Welcome Center, moves the university close to reaching the goal of its capital campaign, "Beyond Success – Significance," with $190 million raised toward the overall goal of $200 million.
President Wendy B. Libby, Ph.D., said the donation comes as the Sage Science Center is operating close to capacity and could limit the university's ability to expand its science programs and meet the growing demand for graduates in these high-paying fields.
"The Browns' gift will result in a new facility for science education," Libby said. "But just as importantly, it enables us to take a step back and ensure we have the right planning and programming to support science and health education for the good of our students as they seek higher-paying jobs and entry into the best graduate schools in the country, as well as for our community and the growth of West Volusia."
Sage Hall originally was constructed in 1967 and expanded in 2009. At the time, Cici Brown chaired the Board of Trustees' facilities committee, and she and her husband led the charge to expand the facility a decade ago.
"Sciences and health are an area that Hyatt and I have really become focused on for a number of reasons," Cici Brown said at Monday's announcement, adding that Stetson can prepare students for careers in science and healthcare, especially as the state continues to experience explosive population growth. "We want to be ready. We think Stetson is in an incredible position to make this happen."
The Browns are well-known for their philanthropy. In 2015, the Cici and Hyatt Brown Museum of Art opened in Daytona Beach, housing more than 2,600 of their paintings of Florida-based art.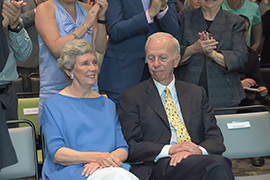 In 2014, their support led to the creation of the Brown Center for Faculty Innovation and Excellence at Stetson. The Ormond Beach couple also has supported Stetson scholarships, athletics, the School of Music and other programs through the years.
Hyatt Brown, a former Speaker of the Florida House, is board chair of Brown & Brown, Inc., a Daytona Beach-based corporation. He joined the Stetson University Board of Trustees in 1981 and currently serves as chair of the board's finance committee. Wife Cici became a Trustee in 1999, and served 13 years on the College of Arts and Sciences' Board of Advisors.
Hyatt Brown told the crowd that private colleges and universities increasingly are facing competition for government funding, and pressure from students and their families to provide degrees that will lead to high-paying jobs.
"Today, people who pay for education … they want to know there is a return," he said, speaking in the Lynn Presentation Room, where windows provided a view of the Sage Science Center. "And so there is a huge sea change coming about in education, and it is a change that is brought on by the economy of the United States and of the world, and it will continue to be more and more intense."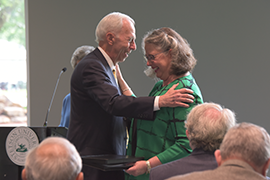 He called their contribution "an investment," not a gift. It will help Stetson continue to be one of the leading economic engines of West Volusia, creating jobs through the construction of a new building and in attracting the better-paying jobs that come with an educated workforce.
"It's really a pleasure for Cici and I to be involved and to be able to participate and be proud of what is happening at Stetson, and so we don't view this as a contribution. We view this as an investment in the future," he said.
Libby said Florida currently has about 55,000 jobs unfilled in STEM fields (science, technology, engineering and math). And between 2016 and 2026, health care is projected to be the fastest-growing employment sector of the economy nationally. Already, biological sciences are an especially popular area of study among Stetson students.
Noel Painter, Ph.D., Provost and Executive Vice President, noted undergraduate enrollment has grown by almost 45 percent in the past eight years, from 2,100 in 2010 to more than 3,000 in 2017. During that time, the number of students interested in science fields has skyrocketed, with more than 100 percent growth in the majors of computer science, environmental sciences and studies, and physics. The number of students in health sciences has grown by 124 percent over the same period.
"With such commitment comes great responsibility to make the impact of this investment more than one that meets our current needs or maybe even our current vision," Painter said. "But one that transforms our ideas about buildings and programs and partnerships, challenging us to double down on our commitment to provide an excellent education."
Added Stetson Board Chair Joe Cooper, "Yes, this gift is about a great opportunity to provide more space, and a new facility for students and faculty who work and learn in Sage Hall, but it's much more than that. Together, it represents a new opportunity for the university."
-Cory Lancaster and Michael Candelaria