Stetson's 30-hour Hackathon draws 106 students from 12 universities, 3 high schools

Stetson computer science major Malak Patel "captured the flag" and captured the attention of security engineers from Apple during Stetson University's third annual hackathon on April 7-8.
The 30-hour event drew 106 students from 12 universities and three high schools to the Rinker Field House to compete in a one-day app-creating competition, a security challenge designed by Apple corporation, and other activities. The event, which this year was renamed the Greater Central Florida Tech Faire + Hackathon, was organized by the Stetson Math and Computer Science Department.
Patel, a computer science major, and Logan Lopez from the University of South Florida were the two winners of the security challenge, which was overseen by a senior security manager and four security engineers from Apple. For their efforts, the two students will be guaranteed an interview with Apple.
Apple's presence at the hackathon "is a very big deal," said Joshua Eckroth, Ph.D., an assistant professor of math and computer science at Stetson. "They're a very important company in the tech industry, especially with respect to security. The fact that part of their security team came here shows they really want to bolster cyber-security interests in our school."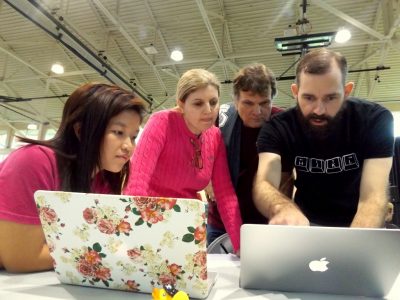 Daniel Plante, Ph.D., Stetson professor of math and computer science, said the event was the first time that Apple had used this "Capture the Flag" security challenge.
"It's a purposefully difficult security challenge," Plante said. "They wanted to test it here and it was a good way for them to see what students at the hackathon were able to do. They're also looking at this as a way of recruiting people for their company who perform well.
"They said the winner would be interviewed by Apple for a position. Instead they had two people who competed very effectively and so both are going to be interviewed."
The overall app competition was won by a team from Embry-Riddle Aeronautical University for their design of Launch League, a game akin to fantasy football but with competitors making predictions about the success of unmanned space flights.
First place in the first-time hackers category, given to students attending the Stetson event for the first time, went to Stetson freshman computer science major Nicholas Gilmet and recent University of South Florida grad Raymond Lian. The duo created an app called Sound Ground, which allows users to play music associated with a particular place.
Plante, Eckroth and Stetson math and computer science professor Hala El Aarag judged the app competition. They and Stetson computer science assistant professor Basar Koc each gave tech talks to attendees.
Other activities included corporate-sponsored coding challenges, code golf (solving coding challenges with the fewest lines of code) and a data science jamboree (big data analysis challenges).
Forty-four Stetson students attended the event, which began Saturday morning, April 7, and ran straight through to the awards ceremony on Sunday afternoon, April 8. Students slept overnight in cots and sleeping bags in Rinker Field House, and ate pizzas and sub sandwiches provided by event organizers.
— Rick de Yampert