Stetson Women's Football Clinic set for July 27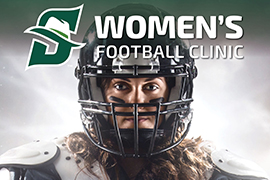 Stetson University is looking for 100 women for football.
The annual Stetson Women's Football Clinic is set for Friday, July 27, from 5:30 p.m. to 9 p.m. Participants will learn the fundamentals of the game before the start of the 2018 Hatter season and have a chance to meet the coaching staff, including Stetson Head Football Coach Roger Hughes.
Registration is $40, with all proceeds benefiting the Florida Hospital DeLand Foundation and the fight against breast cancer.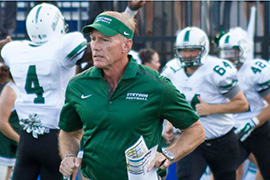 "This annual event is a special deal for Coach Hughes," said Coach Brian Young, Stetson football defensive coordinator. "This is a cause that's dear to him."
The clinic is limited to 100 women, ages 18 and older, and will take place at the Athletic Training Center, 401 E. Minnesota Ave., on the DeLand campus.
"It is a day of fun for an awesome cause," Young said.