Stetson campus 'abuzz with action' on Move-in Day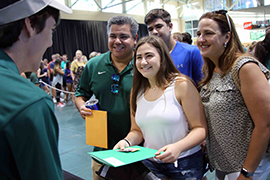 Katie Mullaney arrived early for Move-in Day at Stetson University on Saturday, waiting for the doors to open at the Hollis Center at 7:30 a.m.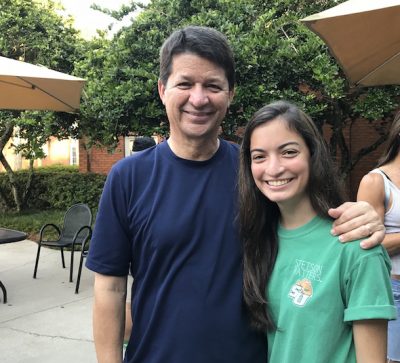 "I'm very nervous," said the first-year student from Jacksonville, adding she was nervous about living in a new place and about college academics. "But I'm excited. It's an exciting new chapter."
She and hundreds of new students moved into residence halls on Saturday and began five days of FOCUS orientation. That orientation continues through Wednesday when Convocation marks the official start of the 2018-19 academic year. Classes begin Thursday.
Incoming students and their families streamed into the Rinker Field House, which was transformed into a one-stop center to get student ID cards, parking decals, Stetson T-shirts and other swag, and campus information. Music played as student FOCUS Leaders danced and cheered.
"Campus is abuzz with action as our new Hatters move in," said Lua Hancock, Ed.D., Stetson vice president of Campus Life and Student Success. "Check-in has been engineered to be a smooth and enjoyable experience for our new students and their families. In the admissions process, we have committed to them that they are joining a community – one where they are not a number and will have individual relationships with faculty, staff and other students."
Hancock noted that the Hatter football team and ROTC returning students were among those on the "home team" gathered outside of residence halls to greet families and help them move the students' belongings into their rooms.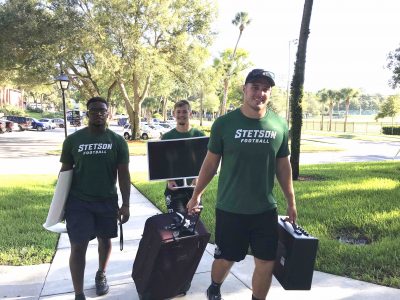 Linebacker Tarren Smith II carried a mini-frig up three flights of stairs in Carson Hall and said it was "pretty easy. This is just like a warmup," compared to their football workouts, the 5-foot-11, 216-pound junior said.
"A lot of them (parents) are actually really grateful for our help and for making the move-in a lot easier," said Smith, a psychology major and high school Honor Student.
Before Move-In Day, 585 students already had settled into the residence halls in recent weeks, including Hatter athletic teams, ROTC students, student workers, WISE scholars, Resident Assistants and international students.
On Saturday, 607 arrived and more than 850 more are expected before classes begin on Thursday, said Larry Correll-Hughes, Ph.D., assistant vice president for Campus Life and Student Success, and executive director of Residential Living & Learning.
"By the time classes start on Thursday, there will be well over 2,050 students living on-campus again," he said. "I am really excited to see the campus come back to its vibrant state when the residence halls, library, classrooms, Palm Court and sidewalks are full of students and energy. 
"It is priceless to see the look on students' faces when they walk into the newly renovated Carlton Union Building and enjoy the new Commons and amazing new spaces on the second floor of the CUB," he added.
Justin Piel, a first-year student from Miami, was settling into his residence hall room in Carson Hall on Saturday morning and said he had visited a number of colleges in Florida, including big schools like the University of Florida, before deciding on Stetson. 
"I like the atmosphere at Stetson and it's different than Miami," he said. "I just like the smaller colleges."
As she waited for the Hollis Center to open on Saturday morning, new student Mullaney and her father said they also were attracted by Stetson's smaller size and its "very good education program."
"My dad encouraged me to apply. I didn't really know much about it," said Mullaney, who wants to become an elementary school teacher. "When I came to Hatter Saturday in April, I absolutely fell in love with it – the people and the atmosphere. Everyone was so genuinely nice. … I just had this feeling like this is where I'm supposed to be."