New Faculty include Brown Fellows in Health Sciences, Sustainable Food Systems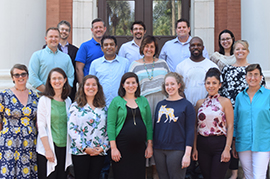 Brown Teacher-Scholar Kirk Roberson knows a way for Stetson students majoring in Health Sciences to easily get hands-on, practical experience right on campus.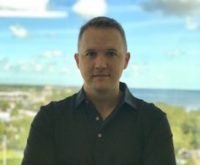 Roberson, Ph.D., will join the faculty for Fall Semester 2018 as a Brown Visiting Teacher-Scholar Fellow in a new interdisciplinary program between the Department of Health Sciences and Stetson's Wellness and Recreation department.
Pairing the two departments is "a perfect match" for students in Health Sciences, who, in addition to seeking careers as physicians, physical and occupational therapists, and other medical professionals, could expand their career options to such things as exercise physiology and sports management, he said.
"As far as the Health Sciences Department being paired with the Wellness and Recreation Center, this is the first time that they've had this position in this capacity," said Roberson, who earned his doctorate in exercise physiology from the University of Miami in May and was named its "Outstanding Doctoral Student of the Year" for 2018.
"The Wellness and Recreation Center has many opportunities for students to start working with either community citizens or in some cases even patients who are referred to start an exercise program. … It gives them an opportunity to start getting real-world experience that they otherwise wouldn't get without a good interdisciplinary relationship between the two departments," he said.
Roberson will be working with the Wellness and Recreation Center to develop a new community-based fitness assessment program. This program will provide students with the opportunity to interact directly with members of the community, and have a positive impact on the overall health and wellness of local citizens.
Roberson is among the 17 new faculty members who will start work at Stetson University for the 2018-19 academic year. He will join Brown Teacher-Scholar, Sarah Cramer, who will help launch a new interdisciplinary program offering a Minor in Sustainable Food Systems in the Department of Environmental Science and Studies.

Cramer, who earned a Ph.D. in Agricultural Education from the University of Missouri in May, will teach Introduction to Food Studies and a Junior Seminar called Seeds of Equity that examines the inequities in America's food system — from food insecurity to migrant labor — based on race, class and gender.
Julia Metzker, Ph.D., executive director for the Brown Center for Faculty Innovation and Excellence, said the Brown Center "invests in the intellectual capital of the institution" by funding four endowed fellows who work as visiting assistant professors for up to two academic years. One of these fellowships is dedicated to STEM fields (science, technology, engineering and mathematics).
The fellowships are funded through a generous endowment from longtime Stetson Trustees Cici and Hyatt Brown and support a "niche area of expertise" that brings a cross-disciplinary approach to the university, according to the Brown Center website.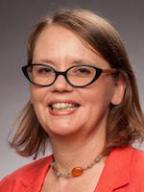 "This is the first time we've had a program between an academic department and a nonacademic program," Metzker said, referring to Roberson's position within the Department of Health Sciences and the Wellness and Recreation Center. "We'd like to encourage more of that." 
Every year, academic departments submit proposals between November and March, and these go to a committee for competitive review. Awards are announced in May, followed by a yearlong search process that culminates with the fellows starting the next academic year.
Last spring, the Brown Center awarded a 2019-2021 Brown Teacher-Scholar Fellowship in Public History, through a request spearheaded by the chair of the History Department, Emily Mieras, Ph.D., in collaboration with her colleagues, Mayhill Fowler, Ph.D., and Kimberly Reiter, Ph.D.  
Fellows teach three or four classes a year, and reduce the teaching load for their colleagues in the academic department. They also get to experience teaching at a liberal arts college and can participate in the Brown Innovation Fellows Program, the center's signature development opportunity for Stetson faculty that immerses them in a yearlong journey of hands-on experiences and meaningful discussions about teaching and learning.
The job description for the Brown Teacher-Scholar position was very appealing, said Roberson, the new visiting assistant professor in Health Sciences.
"They had an approach, or a philosophy, of maintaining not only the research end of your profession but also the teaching aspect and the aspect of working with the community, via the Wellness Center," said Roberson, adding that his father-in-law and brother-in-law are alumni of Stetson College of Law. 
"It was really the only position and the only university that I saw that had a position as a postdoctoral fellow that encompassed all of those things. Definitely, it was my number one choice and the number one reason that I wanted to come here," he said.