Stetson University in the News, Aug. 17-23, 2018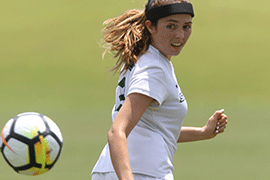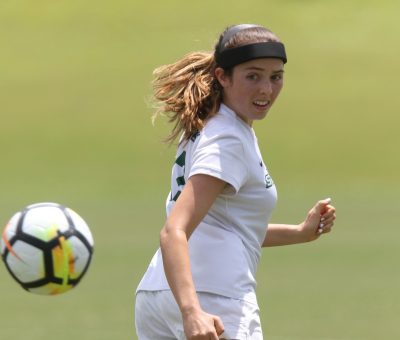 Top Stories
First-year student Jordan Ross, a member of the Stetson women's soccer team, was profiled in "Stetson's Jordan Ross reflects on Stoneman Douglas shooting" in The Daytona Beach News-Journal and world.einnews.com. "We went to the corner, shut the lights off, and then I got a text from my sister's best friend asking if I was OK," said Ross, a graduate of Marjory Stoneman Douglas High School in Parkland. "Then she started sending me pictures of the news, telling me I had an active shooter on campus."
Stetson University's Tech Faire + Hackathon has received a $2,000 grant from an Orlando fund that supports the tech entrepreneurial community, according to an Aug. 17 story in the Orlando Sentinel, entitled "City of Orlando awards grants to local entrepreneurial support programs."
Law Professor Peter Lake was quoted in the Aug. 16 New York Times article "Education Department Opens Civil Rights Inquiry Into Abuse at Ohio State." "The Department of Education is clearly not asleep," said Lake, a former coordinator for Title IX — the federal sex discrimination law — who now trains officials on compliance. "There may have been a change in direction to some extent with the shift in administration. But the shift doesn't mean the car is parked in the garage."
Lake was quoted in the Aug. 20 Texas Tribune article, "Following backlash, Texas A&M overhauls its sexual misconduct policies." Lake also was quoted in the Aug. 20 Austin American Statesman article "At UT, an inappropriate relationship alters futures, raises questions."

Ciara Torres-Spelliscy

Law Professor Ciara Torres-Spelliscy was quoted in the Aug. 21 Pacific Standard article, "Experts React to Michael Cohen's Stunning Guilty Plea on Campaign Finance Violations." "Michael Cohen's stunning guilty plea included the gobsmacking admission that Mr. Cohen violated federal campaign finance laws in two different ways," Torres-Spellicy said.

Torres-Spelliscy was quoted in the Aug. 21 Vox article "What does Michael Cohen's plea deal mean for Trump? I asked 13 legal experts." Torres-Spelliscy wrote the Aug. 22 Brennan Center For Justice article "Just What Was Lara Trump Up To?" Torres-Spelliscy was a guest on Aug. 22 on NPR's "On Point" program in a segment titled "Former Trump Attorney Michael Cohen Reaches Plea Deal; Paul Manafort Guilty on 8 Counts."
Stetson will partner with the Florida Department of Environmental Protection and other institutions to address rising tides in New Smyrna Beach, according to a letter from the city's public information office in The Daytona Beach News-Journal.
Former Stetson pitcher Corey Kluber was featured in "Cleveland Indians' Corey Kluber visits DMan's World to talk pitch mix, strategy" on cleveland,com. A two-time Cy Young Award winner, Kluber said his success "comes down to being able to command multiple pitches."
New York Mets pitcher Jacob deGrom, a former Hatter, was profiled in "Jacob deGrom Just Cemented Himself as the NL Cy Young Winner" on us.pressfrom.com.

Christopher Ferguson

Chris Ferguson, Ph.D., professor of Psychology, was quoted in "Lehigh Valley therapists treating 'gaming disorder,' a condition newly labeled by World Health Organization" in The Morning Call Online. "Some people have difficulty regulating pleasant activities but that's true for many things — food, sex, exercise, even religion and dance — not just games," Ferguson said. "So, making gaming a disorder is a classic example of a moral panic."

Ferguson also was quoted in "Memories of alleged N.B. shooter range from unpleasant loner to happy co-worker" on lillooetnews.net, and in "What the DeVos-Led School Safety Commission Did This Summer" on edweek.org. He also was cited in "It was hard to calm him down, says former colleague of alleged Fredericton shooter" on canadianews.org.
K.C. Ma, Ph.D., CFA, director of Roland George Investments Program, was quoted in "6 Hidden Risks of Index Investing" in U.S. News & World Report and msn.com. "When an index changes constituency, if it is scheduled and expected … it always promotes arbitrageurs to buy expected index-in stocks and sell (short) index-out stocks," Ma said.
Ma also wrote two articles on seekingalpha.com: "Nvidia Overreacts to Q2 Earnings Release" and "Tesla's Mispricing Tapers."
Other News
Arkansas Gazette reporter Jerry Dhonau (far left) is among journalists helping to shield Elizabeth Eckford from the angry crowd Sept. 4, 1957, as she waits for a bus during the Little Rock Central High Crisis. Credit: Democrat-Gazette file photo

The career of Jerry Dhonau, a former Stetson journalism instructor whose reporting during the Little Rock school desegregation crisis in 1957 helped the Arkansas Gazette win a Pulitzer Prize, was recounted in his obituary in the Arkansas Democrat-Gazette. Dhonau's career also was detailed in another obituary on arktimes.com.

Incoming first-year student Chelsea Hage was profiled in "Sisters' non-profit throws birthday parties for homeless and foster children" in a news report on WTSP TV in St. Petersburg, and online at wtsp.com. "I was learning about the foster care system in the theater class and it really opened my eyes that I'm getting this huge Sweet 16 where all of my family is coming in and these kids sometimes don't even hear 'Happy Birthday,' " said Chelsea. "So, I came home and talked to (sister Kayla) and said, 'Something has to change'. So, we're changing it."
George Steinbrenner IV, grandson of the late owner of the New York Yankees and once a student at Stetson, was profiled in "George Steinbrenner IV's goal is the Indy 500, not the World Series" on autoweek.com and racingroundup.com.
Law Professor Charles Rose is quoted in the Aug. 23 Tampa Bay Times article "Florida Bar investigating one of stand your ground shooter's lawyers."
Paul Harvey's lectures delivered at Stetson last February will be published in 2019 by the University of Georgia Press as "Southern Religion in Global Contexts: Three Stories," according to uccshistory.wordpress.com.
The Aug. 22 Moultrie Observer article "Book leads Griffin to help teach law class" reports that author Jennifer Kuykendall Griffin was a guest lecturer for the Stetson Law Criminal Procedure class where her book has been used as a course textbook for the last three semesters.
The Aug. 21 Birmingham Business Journal reports that Sara Williams, managing attorney at Alexander Shunnarah Personal Injury Attorneys PC, was awarded the Stetson University College of Law Edward D. Ohlbaum Professionalism Award for 2018.
A profile of orthopedic surgeon Benjamin Thomasson on orlandomedicalnews.com noted that he treats Stetson University athletes.
Robert "Bob" Wallace, who completed the Principal Certification program at Stetson University, has been named principal at Flagler Palm Coast High School, according to The Daytona Beach News-Journal.
George Marshall and Nancy Prosser-Marshall portrayed Stetson University Vice President Charles Farriss and his wife, Professor Alma Richardson Farriss, in a re-enactment presented by the West Volusia Historical Society on Aug. 18, according to theworldnews.net.
Stetson was cited in "What it takes to be an international student" on khaleejtimes.com.
Stetson's campus ministry program was cited on orlandodiocese.org.
Stetson University was cited in "USF joins Phi Beta Kappa" on crowsneststpete.com.
Alumni News
Alumna Denese Deeds, co-founder of Industrial Health & Safety Consultants, was profiled in industrialhygienenews.com and States News Service.
Alumna Stacey Morris had her article "Q2 '18 Recap and the Barbell Profile of MLP Distribution Growth" published on seekingalpha.com.
The St. Johns County Board of County Commissioners recognized alumnus Dennis Hollingsworth for 40-years of service, most of it as tax collector, according to historiccity.com.
The Aug. 20 Jacksonville Daily Record reports that law alumnus Henry Romeu joined Hall Booth Smith as an associate.
The Aug. 21 Keys Weekly reports that law alumnus Gregory Davila is running for Key West City Commissioner, District 4.
The Aug. 22 PR.com reports that law alumna Kayla Richmond was selected to leadership positions on local and statewide Florida Bar Associations.