New Water Feature Donated for the CUB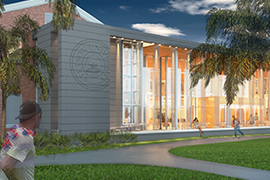 When Troy and Sissy Templeton saw the two-story wall of glass in the new Commons Dining Hall, they knew the spot outside could become a scenic gathering spot on campus.
Troy Templeton, a Double Hatter and former university Trustee, and his wife Sissy envisioned a water feature in the landscaped area that is being added east of the renovated Carlton Union Building. But they didn't want a fountain like Holler Fountain, which was featured in the 1939-1940 World's Fair in New York and later installed in Palm Court.
They wanted a modern design with jets of water coming out of the ground, colored lights and speakers for sound. After gathering input from students and staff, the current design shows 41 jets of water, reaching heights of 15 feet and set in a 22-foot-wide surface bearing the seal of Stetson University.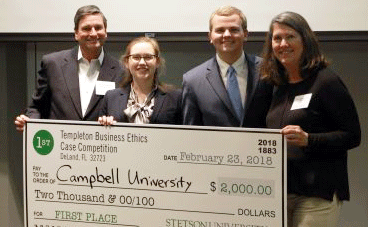 "We asked the design team to be creative, think more Disney World and less standard water fountain," said Troy Templeton, '82, '83 M.B.A. "We wanted something that's going to be different and make a statement, and yet be fun and green. We are thrilled with the current plans, and especially pleased to see many of the ideas from the students and staff incorporated into the final design."
Added Sissy Templeton, "We hope that it will be a gathering place and everybody will enjoy it. It should be beautiful."
A managing partner in a private equity and venture capital firm in Coral Gables, FL, Troy Templeton and his wife are well known supporters of the university. They endowed the Templeton Business Ethics Case Competition, held each spring, and he served on the Stetson Board of Trustees from 2014 until last spring.
"Sissy and I met at Stetson, and a large part of our success is due to the opportunities that Stetson provided me. As a result, we are very pleased that we can pay it forward, and continue to be able to help Stetson continue its strong growth and make our campus as beautiful as our education programs are strong," he said.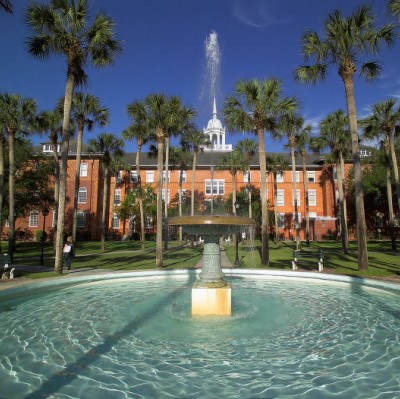 Installation of the water feature will begin in Fall 2018 with an expected completion by March 1, 2019, said Al Allen, Stetson's associate vice president of Facilities Management.
"It will be a real eye-catcher for us," Allen said of the water feature. "It's a beautiful look to a very modern-looking building from the east and a traditional-looking building from the west, so it's a perfect fit."
Called a "dry deck fountain," the water feature's surface will slope gently to drain and collect water from the jets. Then, pumps and filters will recycle the water. "The only water lost would be that due to evaporation," he explained.
When Student Government Association President Daniel Meija first heard about the water feature, he wondered if it would be environmental friendly and was happy to hear "it will be."
"Having a donor fund such a project only demonstrates how much value alumni place into their Stetson experience," he said.
The water feature will be placed along a diagonal walkway, east of the CUB, and will be visible from the Rinker Welcome Center and even Holler Fountain, added Troy Templeton.
"I was president of the Stetson Union Board back when I went to school and so the Union building was my heart and home for a number of years while I was at Stetson," he said. "While I was on the Board (of Trustees) and the whole idea of the expansion and updating of the Union Building occurred, we were thrilled because it was an important part of our lives and is still the center of campus activities for all students."
In addition, the couple also will donate a bronze statue of university benefactor John B. Stetson, seated on a bench in front of the Marshall & Vera Lea Rinker Welcome Center. People will be able to sit next to him on the bench and take a selfie.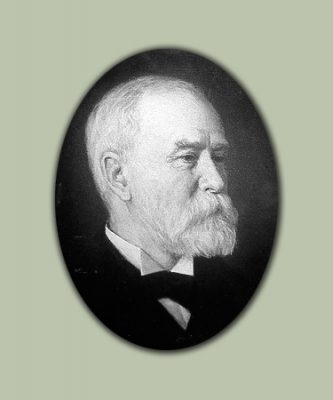 "The fountain represents the future of Stetson, showing off our creativity, contemporary design, advanced technology and some fun, while the bronze statue of John B. is the other end of the pendulum that brings us back to our roots and reminds us of who we are," Troy Templeton said. "People are really going to enjoy it when they see John B., and they'll be able to say hi to him every day."