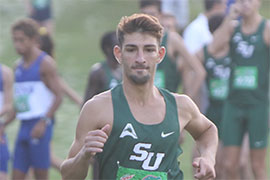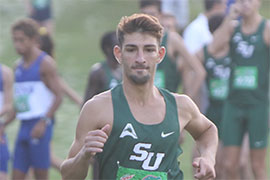 He doesn't own any school records, and all-conference honors are probably not in his future. Yet, ask any member of the Stetson men's cross country team which teammate has had the biggest impact on them personally, and senior Nick Nweeia would be the unanimous response.
"Nick has hands down been the best leader I've followed and respected thus far in life," sophomore Stewart Schmidt said. "Nick earned our respect very easily and quickly because of how open and helpful he was from the moment we were recruited by the university. He is constantly reaching out and continually making sure everyone is doing all right. He also holds everyone to a high standard. If he thinks someone isn't pulling their weight or should be performing at a higher level, he'll let you know."
Learning by Listening
When Nweeia arrived at Stetson as a wide-eyed, soft-spoken freshman runner in 2015, he did not quite know what to expect.
"I just remember coming in and being pretty excited to be on a Division I college cross country team," Nweeia said. "I was the slowest runner on the team by far. I had no major role. I was just hoping to start getting better and progressing and listening to some of the leaders on that team."
Those leaders included seniors Andrew Townes and Austyn Finnk, along with juniors Joe Beery and Ryan Newfrock, among others. Nweeia did a lot of listening and learning that season. He said those leaders taught him big-picture things, such as the importance of having patience and humility, plus many practical items, like how to warm-up properly and do dynamic stretches.
Turning Point
The end of Nweeia's freshman year came along with major changes to the program. Bryan Harmon took over as the new head coach, and Beery, then a senior, was named the new team captain.
"Coach Harmon really wanted to make a difference and rev up the program," Nweeia remembered. "Joe listened to coach and followed coach, so I followed Joe."
That season was a challenging one for the Hatters, and at the end of the year several of men's runners left the program, while other teammates were about to graduate. Nweeia was at a crossroads.
Nweeia has successfully pushed toward the finish line at Stetson. Read the rest of his inspirational story here.