Stetson Business Team Places 4th Overall at National Collegiate Ethics Case Competition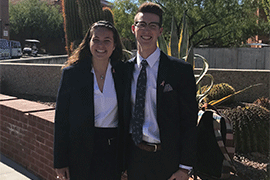 The Stetson University team of senior Nate Smith and junior Mackenzie Nalven placed fourth in the finals of the 16th Annual Collegiate Ethics Case Competition at the University of Arizona last Thursday and Friday, with an impressive win in their bracket over four teams, including defending champion University of Calgary.
The Stetson Business Ethics Initiative has sent teams to the Eller School of Management competition since 2013. This was Smith's second year at the event — last year he came home with a third place overall finish, which made this year's accomplishment by Smith and Nalven the more remarkable, as Stetson appeared in the finals at Eller in back-to-back years.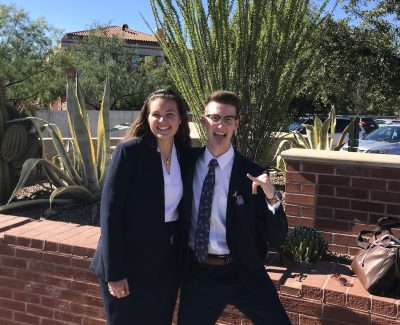 "Nate and Mackenzie displayed a certain edge and competitive drive that gave them the advantage in a field of very talented teams," remarked faculty advisor John Tichenor, Ph.D., associate professor and Chair of Management at Stetson.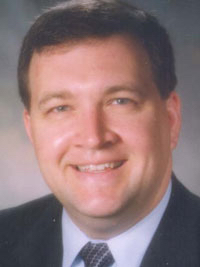 Having been placed in a first round bracket loaded with competitive teams — University of Florida, University of Calgary, University of North Dakota and the University of Indiana — the Stetson team emerged victorious.
When asked about their challenge of unseating these four teams, including last year's winner (Calgary), Smith remarked, "We knew that if we were going to beat such polished and well-coached teams, we had to leave everything on the table."
In the finals, Stetson competed against four other bracket winners, with the University of Iowa taking first place, the University of Texas at Austin taking second, the United States Naval Academy securing third, and Georgetown University placing fifth.
"I have been thinking about this competition since the day we left Arizona last year, and the desire to return and prove that Stetson is a force to be reckoned with filled me with passion as we went into this year's competition," said Smith, a double major in finance and economics from Kennesaw, Georgia.
"Participating in this competition provided a unique learning environment where we had to think critically about realistic business problems. The problem-solving, critical-thinking, and presentation skills that I learned as a result of this competition are indispensable and will help me grow significantly as a Stetson student and future professional," remarked Nalven, a double major in management and psychology from Clearwater, Florida.

Three weeks prior to the event, teams were assigned a business case that dealt with artificial intelligence (AI) and its impact on AI-powered surveillance equipment, particularly within law enforcement agencies. The team members assumed the identity of chief executive officers of Boundless Brain, a fictional company, and were tasked with conveying their plan of action to the board of directors and employees of the company.  In the competition's first round, the Stetson team presented their position in a 30-minute presentation to the judges. They were the only team in the competition to advise the company not to partner with the application of AI-powered surveillance equipment.
Of the twenty-five teams competing in the Eller Competition, Stetson was the smallest of all the participating universities.