$10K Greenfeather Grant benefits My Angel with Paws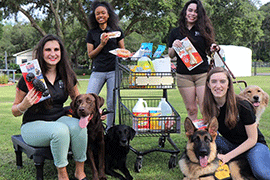 When Stetson student Bianca Perito talks about Greenfeather, her eyes light up.
Perito serves as the director of Greenfeather, and is as passionate and dedicated to the organization as she is to philanthropy as a whole. She and fellow members of the organization, including adviser and Assistant Director of Sustainable Giving Rebecca Thomas, have worked throughout the school year to plan the Schedule of Events for Greenfeather 2018. Some events, such as the Airwaves dance competition on Friday, Nov. 2, are annual, and others, like the initiation of Greenfeather Fridays, are inaugural.
"The mission behind Greenfeather is to have our community come together – faculty, staff, students and alumni – to make gifts back to the university that we then, on behalf of our Stetson community, reward out to a pre-identified nonprofit in our larger DeLand community," Thomas said. "Greenfeather is an initiative that brings awareness to the impact our Stetson community can have on our larger DeLand community, leaving a lasting footprint, when we work together."
This year's charity, known as the Greenfeather Grant Recipient, is My Angel With Paws, a nonprofit organization dedicated to training dogs to help those with disabilities "live fuller, more independent lives." With the grant, My Angel With Paws will continue with the restoration of its facility after damage caused by Hurricane Irma.
"We get about 20-25 applications [from charities] per year," Perito said about selecting the annual charity. "The application process has been traditionally about capacity building and how this money is going to impact their organization. But we really chose [My Angel With Paws] because they're so visible and active in the Stetson community and it's really something students are passionate about."
Greenfeather is a Stetson tradition. Since its start as an autumn carnival in 1952, the competition has allowed teams of students and faculty to help raise upwards of $10,000 for local charities in and around DeLand.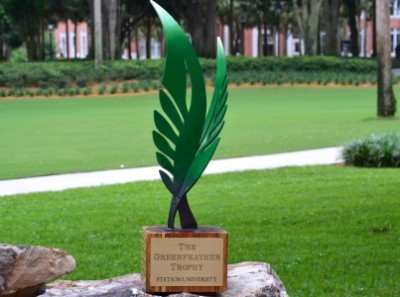 Today, Greenfeather is managed under Stetson's Green, White and You, which, according to Perito, is "really about fostering a spirit of philanthropy and culture of engagement on campus." Greenfeather is part of Homecoming, with teams competing for points between Oct. 30 and Nov. 2. The coveted Greenfeather Cup will be given to the team that wins the most points through participation and fundraising, and the $10,000 check will be presented to the charity during halftime of the Homecoming football game on Nov. 3.
Students, faculty and alumni who are not directly a part of the competition are still able to support Greenfeather and My Angel With Paws by purchasing a Homecoming t-shirt, donating funds or material goods to the campaign or making a purchase at Berryville, Brian's BBQ or Chick-fil-A, which, if the customer mentions Greenfeather, will donate 20 percent of the purchase to the cause.  In addition, the first team to raise $5,000 for the organization will get to name a Labrador Retriever puppy.
"It is really cool to see [everyone] raising money for one cause and when you see the nonprofit receive that money and the impact that it can make that's such an amazing experience," Greenfeather committee member Aamani Thulluru said. "You see that your effort — you as an individual person and you and your group's effort — was made physical and material in this way."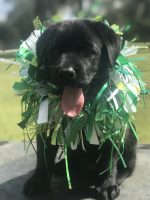 Visit Greenfeather for more info, including the schedule of events; the Stetson Office of Development to donate online to Greenfeather; and My Angel with Paws, Inc., for more info about the volunteer-based nonprofit.
My Angel with Paws also requests donations of the following items, which can be dropped off at the Stetson Donor Relations House at 201 E. Michigan Ave.: White vinegar, Lysol wipes, milk bones and soft dog treats, dog food (American Journey Large Breed Chicken and Sweet Potato), basic printer paper, paper towels, round cotton pads, dish soap, baby shampoo and Krud Kutter.
-Ruby Rosenthal