Memorial service honors victims of synagogue and Kentucky shootings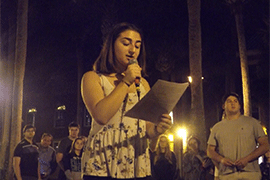 First-year student Lana Kolchinsky recalled painful memories of anti-Semitism while growing up in south New Jersey, and then recited the Mourner's Kaddish during a Thursday night memorial service for the 11 victims of the Tree of Life synagogue massacre and two African-Americans shot dead at a Kentucky grocery store.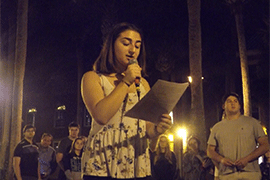 "Learning of the tragedy was a wakeup call for me," Kolchinsky said to some 120 mourners gathered in a half-circle around Stetson University's Holler Fountain. "Despite the recent mass shootings and violence in our country, it still came as a shock to me that . . . the slurs I would hear from an ignorant classmate or the jokes about the Holocaust that other students would make could turn into live ammunition – bullets to murder those belonging to my community today.
"How could I forget to feel uneasy? How could I forget to stay constantly hyper-aware of the stereotypes that many have about me and my community? How could I forget the 'Heil Hitlers' that a classmate would demonstrate because he found so much joy in seeing my face turn red and my palms get sweaty when the other kids laughed, maybe even joined in? How could I forget, after years of Jewish history education that these stereotypes and the senseless hatred come with consequences, and deadly ones at that."
Kolchinsky noted that she has a friend whose grandfather is a member of the Tree of Life Synagogue.
"If he cannot be safe in a place referred to as a sanctuary, where can he be safe?" she asked. "Can I feel safe in my own synagogue in my hometown? . . . Am I safe right now at this moment, outwardly expressing the pride and love I have for my Jewish community? If I say yes, does that make me a fool? If so, so be it, because I refuse to let the senseless hatred displayed this past weekend penetrate our Stetson community, and I have faith that all of you will join in for this cause. Though I have only been at Stetson a few months, I have felt the strong warmth that embodies Stetson, that makes our campus one of the most inclusive and pluralistic environments I have ever been in."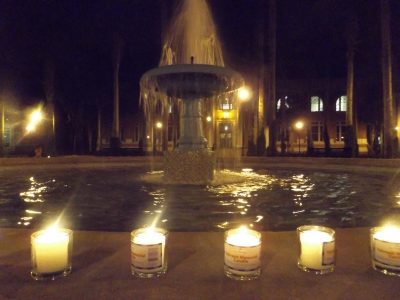 The memorial was held in remembrance of the victims of the shooting massacre on Oct. 27 at Tree of Life, a synagogue in Pittsburgh. Eleven worshipers were killed and six others injured in the attack, authorities say, by a lone 46-year-old man armed with a semi-automatic rifle and several handguns.
According to The New York Times, the alleged assailant "was a loner living in the Pittsburgh area who spewed murderous hatred and bigotry online" for months before the shooting, including "a torrent of anti-immigrant and anti-Jewish invective and conspiracy theories on Gab, a social media network that has been embraced by white nationalists."
The man survived a shootout with police and is in custody. A federal grand jury indicted him on numerous counts, including hate crimes and using a firearm to commit murder. He could face the death penalty.
The memorial was organized by student Noa Bauman and other members of Hillel, a campus Jewish student organization, and its director, Sam Friedman, who also addressed the mourners.
Other speakers included Stetson President Wendy B. Libby, Ph.D., and the university's three chaplains: Rev. Willie Barnes, Jr., an ordained Itinerant Elder in the African Methodist Episcopal (AME) Church and pastor of Mount Zion A.M.E. Church in Daytona Beach; Sensei Morris Sekiyo Sullivan, University Chaplain, spiritual head of the Volusia Buddhist Fellowship, a nonsectarian Buddhist congregation in DeLand; and Rev. Christy Correll-Hughes, an ordained Baptist minister.
Attendees included mostly students but also some faculty as well as two counselors who were prepared to offer their services, if requested.
In her opening address, Libby told the gathering: "We stand tonight in unity, in grief for those Jews who lost their lives in an unspeakable act of anti-Semitism at the Tree of Life synagogue in Pittsburgh, in solidarity with our Jewish friends and our community so that the words 'Never again' mean just that.
"I work in this inclusive community because every day I believe we can stop the hate around us, and a place like Stetson gives me hope. The young people who go to school here, you inspire me, you inspire this community every single day to believe that we can form a better world. I thank you for the gift that you give us every single day," she continued.
Libby concluded by reciting a portion of the Mourner's Kaddish that later would be spoken by Kolchinsky: "In honor of our commitment, individually and as a community, to stop hate and violence where we find it, let me say a prayer for peace: He who makes peace in high places, he will make peace for us and for all of Israel, and let us say 'Amen.' "
(Read a transcript of Libby's comments)
Thirteen yahrzeit candles, which in Judaism are lit in memory of the dead, were lit in honor of the synagogue victims and the two victims in Kentucky. The names of each person were spoken aloud as each candle was lit.

Rev. Barnes quoted from 2 Timothy in the Bible: "For God has not given us a spirit of fear, but of power and of love and of a sound mind." He urged the mourners to "not to give up on humanity, but rather see the best in humanity, even during these times."
Sensei Sullivan quoted from the Dhammapada, a collection of teachings by the Buddha: "In this world, hatred is never appeased by hatred. Hatred is only appeased by non-hatred. This is an eternal truth."
Rev. Correll-Hughes quoted from Jesus' Sermon on the Mount: "Blessed are those who mourn, for they shall be comforted."
But Correll-Hughes also cited the example of Eugene Peterson, a recently deceased Presbyterian minister, biblical scholar and author of a colloquial translation of the Bible titled "The Message."
"When his sister passed from cancer and people came to him and they offered him lots of words – platitudes, clichés, scripture passages — and it was all fine and good," Correll-Hughes said. "But he said the most meaningful thing was when his daughter came and simply sat with him in silence. She held his hand and that was when he was able to feel his grief but also the comfort of the presence of someone who cared and who loved him.
"I think in these moments, silence is OK as long as it's not alone. We can be comforted in our mourning because we are connected to one another in community."
Noa Bauman, the vice-president of Hillel, introduced the recitation of the Mourner's Kaddish by noting that "even though it's a prayer said upon the death of someone, it actually doesn't mention the word 'death.' It's actually about celebrating these people's lives and making sure their memories live on."
Kolchinsky then recited the kaddish in both Hebrew and English.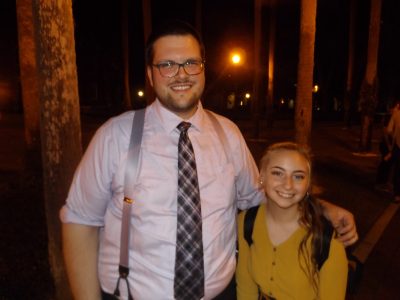 Freidman, the Hillel director, also spoke about community while citing the history of activism and social change brought about by college students and Stetson, in particular, throughout history.
"In times of great tragedy, we require great community," Friedman said. "You all showed up tonight to show you care. You are the current generation in a long line of Stetson's values."
Attendee Kimi Blair, a Jewish first-year student and music education major from Pinellas County in Florida, said she had "grown up around people who have hatred in their bones to where I've learned to hide my Star (Star of David) just because I know how certain people would react to it."
She attended the memorial not only to mourn but to "show that no matter what happens, anti-Semitism is not going to stop us. We're always going to unite back together."
— Rick de Yampert