A Call to Action: Eradicate Poverty and Homelessness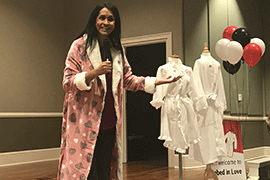 An education professor involved in local schools and supporting families living in poverty, Rajni Shankar-Brown frequently receives a call when teachers learn a student has become homeless with their family.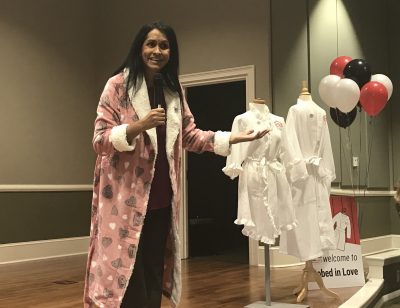 Shankar-Brown, Ph.D., Stetson associate professor and Jessie Ball duPont Chair of Social Justice Education, said she is grateful for community partners committed to addressing and preventing homelessness like the Neighborhood Center of West Volusia – which she described as "a lighthouse in the community."
"We had a family with school-age children who needed a home to live," said Shankar-Brown, the keynote speaker at a Robed in Love fundraising breakfast Wednesday morning. "I got a call from a teacher. I was able to reach out and … we worked together and found them shelter. We found the children a safe place to stay and resources to address critical needs, including social-emotional support. Children in homeless situations often carry layers and layers of trauma."
But more needs to be done to help people in need, particularly in Central Florida where one in four children struggle with hunger, often not knowing where they will get their next meal, she said.
"Addressing issues connected to poverty is not enough. We need to dig deeper into the intersectional root causes and do more. We must do more. We need to think about systemic, sustainable change — think about how communities can eradicate poverty and homelessness. This is a shameful man-made issue, especially considering the U.S. is one of the wealthiest nations. Like slavery, hunger and homelessness are solvable. It is a persistent human rights violation, but it is also a solvable issue that begins with communities prioritizing the dignity and rights of all beings," said Shankar-Brown, who serves on the Board of Directors for the National Coalition for the Homeless.
Stetson University has a close partnership with the Neighborhood Center. Shankar-Brown's students help to collect food and personal hygiene products for the center's clients, or they teach literacy classes and collect school supplies and toys for children during the holidays. Stetson's Student Homeless Coalition, advised by Shankar-Brown, has regularly collected socks, feminine products, and books for the Neighborhood Center.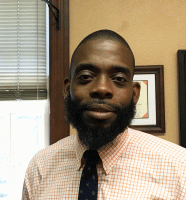 Stetson students also volunteer through the Bonner Program and AmeriCorps, as well as the Center for Community Engagement, said Resche Hines, Ph.D., president of the Neighborhood Center's Board of Directors and Stetson assistant vice president of Institutional Research and Effectiveness.
"Our philosophy is that the home is the center of a strong community," Hines told the crowd at the breakfast in the Sanborn Activity Center, where guests wore robes to represent the comfort and safety of a home. "And the more that we can have individuals in their homes, the more they can be empowered to be functional and productive citizens in their community."
The breakfast raised $12,000 for the Neighborhood Center, which provides housing, emergency assistance, food and other services to people living in poverty and homelessness. And it also honored the 2018 "Love Local Award" recipients Ed and Pauline Lacey for their support of the center.

As part of the breakfast, the Neighborhood Center launched an inaugural t-shirt design contest and on Wednesday morning announced the winner – Stetson sophomore Gabriel Trevino, a Digital Arts major.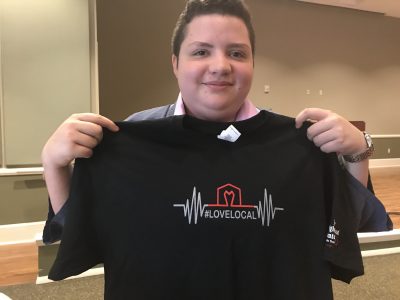 Trevino said Nathan Wolek, Ph.D., associate professor of Digital Arts and Music Technology and chair of Creative Arts, sent him a link for the contest in early September. Trevino said he set to work, researching the Neighborhood Center, and realized it's a "lifeline" and "beacon of hope" for many people in the community – which inspired his winning design.
"I've always wanted to help people and never felt like I had the means. I don't have traditional means, but I have my digital arts skills and my graphic design skills, and so when this opportunity came, it made me very excited because that's what I decided I was going to try to do to give back – to help people through digital art."
Once homeless himself, DeLand resident George Williams explained how he arrived at the Neighborhood Center on June 29, 2017, nine days after he lost custody of his now 4-year-old son Jackson. Williams said his life had unraveled because of meth addiction. He lost his job and bounced from house to house.
With the help of the Neighborhood Center, he sought treatment and therapy, found a job and has settled into a two-bedroom home, renovated by the nonprofit agency. He has regained custody of his son and now they're "best friends," he said.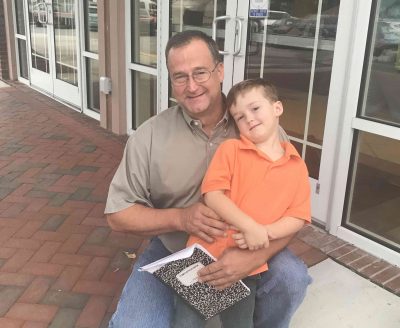 "Everything about my life is different," he said. "If you want help, and you're willing to put in the work, the Neighborhood Center will help you, but you have to put in the work. … They afford a lot of people opportunities, but a lot of people don't take it."
Urged Shankar-Brown, "Collaborative community efforts and investing in each other are essential, especially as the number of children living in poverty and homelessness continues to rise in Florida and disparities are widening. We must not forget our shared humanity. Let's lift each other up with radical love and unite to build a more just world."
-Cory Lancaster