Dan Gunderson: 'A Self-Made Man'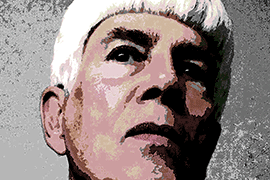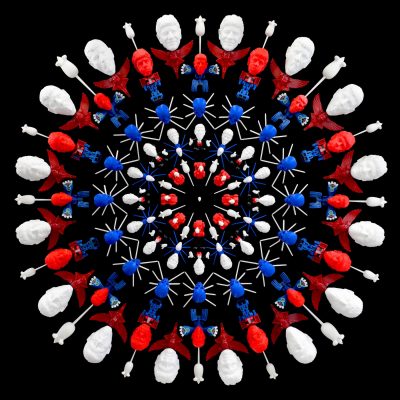 Miniature plastic heads form the circles in the mandala-like artwork created by Stetson Art Professor Dan Gunderson.
Upon closer inspection, these colorful heads depict Gunderson, who made them with the 3D scanner and 3D printer in Stetson's Innovation Lab in the duPont-Ball Library.
"A Self-Made Man" is his latest exhibit opening Saturday, Nov. 3, 2018, in Arts on Douglas in New Smyrna Beach and running through Dec. 15. It also will be his last show before he retires in the spring after 43 years as an art professor at Stetson University.
A ceramic artist for 50 years, Gunderson has expanded into other mediums, including the intricate geometric and mandala-like designs that he creates from his enormous collection of small toys. His artwork has appeared in galleries and museums in every major city in the country, and has won countless awards in juried art shows.
"My wife is seven years younger than me and she just came to retirement age," he said of his decision to retire next year with wife Astrid de Parry, a local attorney and former DeLand City Attorney.
But Gunderson will remain as an Artist in Residence on Stetson's DeLand campus for two years, working in his studio, where shelves are stacked from floor to ceiling with colorful super-heroes, cartoon characters, bugs, animals and other toys.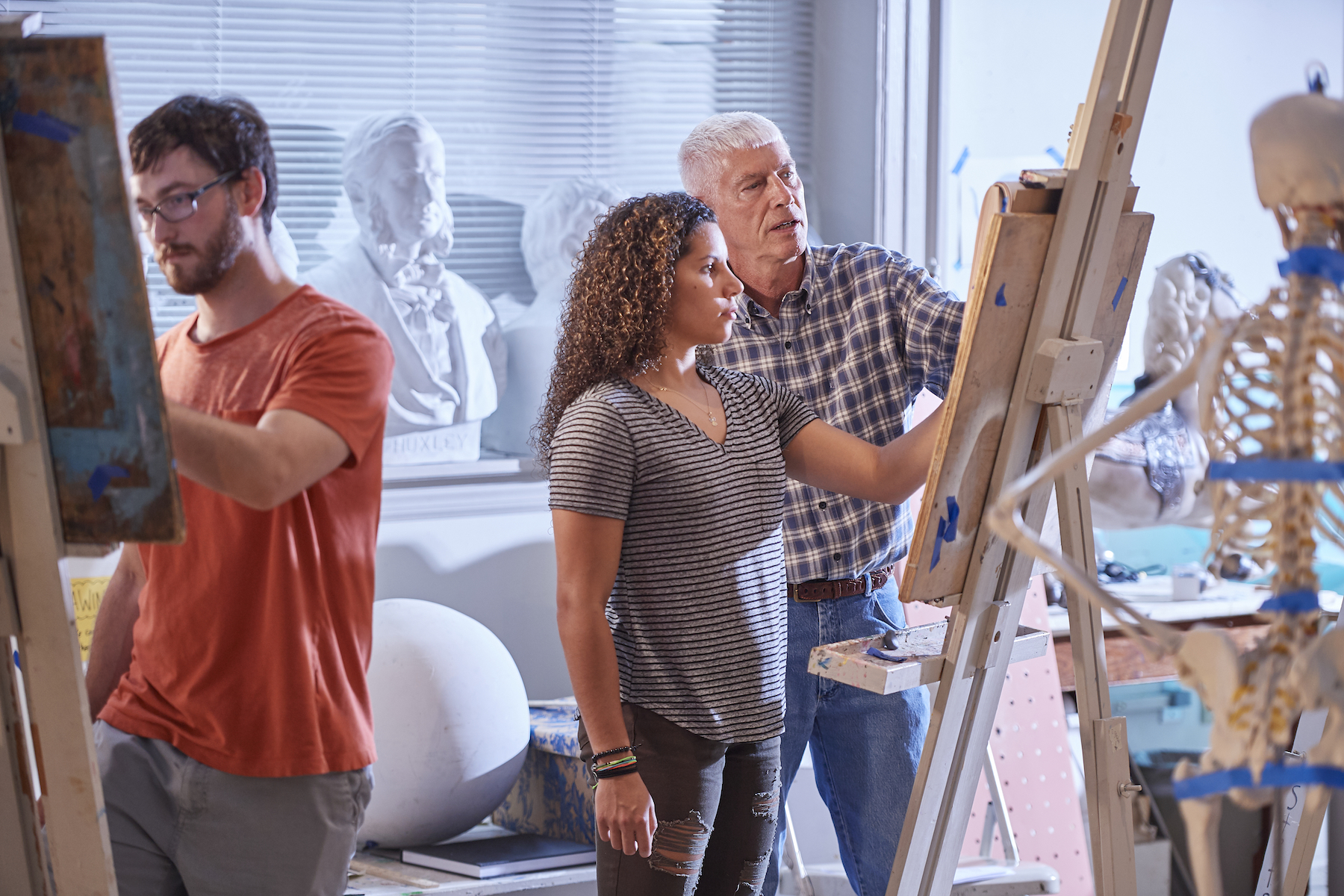 "I will be in this building for two years and I will do a '45 years at Stetson' in 2021," he said about his planned show in the Homer and Dolly Hand Art Center. "It will be all new work, and I'm not going to really take on much other than working toward that show."
He still will give one lecture on campus each year and work on a hard-cover book reflecting on his years at Stetson, he said. And he will critique students' work, when requested, and stay involved with the Hand Art Center, where he once served as gallery director.
"Simply put: Dan's influence on Stetson and its art students has been immeasurable," said Tonya Cribb Curran, director of the Hand Art Center. "For 43 years, he has mentored students in ceramics and sculpture classes, giving them a solid foundation in the arts. So many students have gone on to have successful careers of their own either by producing art or teaching."
'I Can Build Something Here'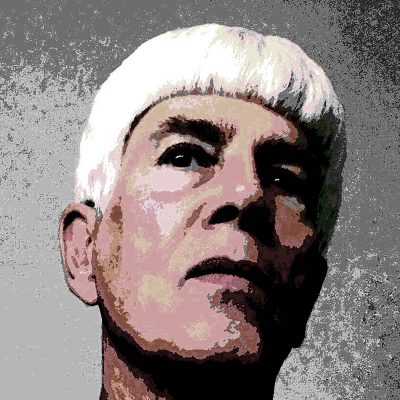 Gunderson arrived at Stetson in 1976, hired on the spot after an interview in Chicago with Fred Messersmith, longtime chair of Stetson's art department and a noted painter.
"He told me that I had the job if I wanted it. And I said, 'Well, do you think I could look at Stetson?'" recalled Gunderson.
He visited DeLand and called his wife, an artist, whom he'd met as an undergraduate at the University of South Dakota. The weather was lovely in Florida, he told her, and Sampson Hall, which houses Stetson's Art Department, reminded him of an iconic building at the University of Wisconsin-Whitewater, where he "first got turned on to art."
"I thought, I can build something here," he remembered of his visit to Stetson. "I wanted to do something for Stetson, accomplish something that wasn't here and so that's what I really set out to do."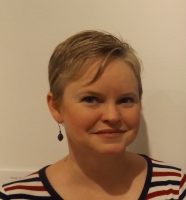 When he started, the Art Department had one potter's wheel "that sounded like an aircraft engine," he said, but he slowly raised money for new equipment by holding pottery sales. Soon, he was organizing art workshops on campus with top artists from the around the country.
"Very early on in Dan's tenure here, he began to invite guest artists to provide workshops for his classes," said Curran, with the Hand Art Center. "Often during these exciting times on campus, he was able to acquire some of the artist's work for our collection.
"He has been instrumental in growing the Stetson University permanent art collection," she continued. "For those of us who know clay, the names of Paul Soldner, Don Reitz and Betty Woodman mean superstars of ceramic art. Many don't realize that we have a collection of ceramic art that is really a 'Who's Who?' of American clay artists."
Finding Art in Toys
Along the way, Gunderson remarried and fathered two sons with second wife, Tami. His sons, Taylor and Tanner, both graduated from Stetson, one as an art major and the other as a finance major in the Roland George Investments Program.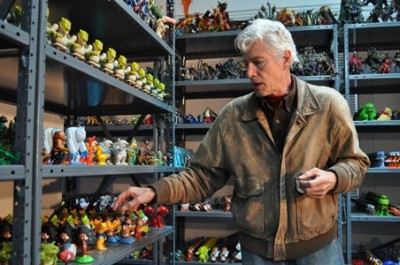 Unlike his own father, who worked long hours as an engineer and efficiency expert, Gunderson could spend time with his boys and became "Mr. Mom." His job provided flexible hours while his wife worked for Volusia County Schools.
"One of the reasons I'm doing this is because I watched all the cartoons they did," he said, looking around at all the toys in his studio. "I watched Lion King a hundred times – easy. All of these characters and stuff are things that I experienced, too."
An avid collector of many things — from antiques to broomsticks — he saved his sons' discarded toys, bought more at garage sales and arranged them in patterns of shapes and colors. Over time, he developed the radial symmetry art and photographs the arrangements from above to create the high-definition digital images in his exhibits.
"I don't see myself quitting my creative effort in terms of retiring, or being expressive and making things. I love that it challenges me," he said. "For what reason would I be doing this my whole life and then decide to just stop? I chose to do this and I wouldn't choose a new path. If somebody said if you had a chance to do it all over again, what would you really do? I'd do the same thing."
-Cory Lancaster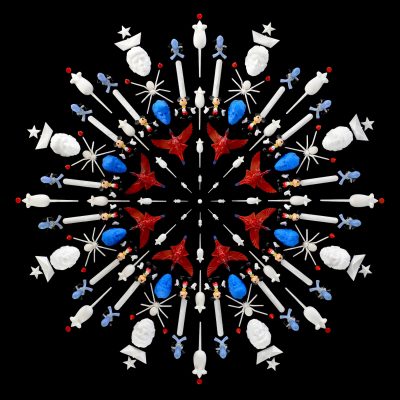 If You Go
"A Self-Made Man"
What: An exhibit by Stetson Art Professor Dan Gunderson
When: Saturday, Nov. 3, through Dec. 15, with an Artist Reception on Saturday, Nov. 3, from 4-7 p.m. and an Artist's Talk on Friday, Dec. 14, at 11 a.m.
Where: Arts on Douglas, 123 Douglas St., New Smyrna Beach, FL 32168. Gallery hours are Tuesday through Friday, 10 a.m. to 5 p.m., and Saturday, 10 a.m. to 4 p.m.
For more info: Visit Arts on Douglas or call 386-428-1133