Christmas Candlelight Concerts: "A Magical Experience"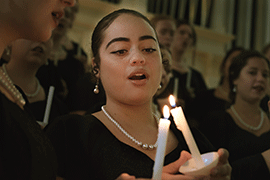 The week after Thanksgiving is one of the most hectic times of the year for Stetson student Damien Bleus.
Final exams are just weeks away, and juried voice performances start soon in the Stetson School of Music.
But most of all, rehearsals begin for the most magical concert of the year. Bleus and 200 other student musicians will have three days before they must deliver a masterful performance at four sold-out shows of the Christmas Candlelight concert.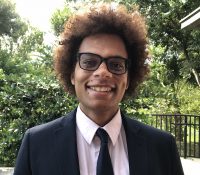 "It's definitely a juggling job," said Bleus, president of Stetson's premier touring choir, the Concert Choir. "But as taxing as it is, I've never known anyone to complain about it. It's just a magical experience for us."
"Silent Night, Holy Night" is the theme of this year's concert, which is sold out for three performances in Lee Chapel on Nov. 28-30 and for its first performance on the road — in downtown Orlando on Dec. 1.
This holiday season will mark the 200th anniversary of Silent Night, composed by Franz Gruber in Austria and first performed on Christmas Eve 1818. The song became such an enduring Christmas classic that it temporarily stopped a world war on Christmas Eve 1914 along the Western Front when German soldiers began singing "Stille Nacht" in the trenches and British troops replied with the song in English.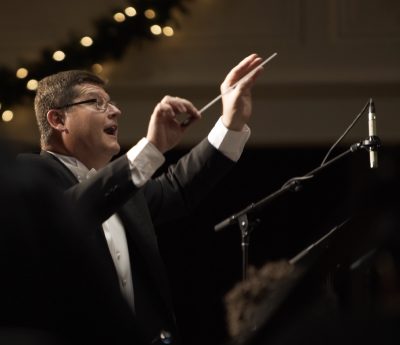 "The whole night starts with the simple, beautiful 'Silent Night:' A solo voice and a guitar just like it was done in 1818 in Austria," said Timothy Peter, D.M.A., Interim Dean of the Stetson School of Music. "We're going to try to recreate the simple and reverent holy experience."
In keeping with the tradition of Christmas Candlelight, the concert will close with Dr. Sandra Peter's arrangement of Silent Night with the warm glow of candlelight and white Christmas tree lights as three Stetson choirs, organ and orchestra join together in community.
"It truly is beautiful," said Amy Walton, a soprano in the Concert Choir and a Music Performance major. "I've had many performances, but I've never been part of a concert that's had quite as much magic as the Christmas Candlelight concert."
'Something Very Special to Us'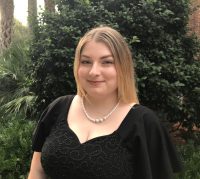 Christmas concerts are a tradition at Stetson, dating back more than 100 years.
Since 2012, with the arrival of Timothy Peter as Director of Choral Activities and now interim dean, they have grown into an elaborate production bringing together more than 200 students from Stetson's three choirs — the Concert Choir, Women's Chorale and Stetson Men – along with members of the Chamber Orchestra, brass and winds in the Symphonic Band, and organ.
Students begin preparing the selected repertoire for the performances by early October in choir rehearsals, making sure to memorize the music and lyrics before they leave for Thanksgiving break.
Just before heading home for the holiday, the students gather to decorate Lee Chapel in Elizabeth Hall and set up the stage. That way, everything is ready when they return on the Sunday after Thanksgiving to start rehearsals.
"Everyone involved in Christmas Candlelight is required to be there, no matter what our call time is that Sunday evening," said Bleus, a senior from South Florida who will graduate in May with a Bachelor of Music with an outside field in Education.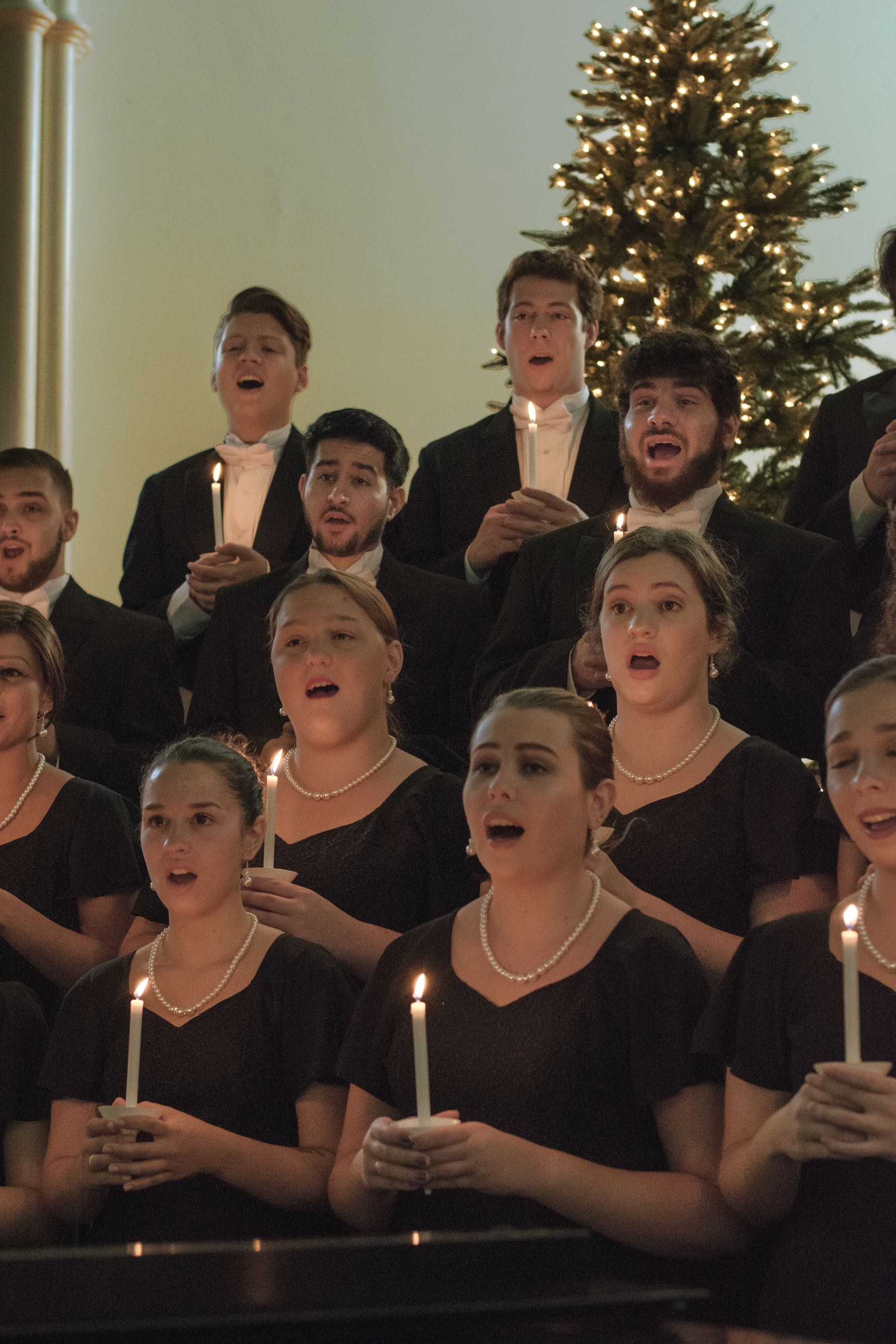 "I can't remember if anyone has ever missed it, but if they did, it was always very extreme circumstances. If you've ever been in Candlelight, you leave for whatever drive you've got to make three hours early just to make sure you make it on time," he added, in his commanding bass voice.
The students rehearse for three nights with Stetson's three choral conductors – Timothy Peter, who will continue to conduct the Concert Choir during this year's concert; Sandra Peter, D.M.A., Acting Director of Choral Activities, who conducts the Stetson Men; and Andrew Larson, D.M.A., Interim Associate Dean and Associate Director of Choral Activities, who conducts the Women's Chorale.
These rehearsals can last until 10 or 11 at night, as the students learn the choreography and practice the songs. The choreography can require concentration, Bleus said, as choir members take their positions quietly in the balconies or walk slowly through the aisles as they sing. Students must ensure they are in the right place at the right time, perfectly still at times, moving gracefully at other times, to prevent any creaking in the old chapel.
"As soon as rehearsals are done," Bleus continued, "I advise all of my friends, 'Don't speak. Don't sing. Don't use your voice any more than you have to. Go straight to bed, or if you have to do your homework, don't stay up too late. Do half of it now, wake up early, do the rest.' We still have all of our normal classes. We just pace ourselves."
Foremost in the students' minds is delivering the flawless performance that the audience has come to expect each year and which makes these tickets sell out so quickly. As a first-year student, Bleus said he remembers being struck by the seriousness with which the older students approached the rehearsals and performances.
Now, as Concert Choir president and a senior, he knows he will impart that same tradition to newer students this year.
"It's an enjoyable experience and something very special to us because we allow it to be and it's just always been that way. It's hard not to let Candlelight be awesome," he said. "It's something that the music students, we don't just take seriously, we pride ourselves with around here."
'Amazement and Wonder'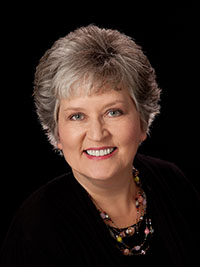 Students credit the quality of the concert to Stetson's three choral directors. This year, Sandra Peter is serving as Acting Director of Choral Activities while Tim Peter is Interim Dean of the Music School. She has included a Jewish piece sung in Hebrew to the performance, "Ose Shalom," meaning "The One Who Makes Peace."
"That is to send a message of inclusivity and welcome, given the climate in our world today," Tim Peter added.
Also, Andrew Larson has written a piece for the Women's Chorale, which the singers will premiere with the popular British carol, "The Holly and the Ivy," said Larson, the Associate Director of Choral Activities.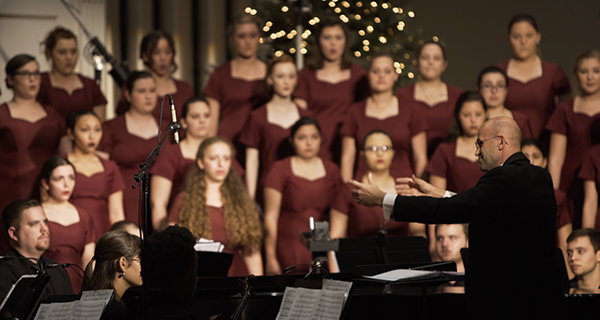 And for the first time in school history, this year's Christmas concert will go on the road and reach a wider audience, as the students perform at the First United Methodist Church of Orlando on Saturday, Dec. 1. Tim Peter said he hopes the location will introduce a new audience to Stetson, attracting more concertgoers and potential students to the DeLand campus.
"We are working to develop a new audience and new visibility," he said. "We've discovered there's a broader market of people who may not normally cross the St. Johns River or think about DeLand."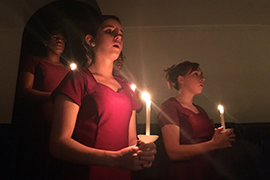 Though Orlando is only a 45-minute drive away, people there may not be familiar with the quality of the Stetson School of Music, considered one of the nation's best undergraduate-only schools of music, added Bleus, president of the Concert Choir.
"Orlando, being such a large metropolitan area, really is a bit too far away to really understand what we're capable of. So, we're very excited," he said. "You can share Stetson's Christmas Candlelight by word of mouth, but it's an experience that you have to have for your own self."
Kelly Wildermuth, Secretary/Treasurer of the Concert Choir and a junior Music Education major, said students are looking forward to performing in a new location for a new audience. This year will be her third Candlelight and she still remembers the "amazement and wonder" she felt during her first performance.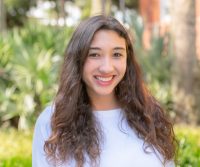 "Honestly, the crowd — still to this day – is the most shocking thing to me," she said. "The first moment you walk out there, whether it be on stage or in the aisles because we always have different placements, but that reaction of seeing it so packed is just insane. It's like there's people shoulder to shoulder, there's no room anywhere, so it's really moving to see that many people want to come see us perform.
"It's really great. I love it," she continued. "It's one of the few things that ever gives me goosebumps. The music at Candlelight, I always get like (she shivers), especially during 'Silent Night' at the end, with the candles. That's probably my favorite part, for sure."
-Cory Lancaster