Hatters Place Five on Academic All-PFL Teams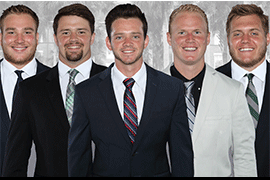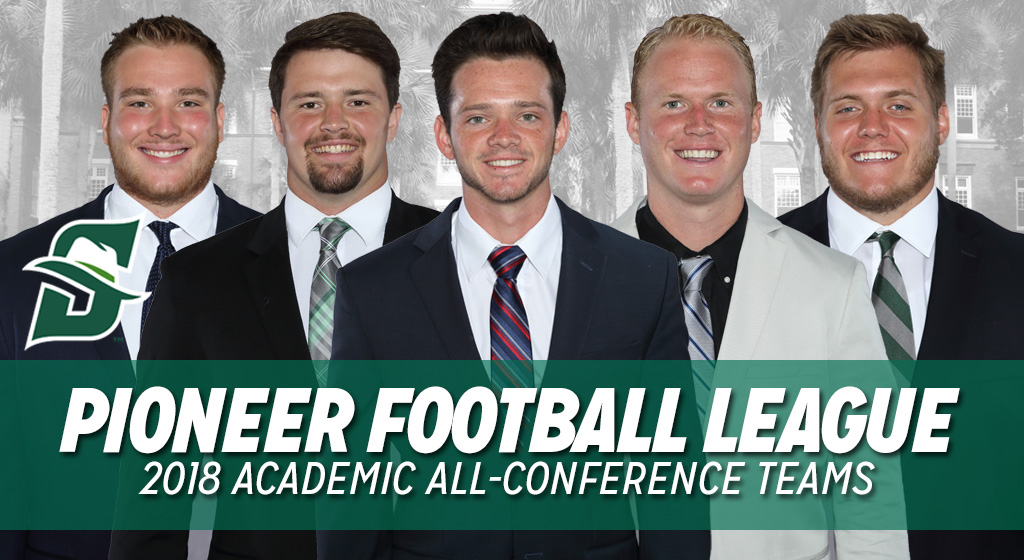 In addition to their accomplishments on the field during the 2018 season, members of the Stetson football team have continued to excel in the classroom.
As a result of their combined accomplishments, the Hatters placed five players on the 26th Annual Academic All-PFL squad. To be eligible for the squad, a player must be a starter or key reserve while maintaining a minimum 3.30 GPA on a 4.0 scale and must be at least a sophomore, both academically and athletically.
For Stetson, redshirt junior defensive end Regis Steighner and redshirt sophomore kicker Jonny Messina were both selected to the first team. They were joined by sophomore offensive linemen Bradley Alexander and Peter Greubel on the second team along with redshirt senior quarterback Colin McGovern.

Steighner is a three-time PFL Academic Honor Roll selection who will graduate in May with a double major in Economics and Finance while carrying a 3.94 cumulative GPA. He became a starter for the first time in 2018, starting in nine of 10 games. He missed the game at San Diego after suffering a shoulder injury in the win over Marist when he converted a fake punt for a 29-yard gain and a first down early in that contest. His best outing came against Davidson when he had a career-high eight tackles.
Academically, Steighner was a member of the Business Ethics Case Competition team that earned a second place at the IBECC competition last spring and, this Friday, he will be inducted into Omicron Delta Epsilon, the national Economics Honor Society.
A native of Tarpon Springs, Fla., Steighner has already accepted a position at a financial firm in Destin and will be embarking on his professional career in August.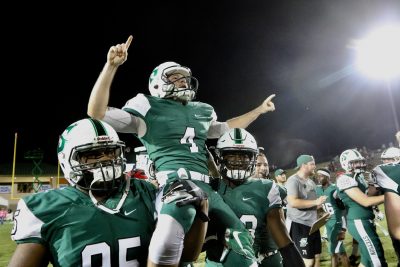 Messina is a two-time member of the PFL Academic Honor Roll, carrying a 3.734 cumulative GPA in Health Science. In just two seasons on the field, he has already set modern Stetson records for field goals made (19) and field goal percentage (.731) as well as PAT kicks made (57), PAT percentage (.950) and kicker scoring (114). This year he was selected as team special teams player of the week four times, once early PFL Special Teams honors after his last-second, game-winning, field goal against Jacksonville. He has scored in 20 of 21 games in his career.
This is the second consecutive year that Messina has been named to the Academic All-PFL team making him one of just 10 players on this years' squad to have earned first team honors multiple times.
Following the completion of his undergraduate degree, Messina has plans to continue his education while working toward a career in the medical field.
Alexander was a starter in all 10 games in 2018 at left guard and has started in 20 of 21 games played over two seasons. A history major with a 3.792 cumulative GPA, Alexander is a member of the Stetson SAAC – Student-Athlete Advisory Council – in addition to his work on the field and in the class room.
Greubel came on in the second half of the year, starting in four of the last five games at left tackle. He saw action in all 10 games this year and in 16 games in his career. A Public Health major with a 3.958 cumulative GPA, Greubel is a member of the Stetson SAAC.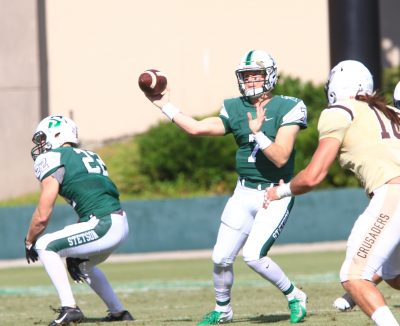 McGovern was a three-year captain and two-year starter for the Hatters who set single game, season and career records in numerous passing categories. His single game records include: pass attempts (52), pass completions (35, twice), passing yards (498), passing yards per attempt (16.0), yards per completion (20.8), TD passes (6), efficiency (287.5) and longest pass (96). His season records include: pass attempts (396 in 2017), pass completions (247 in 2017), passing yards (3,028 in 2018), passing TDs (26 in 2018), completion percentage (.667 in 2018), pass efficiency (164.33 in 2018), yards per completion (13.5 in 2018) and yards per game (302.8 in 2018).
His career records include: completions (495), yards (5,628), completion percentage (.633), yards per pass attempt (7.2), yards per completion (11.36), yards per game (194.0) and pass efficiency (132.39). He fell one TD pass shy of the program career record despite playing in five fewer games. He was selected as Stetson's team offensive player of the week four times this year and was selected as the PFL offensive player of the week for his performance against Valparaiso in the season finale. He has been named to the PFL Academic Honor Roll three times and graduates this December with a 3.363 GPA in Sport Business. He plans to return home to New Jersey to begin his career in sports marketing.
The Academic All-PFL teams are a complement to the Academic All-America™ program presented by the College Sports Information Directors of America. Eight PFL student-athletes were named to their respective Academic All-District Teams® this fall. Pioneer Football League athletic directors established the Academic All-PFL squads in 1993 as a way to recognize the league's outstanding student-athletes.