Second Stage Theatre breaks a 'Sweat' with latest production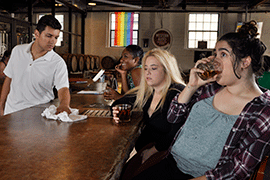 The racial tensions in "Sweat," Lynn Nottage's play about workers at an economically distressed factory, are not portrayed in black-and-white terms.
The play, which Second Stage Theatre will present Nov. 15-18, "doesn't scream in the audiences' faces 'Don't be a racist!'," says director Cori LaPinsky, a senior theater major with a focus in directing and acting. "Obviously that's the point and racism is morally incorrect, but she does it in a way that allows the audience to come to their own summation of that.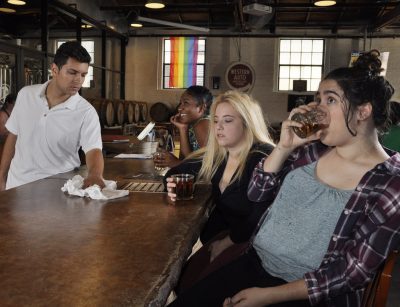 "You don't see the play and think, 'Oh I hate that character because they're racist.' You are given the opportunity to see their point of view and while you may disagree with them strongly, you will feel sympathy and empathy for all of the characters because of their situation. I always say sympathy and empathy are the two strongest factors to humanity. I think that's the most important part of the show."
"Sweat," which won the 2017 Pulitzer Prize for Drama, tells the story of a group of factory workers in Reading, Pa., in 2000. As an economic downturn begins to threaten their jobs, the friendships among the workers begin to disintegrate, especially when two female employees – one black and one white – apply for the same management job.
Despite such grim themes as racism, blue-collar unemployment and workers' rights (or lack thereof), the play "has a good amount of dark comedy as well," says LaPinsky, who directed Nottage's "Poof!" last spring for Second Stage. "The topics are so dark but the characters themselves are hysterical. It makes you laugh and then you wonder, 'Should I have laughed at that?' "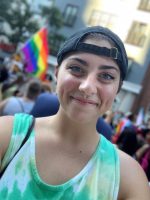 LaPinsky has asked stage manager Elijah McCoy, who is African-American, to serve as the production's dramaturge (a person who assists a theatrical troupe by researching, adapting or interpreting scripts).
"I'm Caucasian, I'm white – I've never experienced racial discrimination," she says. "With that being such a heavy theme and with all of the people of color in this production, I've asked Elijah to be my dramaturge so he can provide more information and relate more to the themes than I could."
LaPinsky began pursuit of her degree with a focus on musical theater, but switched to acting and dramas, and now directing.
"I've grown to understand I like to create the whole vision," she says. "Face it, I like to have control of – not necessarily the individual actor motivation because they need that themselves – but the motivation behind the show and what I want the audience to get out of it.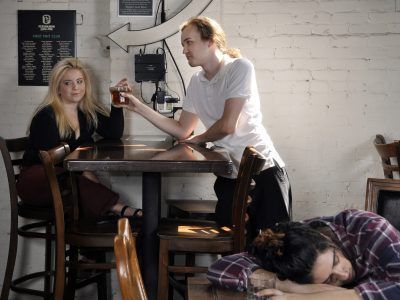 "My connection with the audience comes best from directing and being able to figure out exactly how a play is going to immerse the audience, rather than just connect them to myself as an actor. I love the audience interaction. I love plays that immerse the audience."
To that end, one side of the stage at Second Stage's venue — the theater at the Museum of Art – DeLand – will be used for audience seating.
"I love black box theater and theater in the round," LaPinsky says. "I wanted to get the audience involved. If I could, I would literally live in a black box and force people to be that close to every actor."
The cast of "Sweat" includes: Steven Kalicharan as Evan, Cooper Hendrix as Jason, Anders Hammerstrom as Stan, Danny Mejia as Oscar, Reed Barkowitz as Jessie, Toni-Ann Muthra as Cynthia, Lily Desenberg as Tracy, and Noah Belachew as Brucie.
— Rick de Yampert
If You Go:
Stetson's Second Stage Theatre will present "Sweat" at 8 p.m. Thursday, Nov. 15, through Saturday, Nov. 17, and at 3 p.m. Sunday, Nov. 18, at its venue inside the Museum of Art – DeLand, 600 N. Woodland Blvd., DeLand.
Admission is $12 adults and $10 senior citizens and non-Stetson students; free for Stetson students, faculty and staff with valid ID. Tickets will be available at the door. For information or reservations, call the Second Stage box office at 386-822-8700. Reserved tickets must be picked up 30 minutes prior to show time.