Stetson College of Law team wins William & Mary Law Tournament again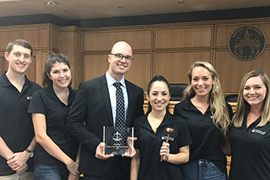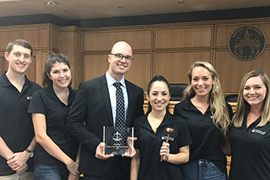 GULFPORT, Fla.— Stetson University College of Law's Dispute Resolution Board recently won the William & Mary Law School Negotiation Tournament for the third year in a row. Stetson Law students George Hiller and Valeria Villaverde won the competition on Nov. 4, and Villaverde was also named Best Overall Advocate.
Professor James Sheehan J.D. '77 and alumnus Bill Greiner J.D. '07 traveled with and coached the teams.
Professor Erika McArdle J.D. '12, the associate director for Stetson's Center for Excellence in Advocacy, said, "It is an incredible accomplishment to not only win this competition but to have won this three years in a row. This speaks to the quality of our advocates and coaches and the selfless dedication they have to Stetson and the DR board."
Stetson sent three teams to the competition. The student teams of Tony Castro and Hannah Yoder and Kaile Bennet and Grace Kobitter also competed.
-Brandi Palmer
Stetson College of Law