Stetson Theatre Arts Presents Musical Comedy '[title of show]'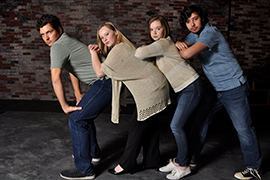 Stetson University presents the one-act musical comedy "[title of show]," directed by Julie Schmitt, Ph.D., director of the Theatre Arts program. The production takes place from Feb. 14-24 at Stetson's Second Stage Theatre, located at the Museum of Art – DeLand.
The musical focuses on Jeff and Hunter, two guys who are trying to write a musical about two guys writing a musical. With music by Stetson alumnus Jeff Bowen and book by Hunter Bell, this Tony Award-nominated and Obie Award-winning musical is sure to please audiences from beginning to end.

Jeff and Hunter, two self-confessed nobodies in New York, make a pact: They will write an original musical and submit it to a festival. The only catch? The deadline is in three weeks. No worries, though. They'll just write a musical about writing a musical. Early on in the process, they realize that they'll need the help of their good friends Heidi and Susan to create a truly successful original musical. Frequently hilarious, occasionally heartbreaking and thoroughly inspiring, "[title of show]" is a love story celebrating individuality and creativity.
"Working on this musical has been a fantastic experience so far," expressed Schmitt. "The actors are really finding their voice both musically and creatively and are making real connections with these characters and it is a joy to watch.
"I think this has been extra special for all of us since Jeff Bowen is a graduate of Stetson University," said Schmitt. "I think the students feel an even deeper connection with the material, and are greatly looking forward to the opportunity of meeting with the creator of this musical and discuss his work."
Experience the comedic escapades of these four friends as they embark on a creative journey to present an unforgettable musical.
Warning: The musical contains mature subject matter and language, and may not be suitable for all ages.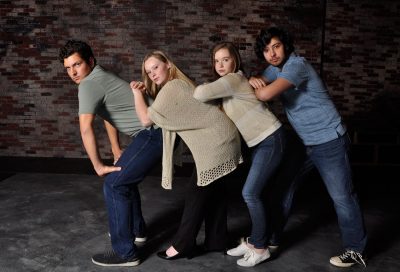 Cast: Danny Mejia (Jeff), Joseph Dallas (Hunter), Shanellie Figueroa and Caitlyn Carey (Heidi) and Caroline "Reed" Barkowitz and Liza Tananbaum (Susan). The roles of Heidi and Susan have been double-cast, meaning Caitlyn Carey and Liza Tananbaum will be performing on Feb. 14, 16, 22 and 24, and Shanellie Figueroa and Caroline "Reed" Barkowitz will be performing on Feb. 15, 17, 21 and 23.
If You Go:
Where: Second Stage Theatre at the Museum of Art – DeLand, 600 N. Woodland Blvd., DeLand (adjacent to the DeLand campus)
When: 8 p.m. on Thursday, Feb. 14 and 21; Friday, Feb. 15 and 22; Saturday, Feb. 16 and 23; and 3 p.m. Sunday, Feb. 17 and 24
Admission: $12 adults, $10 seniors and non-Stetson students. Stetson faculty, staff and students receive free admission with a valid ID
Parking: Free
Box office, reservations and more information: 386-822-8700
Tickets will be available at the door and reserved tickets must be picked up 30 minutes prior to the start of the performance. The box office will be open one hour prior to curtain.