Showcases of Self-Expression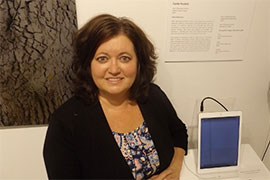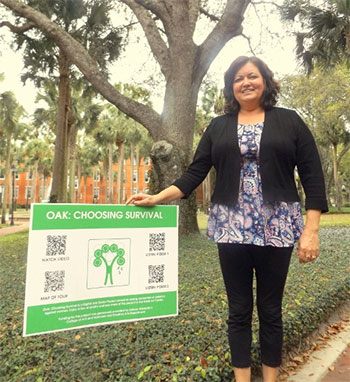 Stetson digital arts major Cynde Puckett feels a kinship with oak trees, so much so that she says, "There were times when I wanted to get to the top of the oak trees and just be there where I could get away from anyone who would ever hurt me again."
Now her poems — yes, her poems — have found a home "in" the oaks of Stetson's Palm Court.
Puckett's affinity for oak trees can be seen, heard, read and even directly experienced through her senior digital arts project, "Oak: Choosing Survival." It's one of the 14 student projects that are part of Senior Exhibition 1: Digital Arts, March 18-April 5, at the Hand Art Center on the Stetson campus. An opening reception will be 6-8 p.m. Friday, March 22.
Also, the Digital Arts Senior Audio/Visual Showcase is 7-8 p.m. March 21 in the Rinker Welcome Center, and will feature the audio and video projects of seven students.
Both events are free and open to the public.
Puckett's tech-enhanced, multimedia installation includes photographs of oaks printed on metal, booklets of her poetry, an iPad where viewers can access audio-visual versions of her poems and a video, and a brochure with a map of the trees just outside the Hand Center that "hold" her poems. Use the free ROAR app on a mobile device to scan the signs Puckett has planted by various oaks, and one will hear and see such poems as "Oh, That I Had Wings Like a Dove," "Rant One" and "Speak Up."
An artist statement posted on the Hand Center wall beside Puckett's installation gets to the heart of the 53-year-old senior's project: "'Oak: Choosing Survival' is close to my heart. As a survivor of domestic violence, sexual abuse and sexual assault, I am on a journey of continual healing. It is through my faith and connection to nature and art that I've been able to venture toward healing. Oak trees are symbolic of strength and resilience — spending time with them helped me find my own and reminds me that there is still beauty in the world."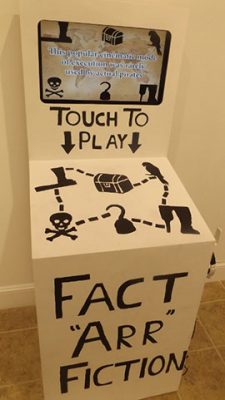 The exhibition's other tech-augmented, multimedia projects embrace a panoply of themes, with some of them including tangible, physical artistic creations on display.
Jennifer Algieri's "Fact Arr Fiction" is, she writes in her artist statement, an "interactive kiosk game which seeks to entertain users while educating them on the true history of pirates."
Alex Ramirez's "Jacksenvale" is "a virtual reality video game experience where the player defends their castle against a horde of ravenous zombies placed in the medieval era."

Senior Matt Garrett combines ceramics and photography in "Structure and Form," his senior digital arts project.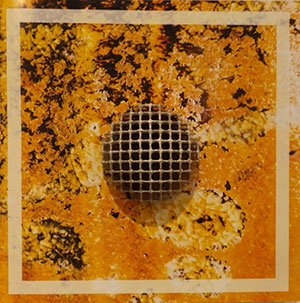 Taylor Hamilton's "Personal Patterns" features four actual skirts whose designs were "inspired by how women identify themselves." Hamilton interviewed "four different types of women: a woman of color, a girl-boss, a female athlete and a transwoman. I took inspiration from each interview — favorite color, hobbies and interests, biggest accomplishment, etc. — and incorporated them into each design. The designs are then digitally printed and sewn into skirts to focus on expression through fashion."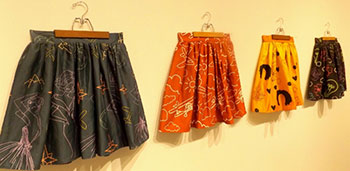 The Digital Arts Senior Audio/Visual Showcase includes the podcast "Deserted," featuring audio by Kevin "Drips" Reynolds, performance by Cooper Hendrix and score by Gordon "Desk Fern" Silva.
The podcast, Reynolds says in his artist statement, is a "found-audio radio drama that explores the human psyche when pushed to the brink. The story follows Daniel, an air-traffic controller who could no longer stand his dead-end job. He resorts to stealing an airplane only to crash it in the Chihuahua Desert. We have the opportunity to listen to some of Daniel's first post-disaster audio records, giving us an inside look on his psychological development as he is exposed to absolute isolation and the elements."
The audio/visual showcase also includes Larissa Hanson's "Sad Songs Vol. 1," an "indie pop EP of a collection of the thoughts and feelings that I have about love and the hurt that can come with it." And it includes Marvin Dobson's "Memento Mori," a hip-hop EP he so titled to "pay my respect to the late rapper Mac Miller," and to "bring awareness to the fact that we do not live forever."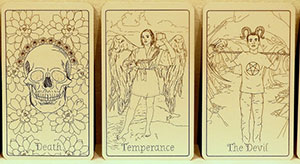 Jessenia Dae created "Contemporary Dream Tarot for the Modern Mystic," her take on the centuries-old tarot card tradition.
Stetson's Digital Arts program was founded in 1995. Tonya Curran, director of the Hand Center, says digital arts students aren't just raising the bar from past senior exhibitions. "I feel like the students have broken the bar every year," Curran says. "The shows are getting more and more professional."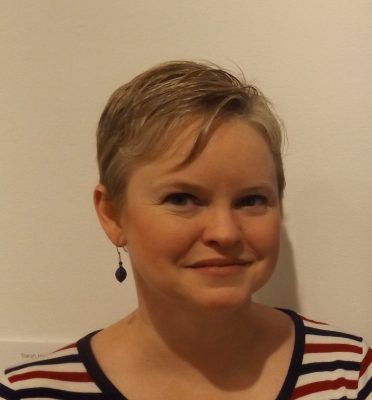 Puckett believes art can bring an engagement with social issues — in her case domestic violence and sexual abuse — beyond what lectures or speaker events may offer.
"I think that when people begin to interact with the exhibit or see an image, that can have an impact on them that might be more powerful than just hearing someone say something," Puckett says. "Images can be powerful. The images I show are not images of the violence because we've already experienced that. The images I'm showing are of hope. That you can be broken but healing is possible. I want to make other women and girls know that there is hope."
Puckett was born in Knoxville, Tennessee, but grew up in Ormond Beach. She and her husband ran a souvenir shop near the beach for 23 years before hurricanes forced them to shutter it in 2006. Eventually, she says, "I ended up being guided by God to go back to college."
Puckett earned an A.S. degree in interactive media at Daytona State College, where she also served as editor of the campus newspaper. She currently does graphic design work for Tomoka Christian Church. She says post-graduation possibilities include expanding her duties with the church or pursuing Stetson's M.F.A. of the Americas, a creative writing program.
"I was very broken, but I made a choice to get out of that brokenness," Puckett says. She achieved that, she notes, through her Christian faith, biblical-based counseling at Tomoka Christian Church "and with the help of a lot of other people. It was not just me suddenly going, 'Oh, I'm better. Oh, I'm well, this is behind me.' It still comes up in my thoughts, but I've learned to replace that ugliness with something very beautiful."
One way she does that is by taking photographs.
"My camera became very important to me, to take pictures of things that are beautiful," Puckett says. "If I started having a flashback, I would get my phone out and take a picture, or I would go back to a picture I had taken previously and just stare at it. I began manipulating and editing photos, and that would speak to me inside: 'If I can change this picture, I can work on changing me.'
"I started looking at oak trees as I was out in nature, walking around with my camera. They just seem so very big and strong, but I knew they had weathered a lot of storms. There were places where their branches were chopped off, and right where they were chopped off another branch would start growing from that spot. It just said to me that there can be healing, there can be newness, there can be life even though it feels like something is chopped down and gone and broken. There can be beauty that would come from it."
Curran, the Hand Art Center director, knows that some people may perceive some of the digital arts projects as "technology and not art. But we are entering a time in the world where art is changing."
"Artists have always been innovators," she adds, "so I feel like digital art is a natural extension of the creative process. Exciting innovations are happening with it.
"It does take a while for some of the community to accept that this is a legitimate but very different type of artwork. This is a natural progression. This is the 21st century, so now you have artists using these things that were not available to them before. It's a new way for them to be creative."
-Rick de Yampert