Stetson Student Who Overcame Homelessness Gets Standing Ovation at Conference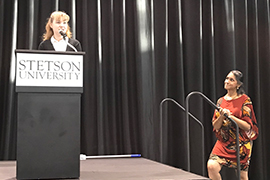 Stetson University junior Autumn Johnson stepped onto the stage at the Poverty and Homelessness Conference last week, and hundreds of educators and community leaders erupted into applause, rising to give her a standing ovation, even before she said a word.
The annual conference at Stetson had opened Friday morning with a 2011 video clip from CBS's "60 Minutes," called "Hard Times Generation: Families Living in Cars," which interviewed homeless children and their parents in Central Florida. One 15-year-old homeless girl spoke with a maturity beyond her years.
When the video ended, Stetson Associate Professor and National Coalition for the Homeless Board Member Rajni Shankar-Brown, Ph.D., told the conference crowd: "The young girl that you just saw who was so wise and spoke with such clarity, I am so proud and humbled and honored to say that she is part of our Poverty and Homelessness (Conference) Planning Committee today.
"This is Autumn. She is a student at Stetson University," said Shankar-Brown, as applause filled the Hollis Center Rinker Field House. "Let me tell you, the world better watch out because we're going to have one of the most fierce of advocates coming our way. I can guarantee it."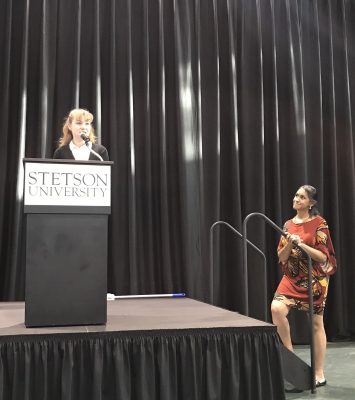 "My word, thank you so much," said Johnson, when the crowd quieted down. "I did not expect that at all. … Wow, what a flashback from the past. I can't believe that it has been eight years since that video was shown.
"My life has changed drastically," said the sociology major and member of the National Honor Society at Stetson. "I am no longer the pimply, lost homeless girl that you saw in that video. … Today, I have a new identity, literally and spiritually. I wouldn't be here if not by the grace of God and people like you who fight for the broken and the hurting."
Her comments at this year's Poverty and Homelessness Conference marked her first public statement on campus since she enrolled in the university in the fall of 2016. She said she decided to speak at the event to help the homeless, especially homeless children.
A Dream to Attend Law School
The conference, founded by Professor Shankar-Brown, is a collaborative effort among Stetson University, Volusia County Schools and Volusia United Educators. It has been recognized nationally and throughout the state as a model for social justice initiatives, rooted in equity and designed through impactful campus-schools-community partnerships, Shankar-Brown said.
"Today's theme is 'Disrupting Injustice and Prioritizing Equity Education' and Autumn is a clear illustration of why we must disrupt injustice and focus on equity," said Shankar-Brown, the Jessie Ball duPont Chair of Social Justice Education at Stetson.
Back when the "60 Minutes" segment aired Nov. 27, 2011, Autumn's name was Arielle Metzger. Afterward, she bounced around the homes of friends and relatives, and later was placed into foster care. Her foster parents adopted her and changed her name to Autumn Hope Johnson, wanting to give her a fresh start, she said during a break at the conference.
In one part of the "60 Minutes" episode, she happened to be wearing a green and gray Stetson University T-shirt. That prompted an outpouring of support on Stetson's campus and among its alumni. Within days of the show's airing, Stetson President Wendy B. Libby, Ph.D., offered a financial aid package to cover the full cost of attending the university. (Johnson has kept that Stetson T-shirt for all these years and said it's hanging in her closet.)
On "60 Minutes," Johnson had talked about the importance of education, and said her dream was to become a child-defense lawyer. Today, she still hopes to attend law school and advocate for children in foster care, she said during the conference break.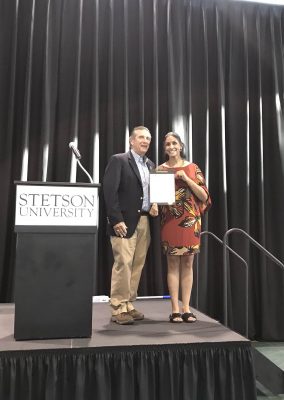 She currently is preparing for her senior research project, looking at the relationship between foster care and homelessness among teens and young adults, and is working on research publications with Shankar-Brown, one of her mentors at Stetson. Johnson plans to work on this research over the summer and also study for the LSAT, although she isn't sure how or where she may attend law school.
Alarming Numbers of Homeless
Johnson's decision to speak publicly at the conference provided an inspirational story about the need to help the most vulnerable children and youth, said Shankar-Brown.
This year, DeLand Mayor Robert F. "Bob" Apgar presented a proclamation recognizing March 15 as "Eradicate Poverty and Homelessness Day" and thanked scholar-educator Shankar-Brown for her vision and leadership efforts to fight poverty and homelessness.
The number of homeless families and children has doubled in the past decade and continues to rise, Shankar-Brown said in her opening remarks at the conference. Florida has the third highest homeless population in the country. And an even larger percentage of homeless families with school-aged children live in Central Florida.
"Florida has some of the highest numbers in the nation. Additionally, current research including by the National Low Income-Housing Coalition and the National Coalition for the Homeless clearly indicates that Central Florida also has some of the most severe shortages in affordable housing," she said, while adding that more than 35 percent of homeless middle and high school students in Central Florida identify as LGBTQI+ and the area offers far too few support resources for them.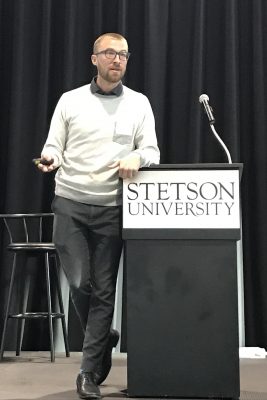 Conference keynote speaker Ian Siljestrom, the Central Florida Safe and Healthy Schools coordinator for Equality Florida, shared alarming data indicating that homelessness disproportionately affects LGBTQI+ students. And their numbers of homelessness may be even higher due to limitations in the counting methodology of homeless data, Shankar-Brown added.
Each year, in addition to inviting experts to lead educational workshops, Shankar-Brown invites people who were once homeless to speak at the conference and includes them on the conference's planning committee. Their personal stories provide a powerful tool to raise awareness among public school teachers and administrators, social service advocates and other community leaders.
"I believe that illuminating diverse voices and building empathy are imperative to bending the arc toward equity and justice," said Shankar-Brown.
'Don't Give Up on Us'
Now 22 years old, Johnson thanked Shankar-Brown and the people in the audience at the conference for doing so much to help address and prevent homelessness.
"I give thanks today for who I am," she told the crowd during her remarks. "First and foremost, I thank God for looking out for me when no one else was. I thank you all for the love and compassion that you have shown me and others like me. You fight for justice and you make everybody's day just a little bit brighter.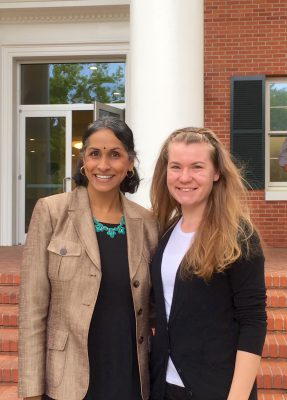 "I thank Stetson for the opportunity to prove myself to the world and to myself. I walk with new confidence. There are so many people I want to thank. I also thank my family who took me in, who adopted me, who loved me when no one else was there," she said.
A deeply religious young woman, she quoted the New Testament, 2 Timothy 4:7, "I have fought the good fight, I have finished the race," and said she would like to leave the audience with one thing.
"Basically, don't give up on us. We need you more than ever. You may not see the initial impact that you are having on these young children and families now. But to them, you brought to their world a seed of kindness that you can sow," Johnson said.
"I would not be who I am or have the passion that I have today if it were not for the individuals like you stepping into my life, telling me I have a purpose and to hang on to hope. Thank you," she said.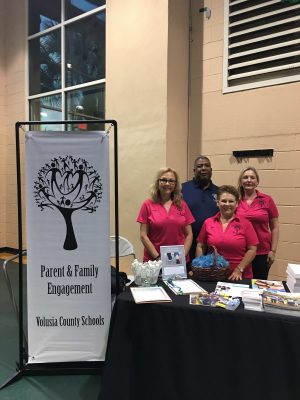 'A Movement to Disrupt Injustice'
In addition to recognizing Johnson, Shankar-Brown also presented two community organizations with awards at the conference for their outstanding partnership and impactful work — Felicia Benzo of CATALYST Global Youth Initiatives and Susan Clark of The Neighborhood Center of West Volusia — and recognized each of the generous sponsors who helped support this year's conference.
Shankar-Brown thanked her parents who persevered despite poverty and racism's many hurdles, and modeled the importance of service, civic engagement and building community partnerships. She also shared heartfelt thanks to her partners from Volusia County Schools and the Volusia United Educators, as wells as the Boys and Girls Club in Spring Hill. An afternoon panel on "Mindful and Impactful Partnerships" featured representatives with Food Brings Hope, Rotary Club of DeLand, Junior Service League of DeLand, the Neighborhood Center and CATALYST.
"I am grateful for community partnerships, especially those supporting schools, families and children. And I am so proud of Autumn for her resilience and accomplishments, as well as each of the other students on our planning committee, including outstanding seniors Ruby Moran and Brianna Burrowes who have also faced intense life challenges with amazing determination and now use those challenges as fuel for their passion and work," Shankar-Brown said after the conference.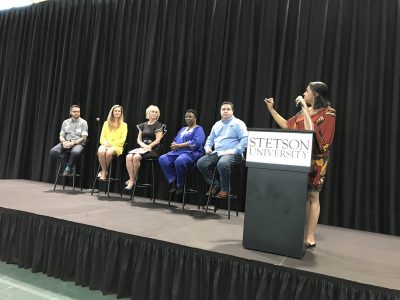 Rubyselda Moran is a WISE Leader and Stetson Bonner senior who works at the local Boys and Girls Club. Brianna Burrowes is a WISE Leader and the President of the Student Homeless Coalition, which Shankar-Brown advises. The two students are long-time members of the Poverty and Homelessness Conference Planning Team and first-generation college students, set to graduate from Stetson this May.
"As we continue contemplating the intersectionality of social justice issues and how these issues impact our schools, communities and children, let us remain steadfast in our commitment to generate viable, sustainable solutions to combat inequality and the challenging issues of poverty," Shankar-Brown said. "The PHC is more than a conference, but a movement to disrupt injustice. It embodies optimism and the power of collective action. All students deserve to thrive. Autumn beautifully illuminates why we must continue to tirelessly and mindfully address poverty, invest in all of our children, and never, ever stop marching for human rights."
-Cory Lancaster