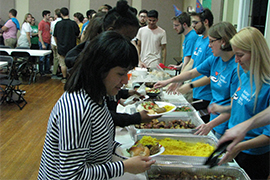 On a typical Thursday evening, a sizable crowd of students assemble in Allen Hall for a much-beloved campus tradition — Baptist Collegiate Fellowship's weekly dinner and Vespers service. Last Thursday, April 11, however, the crowd was a little bigger and the focus a little broader than usual. Stetson's Interfaith Values Fellows brought several student religious organizations together with the Baptist Collegiate Fellowship to wrap up its Better Together Days event.
Better Together is a national campaign promoted by Interfaith Youth Core to encourage student interfaith activity. Through programs like Better Together Week, students learn about faith traditions other than their own, identify common values and work together on community service projects.
This year, the program was spearheaded by Stetson's Interfaith Values Fellows, a group of four students who work with the Office of Religious and Spiritual Life to promote interfaith learning and cooperation. Their events for the week included tabling in front of the CUB, a facilitated interfaith dialogue and a cleanup of downtown DeLand, where the group and student volunteers collected several bags of trash from parking lots and alleys.
The week concluded with the dinner at Allen Hall, which brought BCF together with the university's Muslim Students Association and Hillel for dinner and an after-dinner Speed-Faithing session, where Interfaith Values Fellow Lana Kolchinsky facilitated a series of conversations based around religious literacy.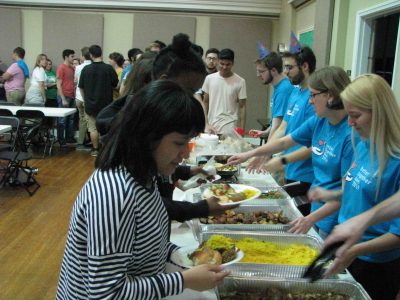 Interfaith Values Fellow Raven Golie had suggested the idea of doing the joint dinner. "A lot of people come out to (Baptist Collegiate Fellowship's) event, and I thought it would be a good way to reach a larger audience," she said. For example, many of the students from the School of Music attend the dinners between rehearsals, so it would be a good chance to reach out to them.
Attendance varied at other Better Together Week events, she said. "But I think we were successful in our goals of making a presence on campus for the Interfaith Values Fellows and informing peers of our purpose."
–Sensei Morris Sekiyo Sullivan
University Chaplain