NFL's Donald Payne to attend Stetson Youth Football Clinic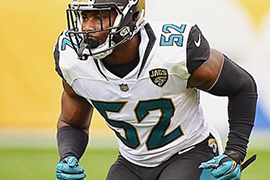 Stetson strives to be involved with and give back to the community. Students taking the Sport Event Management course created a Stetson Youth Football clinic for local children on April 27 and reached out to Stetson alumnus Donald Payne of the Jacksonville Jaguars to make the event possible.
Payne came to Stetson in 2013 when the university was relaunching the football program. He has often said, "Statistically, I'm not supposed to be here" since he had to overcome many challenges along the way.

He started as an almost unheard-of high school football player who decided to come to Stetson to play. And, despite going undrafted after he graduated with a finance degree in December 2016, Payne now plays with the Jaguars in the NFL.
On Saturday, April 27, from 8 a.m. to noon, Payne will be returning to Stetson for the Youth Football Clinic. He will be assisting in training boys and girls from ages 7-11 in the basics of football.
In addition to Payne, Stetson athletes and coaches will be there to offer fundamental skill training, contests and non-contact drills to enhance the children's understanding of football. Registration is $25 and each child who attends will receive lunch and a free t-shirt.
Tumas Williams, one of the eight Stetson students who organized the event, says the mission of this clinic is for "kids to have fun, compete and learn more about the game of football." All proceeds from the event are going to the Spring Hill Boys & Girls Club.
Those interested can sign up at https://stetsonyouthfootball.eventbrite.com to attend the event at the Stetson Athletic Training Center. Registration is still open, but only the first 100 children will be able to attend.
-Carley Fockler
Carley Fockler '15, English, is a graduate student in Stetson's M.F.A. of the Americas Creative Writing Program.