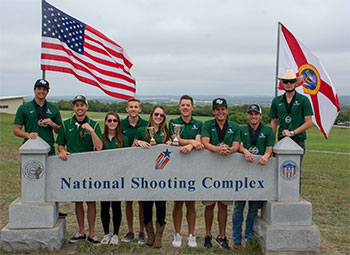 With apologies to the popular idiom "third time's a charm," in late March Stetson's Skeet and Trap Club traveled to the ACUI Collegiate Clay Target Championships and — in its first time at the event — performed triumphantly.
At the hilly, 671-acre National Shooting Complex in San Antonio, Texas, during the nation's largest collegiate competition, the 10 students representing Stetson rose to new heights among a total of 89 colleges and 900-plus participants. The complex is home to the National Skeet Shooting Association and National Sporting Clays Association. (ACUI stands for the Association of College Unions – International.)
Stetson's results: The club finished fourth in the category of High Overall Team and third in the category of American All-Around in its Division IV. Also, the club took second place in Sporting Clays and third place in American Skeet and Super Sporting.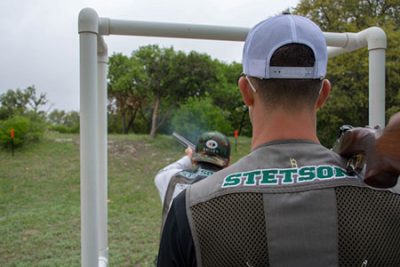 It was a virtual win for the 10-year-old club. Call it "busting clays."
Brief background about the competition: There were four divisions, largely based on size of school and level of national experience, with the competition involving six skill disciplines and multiple challenges, such as varying target venues and target speeds. The disciplines were American skeet and American trap, international skeet, international trap, sporting clays and super sporting.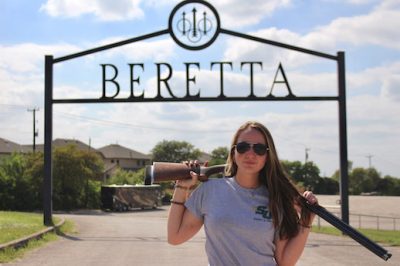 In each event, the top five scores were counted from the Hatter participants: Beretta Kaschai '19, Carleigh Alfrey '19, Brad Solis '19, Mike Denton '20, Nathan Oltorik '22, Trevor Weiss '19, Charlie Taylor '20, Curtis Knowles '20, Trevor Reed '19 and Cameron Monsees '21.
Regardless of individual outcomes, significant impacts were made on and off the range, according to Bob Froriep, the club's volunteer head coach.
"I was so impressed with their performance. They seem to me like they all have it," Froriep said. "They have it in their head they want to get better. They want to be champions."
In many respects, Froriep's involvement is emblematic of the club's evolution over the years. A shooter all his life and a high-level instructor, Froriep was invited to coach last fall. He had no previous ties to the university, aside from helping some of the club members at the Volusia County Skeet and Trap Range near the Stetson campus, where they practice. Steadily, organically, his involvement with the club grew.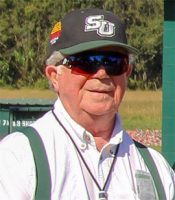 That same kind of natural evolution occurred during the club's formative years. After the club was founded in 2009 by University Mentor Richard Libby, Ph.D., husband of Stetson President Wendy B. Libby, Ph.D., he "recruited" alumnus Mike Davis '76 to assist. Richard Libby was instrumental in laying the club's foundation. And, through the years, so it went, as passion and pride took hold for all involved.
Beginning with only a few students, the club today has a membership of approximately 35 men and women. Richard Libby has become the club's No. 1 fan and mentor, typically calling the members "my kids." There's also a funding endowment, with club friends in the community and past members offering assistance. Most recently, it added another distinction by winning the award for Best Club Sport on campus, presented by Stetson Wellness & Recreation.
"This group is phenomenal. To think what they have accomplished for this university!" Libby exclaimed.
And accomplished for themselves.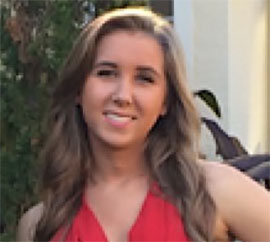 Alfrey arrived at Stetson as a sophomore and, by chance, met members at a work fair on campus. She had used a shotgun and hunted previously, but didn't know much about the club. After one practice, she fell in love. Ultimately, she became a club president.
"I never thought that I would be able to do it," Alfrey said. "Now, I've made some of my best friends — people I'll have lifelong relationships with. … Not only did I find a sport that I fell in love with, but it also helped me to personally develop further."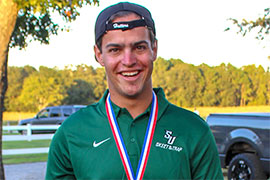 Similarly, at the championships, Solis had to stop and almost pinch himself.
"When I saw the range [at the National Shooting Complex] for the first time, it blew my mind," Solis said. "I had to take a deep breath and try to appreciate the surrounding. Then when I was shooting, I knew I needed to cancel everything out [to perform well]. I can honestly say that being at the complex, shooting with team, was the best week of my life."
Memories, indeed.
Concluded Kaschai, this year's club president: "It was so great to come back with trophies to remember our first time there and to say, 'Hey, we can do it, too.'"
–Michael Candelaria