Recognizing Outstanding Achievement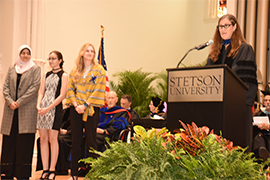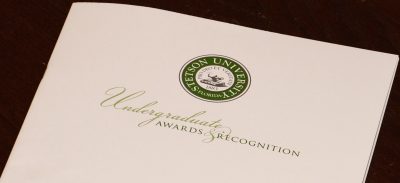 One winner of the Algernon Sydney Sullivan Award traveled to Germany to work with a refugee resettlement program during the summer.
Another winner out to address the root causes of poverty, working at the Boys and Girls Club where she was a member growing up.
The Algernon Sydney Sullivan Awards are presented annually to the man and woman in the graduating class whose dedication to service and nobility of character set them apart. The prestigious award is one of the highest recognitions given to a Stetson graduating senior, said Lua Hancock, Ed.D., Vice President of Campus Life and Student Success.
This year's awards went to Rubyselda Moran and Taylor Clarke. They were among more than 50 award winners on Friday afternoon at Stetson's 2019 Undergraduate Awards and Recognition Ceremony in Lee Chapel.
"Students, there is benefit to hard work and it is not only a plaque or a check or recognition. It is also the respect that you have earned," said Executive Vice President and Provost Noel Painter, Ph.D.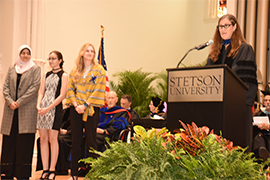 The awards were presented a day before Commencement on Saturday morning, May 11, when 817 students will be honored with undergraduate degrees from Stetson.
The Sullivan Awards were created nearly 100 years ago and are given annually by the Algernon Sydney Sullivan Foundation in New York.
Award winner Rubyselda Moran is a passionate advocate for educational equity and local poverty-reduction efforts through her many service projects. She excelled academically despite a challenging course of study in Sociology, Psychology and Education, and will receive a B.A. in Sociology on Saturday, graduating cum laude.
Among her many efforts, she provided intensive reading tutoring to underperforming first-graders at a local high-poverty school, and served as a summer intern and camp counselor at the Boys and Girls Club where she was a member while growing up.
Sullivan winner Taylor Clarke was described as an honors student who cares deeply about creating a better world, whether by analyzing the effects of the Flint Michigan water crisis on the local community, or working with a local environmental consulting company to study the impacts of water quality on homes in Florida. Clarke will receive a B.S. in Economics, graduating magna cum laude on Saturday.
Also on Friday, the John Hague Award for Distinguished Teaching in the Liberal Arts and Sciences was presented to Melinda Hall, Ph.D., newly promoted to Associate Professor of Philosophy. Hall also is co-director of the Community Education Project, Stetson's higher education in prison program.
The selection committee has seen Hall's name frequently in the past, said Thomas J. Farrell, Ph.D., Interim Dean of the College of Arts and Sciences. "Students have nominated her four times during the six years that she has been at Stetson," he said, adding that he personally sees her students arrive early for classes and stay afterward to engage her in the day's questions.
John Hague, Ph.D., professor emeritus of American studies, led Stetson's application to earn a chapter of Phi Beta Kappa in 1982, the first chapter established at a private university in Florida. The award celebrates Stetson's tradition of excellence in teaching the liberal arts and sciences and its devotion to scholarship, morality and friendship, the guiding principles of Phi Beta Kappa, the nation's oldest and most prestigious undergraduate honorary society.