174 Graduate Students Earn Master's Degrees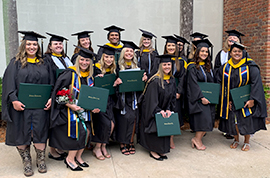 Laurie Warfield works as an education manager for Disney's Animal Kingdom and said she has learned a lot about life from spiders.
A Student Speaker at Stetson University's Graduate Commencement Ceremony on Thursday evening, Warfield told her fellow graduates that spiders are one of the most misunderstood animals on the planet, but they "can teach us a thing or two."
"For example, some spiders launch a dragline of silk behind them like a bungee cord in case they miscalculate a jump. Couldn't we all benefit from a spider's confidence to springboard into the unknown, with no fear of falling or failing?" she asked, adding that this silk, "strand for strand, is stronger than steel."
Warfield earned an Executive Master of Business Administration on Thursday evening, May 9, and is a newly inducted member of Beta Gamma Sigma Business Honor Society. Selected as one of two Student Speakers at the ceremony, she was among the 174 graduate students who received master's degrees from the College of Arts and Sciences, and School of Business Administration.
"Today we come together to recognize our graduates – and the hard work and dedication, the perseverance, you have shown that has led you to this moment," President Wendy B. Libby, Ph.D., told the crowd. "You have arrived at this point in some measure because of the support of your families and friends here today. Congratulations! We are so proud of you."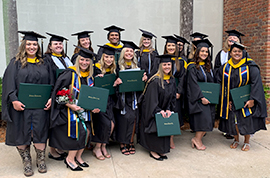 The graduates, along with family members, friends, faculty and staff, filled the Edmunds Center for Graduate Commencement as degrees were awarded in six fields – Master of Education, Master of Fine Arts, Master of Science, Master of Business Administration, Executive Master of Business Administration and Master of Accountancy.
"The education we have gained here will serve as a guiding light on the path unfolding before us," said Student Speaker Stephanie Duncan, who graduated with honors with a Master of Science in Marriage, Couple and Family Counseling. "Make no mistake – today is not the finish line, today is the start of an incredible story that we know absolutely zero percent of."
Stetson will honor 817 undergraduate students with degrees on Saturday, May 11, from 8-10 a.m. in Spec Martin Memorial Stadium.
Doors open for guests at 6:45 a.m. on Satuday. Receptions for students, family and friends will be held on the DeLand campus immediately following the ceremony. Visit the commencement website for parking, seating and additional information. The stadium is at 260 E. Euclid Ave., DeLand, Florida, 32724.