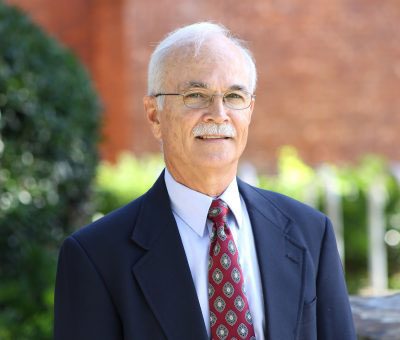 Whether students want — or need — to study online, on campus or away, Summer Study @ Stetson is available for them to "Go Further Faster."
Students can catch up on classes and make sure they graduate on time. Or, they can accelerate their academic studies. And they can take classes from almost anywhere, even while expanding horizons through far-reaching study-abroad programs across the globe.
That's the message from Stetson Professor Mitchell Reddish, Ph.D.
"I see a lot of ways in which summer provides opportunities that students would not normally have," said Reddish, chair of Religious Studies, who also coordinates Stetson's summer academic for-credit sessions.
Three summer sessions are available: seven weeks May 20-July 11; four weeks May 20-June 18; and four weeks June 20-July 19.

The summer sessions offer both lower- and upper-division courses from departments throughout the university.
"I would point out that students should check the class schedule list to see what's available," Reddish said. "There's a large selection of courses for students to take, and some new courses are being offered this summer."

On campus, students are able to study everything from A to almost Z. Similarly, online courses that previously were offered only during the seven-week summer session now may be available during a four-week session.
In addition, students can save tuition dollars, with a "significant difference" in tuition for summer courses compared to the fall and spring terms, Reddish noted. And financial assistance may be available, as well as help with housing.
Further, students can receive academic advising about summer-course selection.
Erin Collier '22 received such help and more.
Last summer, just weeks before officially starting as an incoming first-year student in the Fall semester, Collier was "intimidated by college courses and college, in general," she said. So, with plans to major in health sciences, she took a summer course with Melinda Hall, Ph.D., assistant professor of philosophy.
Collier was able to get ahead.
"I really was able to receive immediate help with the material discussed and any college questions," she recalled. "Not only did I love the help Professor Hall gave me for preparing for college, but the material we discussed for the course was intriguing and made me excited to take college classes."
In other words, Collier was able to go further faster.
-Michael Candelaria