The Making of John B. Stetson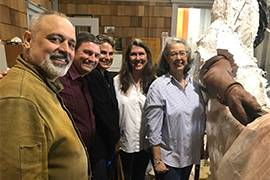 In a studio outside of Chicago, a larger-than-life sculpture of John B. Stetson will be cast in bronze this summer and make its way home to the Stetson University campus.
Renowned sculptor Erik Blome has been recreating the university's benefactor for the past year, taking the project from concept to drawings to a clay model and now the man, 130-percent larger than life is seated on a bench and tipping his hat.
Commissioned with the support of former university Trustee and Double Hatter Troy Templeton and his wife Sissy, the sculpture will be unveiled on the DeLand campus in early August and installed in front of the Marshall & Vera Lea Rinker Welcome Center.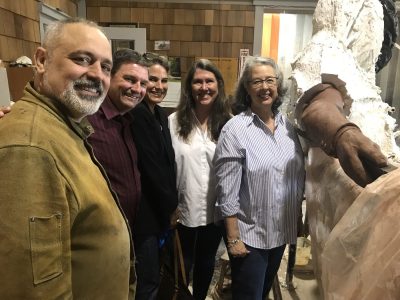 On June 24, Stetson President Wendy B. Libby, her husband Richard and the Templetons traveled to Blome's studio to see sections of this iconic figure cast in molten bronze.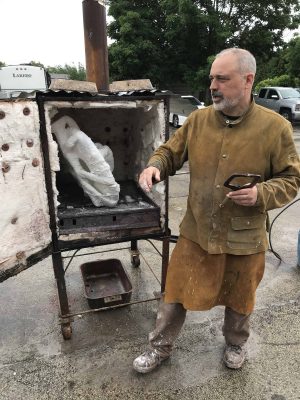 Blome and his assistants suited up in protective gear before melting the metal and pouring liquid bronze, at 2,150 degrees Fahrenheit, into ceramic shell molds, much the same way the ancient Greeks and Romans did it thousands of years ago.
Blome's sculptures can be found across America, including Dr. Martin Luther King, Jr. in Milwaukee, Rosa Parks in Montgomery, Alabama, and hockey Hall of Famer Wayne Gretzky outside the Staples Center in Los Angeles.
But this project presented a few unique challenges, Blome said, because basic details, like Stetson's height, are not known and required research by Sue Ryan, the Betty Drees Johnson Dean of the Library & Learning Technologies in the duPont-Ball Library.
"A lot of times when I do projects, there's a photograph that inspires it. Someone says, 'we want this kind of pose,' " Blome said recently by phone. "In this particular project, there was nothing like that. They said maybe we'd like him seated. … So all of it had to be invented from imagination."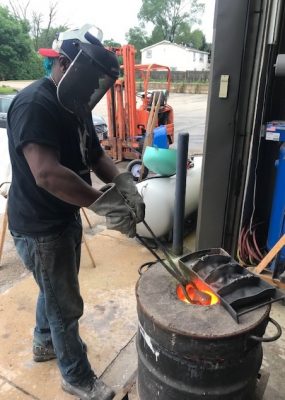 "Warm and Welcoming"
Blome started with 12 drawings, each showing a different pose of Stetson seated on a bench with one of his signature hats. In one drawing, the hat was on the bench. In another, on his knee, or in his hand in front of him.
"I don't think the final solution was in the first drafts," Blome recalled. "We weren't even considering the idea of tipping his hat at all and then I thought of it, kind of at the end, and presented it as a possibility … and Troy and others said actually, 'I really like that idea.'
"I went with that because it's a really warm and welcoming kind of thing. This guy tipping his hat at a university is good," he said.
Then, the hard work began. Blome had to turn the drawing into a three-dimensional clay model, called a maquette, which isn't intended to be the final design, but to serve as a guide when he sculpts the larger image.
To create the small model, Blome didn't have "John Stetson at my fingertips," so, he had to use his skill as a sculptor to imagine what the famous hat manufacturer would have looked like sitting on a bench.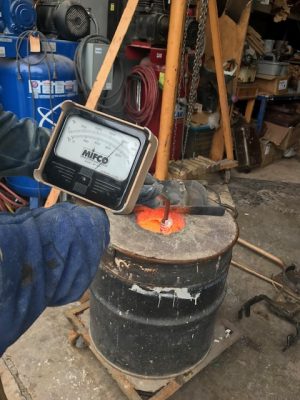 By then, Blome had visited the DeLand campus to learn more about the 19th century entrepreneur. "I was down there and met Wendy. It was about a year ago, and she gave me a ride around on her golf cart, and I went to the library and looked at that bust of him," Blome said.
He also met with Sue Ryan in the library, who agreed to loan two items from the university's archives: a hat and spats, the old-timey coverings once worn over men's shoes and ankles as a splatter guard.
These loaned items hadn't belonged to John B. Stetson but "would be appropriate for the time period," explained Ryan.
Legendary figures, like Stetson, usually are sculpted larger than life because it makes the figure "feel bigger and more powerful and more interesting," Blome said. When historical figures are made at life size, "they sometimes look diminutive," he added.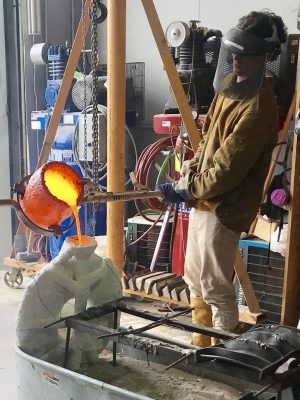 But to make Stetson at 130 percent, Blome needed to know his actual height. And surprisingly, no one knew. "We had no idea," he said and enlisted the help of Ryan in the university library.
"The sculptor and I worked on this question," Ryan said. "Based on the one photo we have of JBS standing in a group, the average height of men at the time the photo was taken, and the height of some of his descendants, we came up with an educated guess of approximately 6 feet tall."
Blome hired a model of the same height, a 6-foot-tall physical trainer, who sat on a bench in his studio, tipping his hat, so Blome could create the figure's anatomy with precise detail. Then, he sculpted clothing from the 1890s on top of the clay figure.
"A lot of people don't do that. They go right away to sculpting the clothing, so you don't get that feeling of an arm inside the clothing," Blome said. "That's something I learned from a great teacher I had back in the '80s and it makes your work stand out because you have inner presence of the body inside the clothes."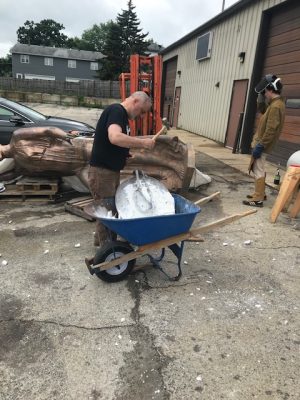 Next, he made the bench, casting it in bronze pieces and assembling it. Then, finally, he was ready to sculpt the larger-than-life Stetson seated on the actual bronze bench. That way, the figure would fit perfectly in place when cast in bronze.
"A Three-Dimensional Puzzle"
The process of making bronze sculptures and statues is exactly the same today as when the Greeks and the Romans did it thousands of years ago, except that now sculptors use better materials and equipment. They can heat metals faster with gas-powered furnaces and use ceramic materials for the molds made with the same material developed by NASA for the heat-shielding tiles on the space shuttle, Blome said.
"A figure like Stetson will be cast in about 15 pieces – that hat will be cast separately, the arm will be in two sections, the torso will be in about six sections, and the head will be cast as one section," he said. "You take a three-dimensional puzzle and you weld it all back together."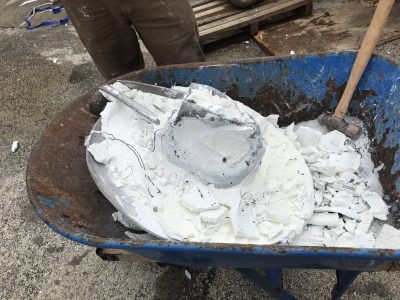 Each piece is made from a mold created from rubber, wax and this high-tech material developed by NASA. Molten bronze will be poured into each mold and allowed to cool.
Once the pieces are welded back together, Blome will grind down the seams and add texture to match the rest of the figure. If the sculptor does a good job, no one will be able to tell the figure was assembled from pieces.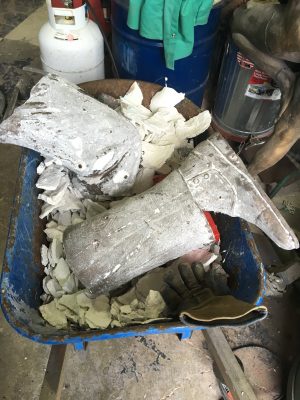 The sculpture, weighing approximately 1,600 pounds, including the bench, will be trucked here in early August and lifted carefully into place with a forklift onto a hard granite base. Stetson will face DeLand Hall and, when people sit beside him and take a selfie, Elizabeth Hall will be in the photo behind them.
Blome will be on campus for the installation in August and hopes to return this fall when the sculpture is dedicated, along with the new Templeton Fountain outside the Carlton Union Building. The dedication ceremonies for both projects are set for Friends and Family Weekend 2019 on Oct. 18-20, President Libby said.
Afterward, Stetson, who had a winter home in DeLand and remained active in the university's affairs until his death here in February 1906, will greet students, visitors and others, with a friendly tip of the hat. And that is no easy feat, Blome said.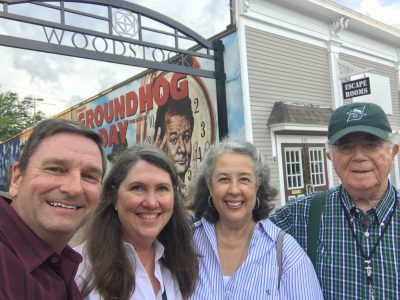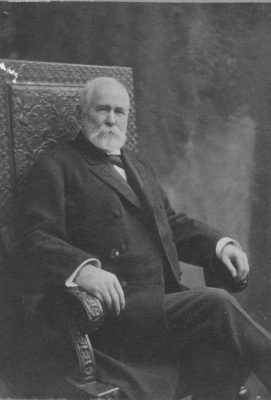 "It was really hard for the model to hold his arm up for that long," Blome said, referring to his model holding the hat loaned from the library or a surrogate hat used at times. "I actually had to put a broomstick under his wrist, so he would have this broomstick while he was holding it and he was really an in-shape guy. He was a physical trainer, so I kept saying, 'What's wrong?'
"He said, 'Have you ever done this?' So, I sat down and tried to do it and oh, my god, it's impossible. You'd be amazed how difficult it is to hold your hand like that," he continued. "So I want people to know that this guy in bronze, he's got a tough back. He has to hold it that way, for what, 10,000 years?"
-Cory Lancaster