Class of 2019: Nate Smith finds an 'Impactful' experience at Stetson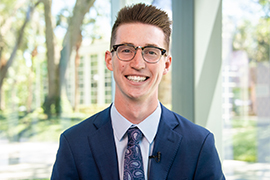 Ask Nate Smith why he earned a double degree in finance and economics, and the Georgia native offers a slightly different approach to selecting a major.
"I'm going to sound really bad because my answer is probably not kosher," he said. "You've probably heard students say, 'What's your Stetson story?' and I don't know if mine is anywhere close to what most people's are. … I love being around people smarter than me and I thought, 'Well, a lot of finance people have always been smarter, so why don't I hang around those chaps when I go to college?' "
Smith also cites the influence of his mother, who worked in management at IBM before a disability ended her time there. Growing up in Kennesaw near Atlanta, Smith attended a private high school with a business academy where he took "eight business classes before college."
Smith landed a "full ride" to attend the business school at the University of Georgia, but his path changed when he visited the Stetson campus.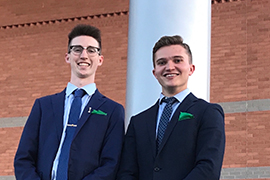 "I was like, 'Man, this is the only school I've visited that I've gotten to go into every single office of professors whom I've met, and I've gotten to sit down with them and talk to them,' " Smith says. "It seemed like I could get a really hands-on education here. The faculty has been the most impactful thing about Stetson for me."
Smith is a bit of a raconteur and notes his two parents "are very different." While his mother is "on the corporate side," his father "is a full-time baseball scout. He's just a good old blue-collar worker, a vocal 'people person.' "
No doubt the influence of both parents helped Smith in his role as a member of the Stetson School of Business Administration's Business Ethics Case Competition Team, which has competed against teams from both national and international universities at such prestigious events as the McDonough Business Strategy Challenge at Georgetown University. At these competitions, the teams are challenged to come up with solutions for real-world issues faced by either actual or fictional businesses or institutions.

Smith has been on the Stetson team since his sophomore year, and he competed in seven competitions, including ones held at Georgetown, the University of Arizona, the University of Washington at Tacoma, and the International Business Ethics Case Competition in California. Smith was named captain of the Stetson team during his senior year.
"This was the first year we really had a captain in a centralized leadership," Smith says. "The team is headed up by three faculty, and they kind of added me on as the fourth cog to have a broader outreach to get more students."
Mention that old joke by comedian George Carlin about the term "business ethics" being an oxymoron, and Smith doesn't miss a beat. Instead of asking "Who's George Carlin?," Smith says: "It's funny. I'm in a fraternity, Phi Sigma Kappa, and one of the alumni nicknamed me 'Old Soul.' We were talking about old comedians and I said, 'Hey man, I bet I know just as much old TV as you do,' and he goes 'No way.' I said, 'Yes I do' and from that point forward, every time he sees me he quizzes me on 'Andy Griffith,' 'Gomer Pyle,' 'I Love Lucy,' all those things. I love that stuff.' "
As a junior, Smith participated in Stetson's Roland George Investments Program, in which students manage a real portfolio composed of $3.5 million in stocks and bonds. Students develop their own investment goals, objectives and criteria for managing their portfolio.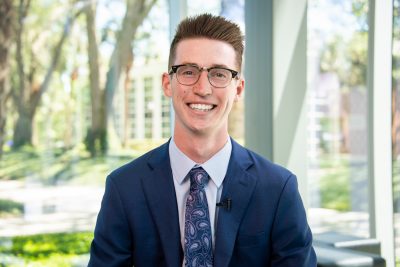 Smith served as a teaching assistant for two years for John Tichenor, Ph.D., Associate Professor of Management and Chair of Management. Smith also notes he has "done quite a few independent studies," including two that involved research with faculty: a statistical modeling project with Matthew Hurst, Ph.D., Assistant Professor of Finance; and a venture capital study with Jon Carrick, Ph.D., Assistant Professor of Management.
When Smith isn't participating in business competitions, conducting research or watching "I Love Lucy" reruns, you likely can find him playing disc golf or competing in intramural sports, especially Ultimate Frisbee.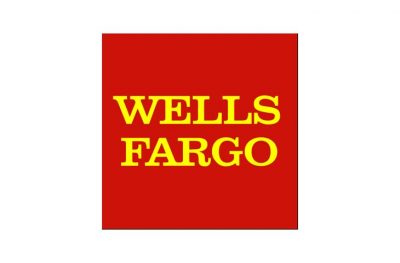 After graduation, Smith will be heading back to his home turf. He will be taking a job in Atlanta as an analyst with the Wells Fargo Beverage Finance Specialty Group. He also will begin a six-month program at Georgia Tech "learning a variety of programming languages in hopes of getting better at big data, data mining and data analytics."
As for his Stetson tenure, Smith says, "I've really had the opportunity to do so much with faculty and staff. It's been incredible, especially working with the business ethics team."
— Rick de Yampert