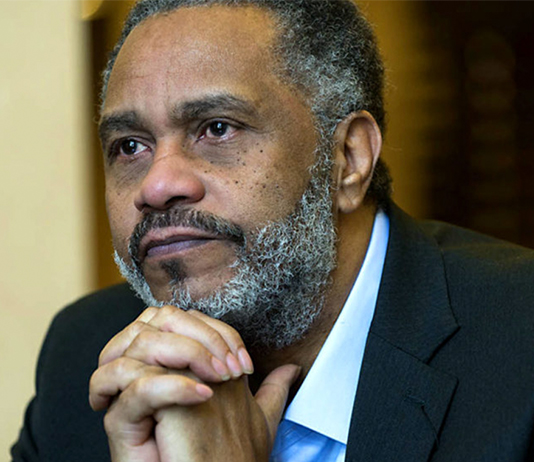 Editor's note: This story originally was posted on March 22, 2019.
The evening's topic on March 19, "Surviving Criminal Justice in America," part of the Social Justice Lecture Series, promised passion, poignancy and drama along with uncommon perspective and even uncomfortable discussion.
The guest speaker spent 30 years in prison for two murders he didn't commit — wrongly accused, convicted and sentenced to Alabama's death row — before finally being exonerated and released in April 2015.
University President Wendy B. Libby, Ph.D., opened with a few remarks, pointing to Stetson's commitment to talking about social justice issues "extensively." She mentioned a civil rights trip that Professor Greg Sapp, Ph.D., led with students as part of a course called Religion and the Civil Rights Movement. They had traveled to six cities throughout the South, learning about the Civil Rights Movement. Libby also detailed the work of Stetson's Community Education Project, where since 2015 more than 30 faculty and staff have taught incarcerated students at the nearby Tomoka Correctional Institution in Daytona Beach.
Both excitement and tension were palpable, as more than 250 people — students, faculty, staff and others — gathered to pack the Stetson Room in the Carlton Union Building on campus.
Then, following an introduction by Randall Croom, Ph.D., assistant professor of management, Anthony Ray Hinton walked to the podium and delivered.
Hinton began with this message: "I wish I could tell you that the State of Alabama made an honest mistake. I wish I could look at you and say race and class had nothing to do with me spending 30 years in a 5-by-7 space."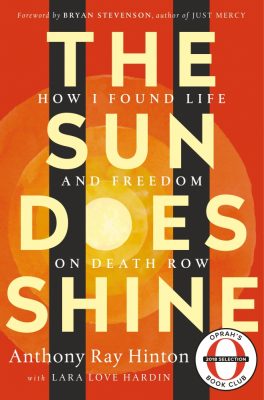 Hinton recounted stories he shared in his book, "The Sun Does Shine," about the day he was arrested, what the police said and didn't say at the time. Hinton described that when he was arrested, one of the officers said, "I don't care if you did do it or you didn't do it. I'm going to make sure you are found guilty." Hinton was at work during the time of the crimes, and the bullets didn't match the old gun in his mother's closet.
Also, Hinton talked about being in prison when his mother died. They were close, and she once told him, "No matter what a man has done, he or she deserves compassion" — words he lived by even while incarcerated. Further, he talked about watching a racist be transformed by love, and how his faith and his imagination kept him going. He had counseled guards and inmates alike, and he started a book club in prison.
Consider this brief outline only sort of CliffsNotes.
Ultimately, Hinton's case bounced around the court system before reaching the U.S. Supreme Court. If the Supreme Court had ruled against him, he was told, Alabama would execute him within a year. In the end, "The U.S. Supreme Court did something it had never done," he said to the Stetson audience, some in tears. "All nine ruled in my favor."
The State of Alabama dropped the charges.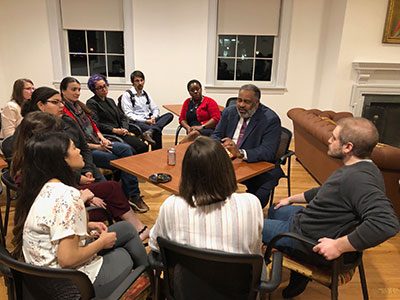 "Thirty-four years later, no one with the State of Alabama had the decency to say I'm sorry," Hinton said, noting that he has not seen a penny from the state.
It was a simple ballistics case, Hinton added, and it took more than 30 years for the truth to be heard.
He continued: "We have a system that treats you better if you are rich and guilty than if you are poor and innocent." … "Where's my justice? I lost everything." … "How does one survive 30 years of pure hell when he knows he didn't do anything?"
Then Hinton urged the audience to vote, to get "good people" into office. "We have a system I need your help in changing. Change the system before you become a victim like I was. How many men and women need to be exonerated before enough is enough? How many men and women need to be executed in your name before enough is enough?" he asked.
"I am having to learn everything over as if I were a child," Hinton said. "The world didn't stop and say, 'Let's wait on Anthony Ray Hinton."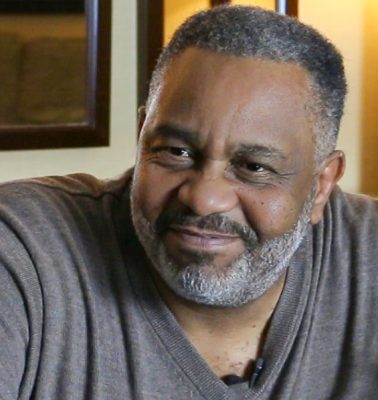 Today, Hinton works for the Equal Justice Initiative, whose founder and executive director, Bryan Stevenson, helped to find justice for him. EJI, based in Montgomery, Alabama, has a stated mission of ending mass incarceration and excessive punishment in the United States, challenging racial and economic injustice, and protecting basic human rights.
After 30 years of sleeping on a cramped twin mattress, Hinton bought a king-size bed, a California King. Yet, he still sleeps with his knees up at his chest. He still wakes at 2:45 a.m., thinking it's breakfast time.
"Four years will not erase what 30 years have done to me," he concluded.
A movie about Anthony Ray Hinton is being planned. Stetson received gut-wrenching and heartwarming glimpses of the story.
–Michael Candelaria