Preparing Florida for Sea-Level Rise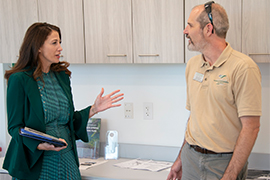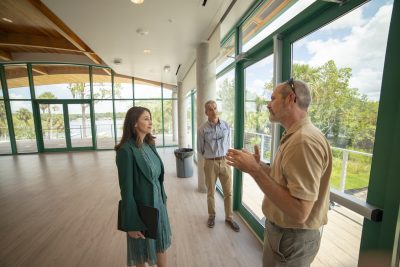 Only weeks into her new job as Florida's Chief Resilience Officer, alumna Julia Nesheiwat, PhD, returned to Stetson to collaborate as she engages Florida's universities across the state to help prepare Florida for sea-level rise.
Gov. Ron DeSantis appointed Nesheiwat '97 as the state's first chief resilience officer last month and tasked her with developing a strategy to deal with the impacts of climate change.
Nesheiwat brings more than 20 years of experience to the job as a former diplomat, combat veteran and senior official with the U.S. Department of State focused on renewable energy and environmental issues. She holds a doctorate from the Tokyo Institute of Technology's Department of Science and Engineering.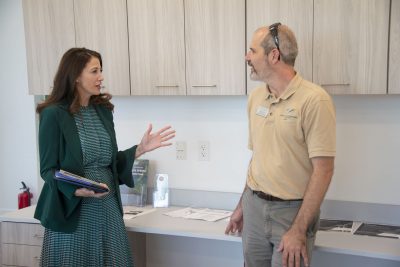 Since starting her new job, Nesheiwat has traveled throughout the state to meet with experts in government, academia and the private sector to learn about research and other projects aimed at helping Florida prepare for the environmental, physical and economic impacts of rising sea levels.
And that brought her back to her alma mater on Aug. 26 to meet with Jason Evans, PhD, associate professor of Environmental Science and Studies, and a researcher on sea-level rise.
"Dr. Evans is someone who has been working on these issues for quite some time, so even though my role is new, we can't dismiss the fact that this work has been happening all throughout the state of Florida, and Stetson has been tremendous in bringing great experts onboard," said Nesheiwat, who received Stetson's Distinguished Alumni Award in 2017.
Nesheiwat met with Evans and two other experts at Stetson's Institute for Water and Environmental Resilience in the Sandra Stetson Aquatic Center on the shores of Lake Beresford.
"I discovered through Stetson that they put together this new Institute for Water and Environmental Resilience," she said, "which I think is a great starting point for academia and other outside experts to come together on such an important issue for the state of Florida and beyond."
In a state with 1,350 miles of coastline, Florida is particularly vulnerable to sea-level rise, according to a 2014 national climate assessment. "That means 'large numbers of cities, roads, railways, ports, airports, oil and gas facilities and water supplies are at low elevations and potentially vulnerable,'" according to a story in the Tampa Bay Times.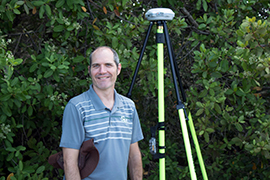 Stetson's professor Evans has conducted extensive research and vulnerability studies throughout Florida, and along the East Coast. At the meeting with Nesheiwat, he presented her with "a binder with way too many reports" from his work in the Florida Keys, Satellite Beach and New Smyrna Beach, among others.
"We all had the opportunity to share our experiences working with the communities, the impacts that communities in Florida are already seeing from sea-level rise, the experiences from hurricanes over the past three years, and then the need for this resilience planning that is really critical," said Evans, who met with Nesheiwat and experts from the Florida Sea Grant program and the East Central Florida Regional Planning Council.
"One of the things that she was most interested in and I call this 'the trillion-dollar question' is how much is it going to cost to do the resilience projects and to take the hard steps that we're facing with sea level rise issues throughout Florida and climate change issues throughout Florida?" Evans said. "We know it's going to be incredibly expensive."
Nesheiwat agreed and said she will be looking to experts like Evans to help Florida confront these complicated issues.
"We have to rely on true experts like Dr. Evans and others," she said. "So, I think bringing that expertise to the table will be very helpful in building a strategy."