Commencement 2020 Returning to Scenic DeLand Campus

Four years ago, Stetson University moved its undergraduate Commencement ceremony off-campus and outdoors to Spec Martin Memorial Stadium.
Beginning in May 2020, the ceremony will move back to campus and indoors to the Edmunds Center.
Stetson moved the event to Spec Martin in 2016 to accommodate larger graduating classes and their family and friends. The larger venue avoided the need to issue free tickets to graduates to limit the number of attendees, due to the capacity of Edmunds.
But last May, university officials realized that Spec Martin stadium was nearing capacity, too, and soon would require a ticketed event. That began discussions to explore all options for the right location for this milestone event for students and their loved ones. Those discussions among key university officials also included concerns about the May heat and humidity, and possibility for inclement weather.
"It's wonderful having everyone together. That was the best part of being outside," said Julie Hunter, director of University Events at Stetson. "But we realize that comes with costs, which were health concerns and the graduate and family experience."
Beginning this May, the Undergraduate Commencement will move back to the air-conditioned Edmunds Center for two ceremonies, the university announced this week:
One ceremony on Saturday, May 9, at 9 a.m. for the School of Business Administration and the School of Music together.
A second ceremony at 2 p.m., May 9, for the College of Arts and Sciences.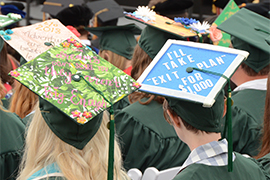 Graduating student will be able to receive five (5) tickets. However, there will be a process for reallocating unused or excess tickets into a ticket pool for students who request more than five tickets.
For more details about Stetson's 134th Commencement, please visit the Commencement website. And bookmark the page, which is updated as new information becomes available.
For additional information, contact the Office of University Events at [email protected].