Stetson University in the News, Oct. 18-24, 2019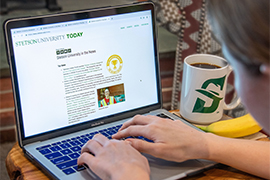 Top Stories: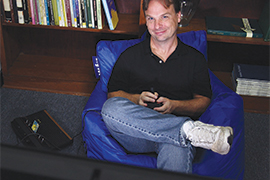 • Stetson Professor of Psychology Christopher Ferguson, PhD, published the article, "Can people get addicted to video games? Not so fast," in the New York Daily News on Oct. 23. Ferguson discusses the problems with scientific data often used in arguments about video game addiction.
• Professor Ferguson also was quoted in a USA Today article titled, "Passenger shaming hasn't worked. So maybe it's time to try airline shaming," on Oct. 25 about the increasing number of in-flight conflicts between passengers. "Shame mainly fosters resentment and can linger for the target for days after the flight," he said. "It's more of a retributive and revenge strategy than one that is particularly helpful for the specific situation."
• Stetson University College of Law Director of Human Resources Pam Skoularakos won a 2019 People First Award from the Tampa Bay Business Journal. The People First Awards aim to honor the work that human resources professionals and their businesses perform to make their Tampa Bay area firms successful.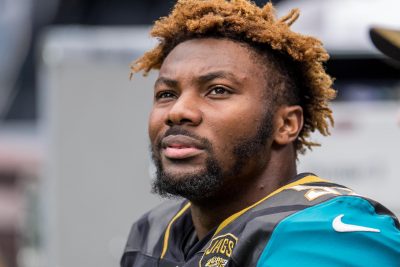 • Stetson alumnus and former Hatter star Donald Payne was signed as a linebacker to the Jacksonville Jaguars' active roster, the NFL team announced on Oct. 22. "Payne, 5-11, 217, previously appeared in 21 career games for the Jaguars during the 2017-18 seasons and totaled 15 tackles (11 solo). Payne originally entered the NFL as an undrafted rookie with Baltimore on May 5, 2017, from Stetson University and was claimed off waivers by Jacksonville on Sept. 2, 2017," the team said, adding he will wear No. 54.
• Stetson University student Juan O'Neal, who appeared in a photo that went viral of him praying over a Volusia County deputy sheriff, was featured in the Oct. 22 article, "He was on FIRE for God!" in the Early County News in Blakely, Georgia. The story notes, "O'Neal, a graduate of Harris County High, is a senior at Stetson University, on Stetson's football team and is a member of the Fellowship of Christian Athletes. Juan's dad, Ronald, is a retired detective with the Columbus Police Department."
Other News: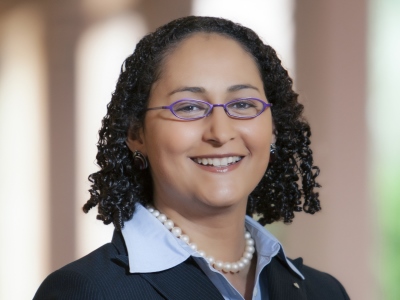 • Law Professor Ciara Torres-Spelliscy will speak at the Feb. 28, 2020, UCI Conference called, "Can American Democracy Survive the 2020 Elections?" according to an Oct. 21 post on the Election Law Blog.
• Tampa Bay Newspapers published a brief on the new Alliance for Advocacy and Philanthropy partnership between Stetson and The Community Foundation of Tampa Bay.
• Law Professor Rebecca C. Morgan wrote the following post for the Elder Law Prof Blog: Oct. 18, "Resources on Learning More on Opiod Pain Meds & the Public Health Emergency."
• Stetson Law student Shannon Walker won runner-up and a $1,000 scholarship in the National Mediator Competition hosted by the Blakely Advocacy Institute at the University of Houston Law Center, according to a press release on PRNewswire.
Alumni News: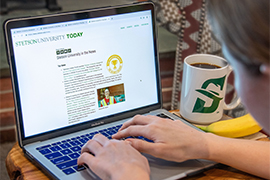 • Alumnus John Hicks is running for Governor of Kentucky as the Libertarian candidate, as reported by the Central Kentucky News-Journal in the Oct. 24 story, "General election set for Nov. 5: A guide to this year's ballot, voting locations."
• Alumna Blair Parke published the article, "Why Is "In God We Trust" on the US Currency?" on Oct. 23 at Crosswalk.com.
• Stetson Law alumnus Kevin Bruning is running for a seat on the 12th Judicial Circuit bench, looking to replace Judge Deno Economou, according to an Oct. 21 article in the Sarasota Herald-Tribune.
• Stetson Law alumnus Patrick Seidensticker has joined the law firm of Icard, Merrill, Cullis, Timm, Furen, and Ginsburg, P.A., as an associate in its Lakewood Ranch office, according to an Oct. 21 notice in the Sarasota Herald-Tribune.
• Stetson Law alumna Cathy Sagesse was sworn in as an immigration judge on Oct. 11 on New York's Federal Plaza Immigration Court, according to an Oct. 23 post on the NYC Immigration Lawyer Blog.
• Stetson Law alumna Christine Platt will speak to the Children's Book Guild on Nov. 14, according to an Oct. 23 post on the Children's Book Guild News site. It is a DC-based professional organization of authors, illustrators and children's literature specialists. Platt's literature centers on teaching diversity, equity and inclusion to people of all ages.