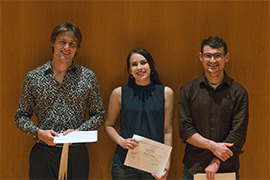 The name of this tune is "Guitar Greatness at Stetson."
Two current students along with a recent Hatter turned in winning performances at the 2019 Florida Guitar Festival and Competition, Oct. 11-13 at Florida State University.
In the competition's undergraduate division, Denis Vasenin, Arelys Camargo-Delgado and Jacob Spangler were awarded first, second and third place, respectively. Camargo-Delgado and Spangler are current students on campus. Vasenin is a former Stetson student, now at FSU, who also won second place last year as a Hatter.
The annual Florida Guitar Festival features high-quality masterclasses, multi-division competitions and concerts by revered classical guitarists. There were seven competitors in the undergraduate division, with three students — in this instance, each with a Stetson connection — advancing to the division's final round, which was open to the public.
Camargo-Delgado, a junior majoring in classical guitar performance with plans for graduate school, battled nerves but ultimately prevailed.
"I wasn't expecting much [success]. I was just treating it as an experience opportunity, because I thought it was very important to keep on competing. So, I can perform better in the long run," she said. "I was very surprised I got into the finals, but I also felt I played the best I ever have. And I felt like a completely different player. I felt happy that I played so well.
"I feel more confident now. And the comments the judges gave me have really helped me."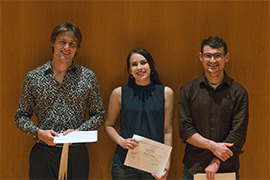 "I found the competition to be a rewarding experience," said Spangler, a senior majoring in classical guitar performance. "Performing in such a high-risk and exposed setting is stressful, and not everything goes well or as planned, but you also get to see other players perform, and you learn from them. I found that to be inspirational and even more valuable that placing.
"I feel good knowing that I finally got past the preliminary rounds after four attempts from previous competitions. I'm excited to compete again in February at the Columbus State Guitar Symposium."
Spangler plans to pursue a master's degree and a doctorate.
In addition, this year's guest artists included Stephen Robinson, DM, Stetson professor of music and guitar.
Robinson has been heralded by The New York Times for his effortless virtuosity with intelligence and good taste, and by the late Maestro Andres Segovia as "a magnificent guitarist, one of the most brilliant guitarists of our times." He performs extensively as a recitalist, collaborative artist and orchestral soloist — with the Boston Pops Orchestra, among others.
Plus, with great certainty, it also can be said that Robinson teaches very talented students at Stetson.