A Warm Welcome for President-elect Christopher F. Roellke, PhD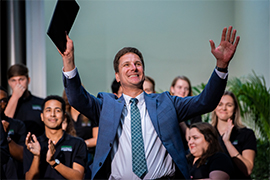 Amid a rousing welcome to Stetson University, President-elect Christopher F. Roellke, PhD, said he will strive to deepen the school's rigorous education and make it "more accessible, affordable and attainable" to a diverse mix of students from all economic backgrounds.
Roellke, currently Dean of the College Emeritus and Professor of Education at Vassar College in upstate New York, was unanimously selected by the Stetson Board of Trustees last month to become the 10thpresident of the university. He will take over for retiring President Wendy B. Libby, PhD, on July 1, 2020.
Roellke spoke to students, faculty and staff in Lee Chapel on Wednesday afternoon, Nov. 20, shortly after an uplifting, a cappella performance of "Walk A Mile" by the Stetson Concert Choir.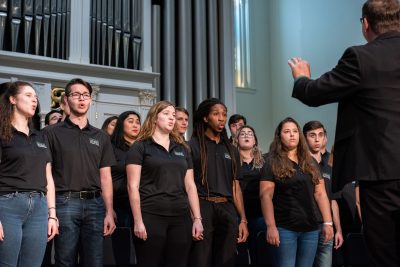 The married father of three said he did not want to outline a vision yet for his presidency at Stetson. A vision and strategic priorities "are best created collaboratively and not by a single appointed leader."
"However, I also understand you would probably like a sense, even at this very early stage, about what I would like to prioritize when I arrive on campus in July," he continued. "For what it is worth, my bottom-line vision for Stetson is that we need to continue to make this form of extraordinary education accessible to really smart, really engaging young people, coming to us from a wide range of social, ethnic, geographic and economic backgrounds."
"Promote Student Retention and Success"
He then laid out six priorities for Stetson at its DeLand campus, College of Law in Gulfport and centers in Celebration and Tampa:
"We will strive to broaden and deepen Stetson's rigorous personalized and experiential education in the liberal arts and sciences, in music, in business and in law.
"We will strive to make a Stetson education more accessible, affordable and attainable, and we will do everything we can to promote student retention and success.
"We will strive to strengthen Stetson's financial base so that this form of education can be preserved for generations that follow and so that Stetson can weather marketplace and economic fluctuations and to enable Stetson to innovate and to embrace new curricular priorities.
"Despite our geographic challenges, we will strive to continue to build One Stetson across our multiple campuses — a community that is steadfast in its commitment to diversity and inclusion, a community that acknowledges the contributions made by all who work at and support Stetson to make our complex organization thrive.
"We will stay laser-focused on how students learn and how best to help them learn —providing rich and challenging experiences both within and outside the classroom.
"We will be proactive, not reactive, in the rapidly changing higher education landscape and will not shy away from challenges — challenges that inevitably will come.
"Stetson has accomplished many of these things and I know all of you are rightfully expecting your new president to build on this very positive momentum," said Roellke, who began his talk by congratulating President Libby and her husband Richard for all that they have accomplished at Stetson since 2009.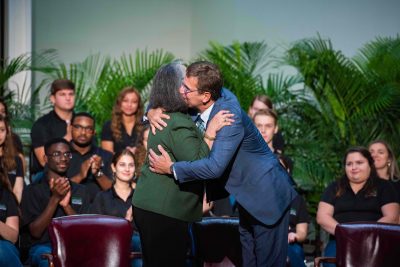 Roellke spent 21 years as a professor and administrator at Vassar College. He earned an undergraduate degree from Wesleyan University in American government, and a master's degree and doctorate from Cornell University in social and philosophical foundations of education. His teaching and research have focused on the politics and economics of education, teacher education and faculty development, curricular innovation, and American higher education, according to his biography.
In his remarks, he cited a national survey of student engagement that identified high-impact practices, such as providing students with opportunities for service, study abroad, internships and for research while working side by side with faculty.
"My sense is that Stetson is doing or aspiring to do precisely the kinds of things that I know have been most potent in my own pursuit of lifelong learning," he said. "And it is clear to me that you are committed to enhancing these types of high-impact practices at Stetson."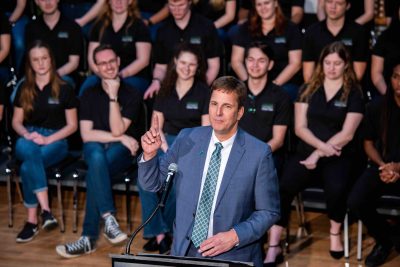 "An Incredible Team Builder"
Joining him for the visit was his wife Kim, a veterinarian. They have been together for 33 years and met during their junior year at Wesleyan when they were both resident advisors in the same residence hall. 
He said he hoped soon to introduce their three daughters: Emma, a first-year medical student at New York University's Long Island School of Medicine; Julia, a first-year science education fellow, sustainability coordinator and basketball coach at Green Farms Academy in Westport, Connecticut; and Olivia, a high school sophomore who loves horses, dirt bikes, power tools and all forms of music.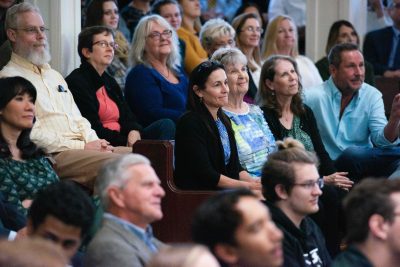 The youngest of seven children, Roellke also was accompanied Wednesday by his mother, Elizabeth Roellke, who will turn 89 years old next week; his brother David Roellke, a musician; and his sister, Beth Oyler, who lives in nearby Melbourne. Beth's son, Matthew Michael Oyler, graduated from Stetson in 2005. (It turns out Christopher Roellke was born in the same city as John B. Stetson: Orange, New Jersey.)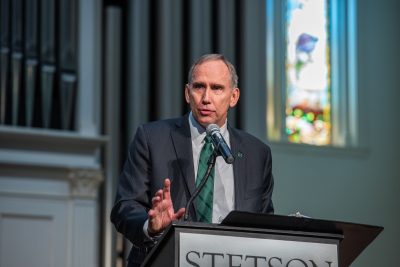 Board of Trustees Chair Joe Cooper '79, MBA '82, served as the chair of Stetson's Presidential Search Committee. He said people who have worked with and known Roellke for many years said he is "an incredible team builder who leads and empowers everyone at the same time and is unbelievably good with people."
"He listens and respects, bridging many constituencies with an ability to bring people together across different and divergent perspectives. He possesses boundless energy, with an enthusiasm that is genuine and … He is an incredibly student-centered leader," Cooper said.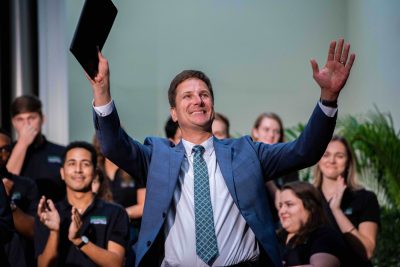 Following the glowing introduction and applause, Roellke stepped to the microphone. "Well, no pressure," he said, bringing laughter from the crowd.
He concluded his talk by quoting children's TV host Fred Rogers, whose life is chronicled by Tom Hanks in the new movie, "A Beautiful Day in the Neighborhood."
According to Rogers, there are three ways to ultimate success, Roellke said. "The first way is to be kind. The second way is to be kind. The third way is to be kind."
"As we are gathered today here in Lee Chapel, while at this moment a very divided House of Representatives conducts impeachment hearings, while we struggle to have socio-political discourse that moves us forward, while we are continuously challenged to find common ground on issues of identity, of inclusion, even on scientific evidence related to climate change, I believe it is vital that we not forget the words of wisdom from Mr. Rogers. 
"Thank you for welcoming me to a place that values kindness — Stetson University," he said.
-Cory Lancaster
Stetson Today