Join Stetson's 71st Yule Log Lighting on Tuesday, Dec. 3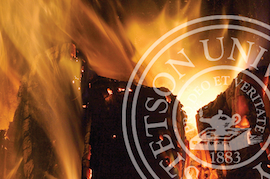 Each year, students, faculty, staff and members of the surrounding community gather near Hulley Tower to make Stetson University's annual Yule Log Lighting the ceremonial start to their holiday season. This Tuesday, Dec. 3, will be the 71st lighting of the Yule Log, one of Stetson's oldest traditions.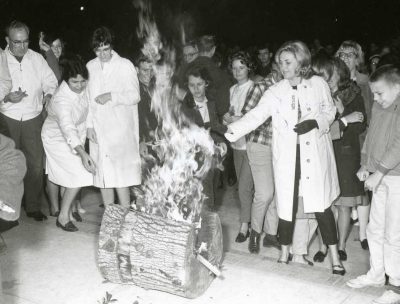 The Yule Log Lighting is a profound symbolic celebration commemorating the coming of light into the darkness. Yule is one of our culture's oldest winter traditions, dating to pre-Christian northern Europe. It marks the point where the days stop becoming shorter and darker and begin to move toward light and warmth.
This year's Yule Log Lighting will feature music from Stetson's Gospel and Cultural Choir, and readings from different cultural and religious traditions by members of Stetson student groups, including APAC, SONAR, Hillel and others. The chaplains will offer a few words of wisdom and blessings, and the Yule log will be lit.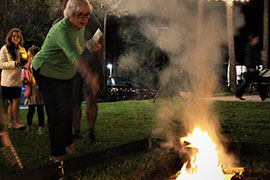 As in the past, the Yule log will be lighted and the audience will be able to cast sprigs of greenery into the fire to symbolize letting go of past burdens and moving into a new, bright future. We will all sing "Silent Night" together, and enjoy hot chocolate and cookies in front of the CUB.
We hope you will take a break from your studies or other duties to share this tradition with us. We look forward to seeing you by Hulley Tower at 6 p.m. this Tuesday, Dec. 3.
–Sensei Morris Sullivan
Chaplain, Office of Religious and Spiritual Life