Stetson University in the News, Nov. 8-14, 2019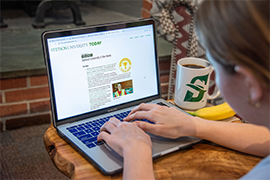 Top Stories: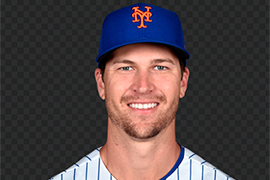 • Former Hatter star and New York Mets pitcher Jacob deGrom won the Cy Young Award for the second straight year on Nov. 13, according to The New York Times, ESPN and numerous other media outlets. "It doesn't feel real yet," deGrom told the New York Times from his family's home in Florida. "If you had told me when I first came up that this was going to happen, I probably wouldn't have believed you."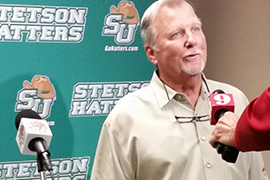 • Stetson's legendary baseball coach Pete Dunn was inducted into the Florida Sports Hall of Fame during a ceremony in Orlando on Nov. 12, the Orlando Sentinel and other media outlets reported. Dunn led the Stetson baseball program from 1980 to 2016, amassing 1,312 career victories and sending 84 players on to play professional baseball, with nine making it to the Major Leagues.
• Stetson Professor of History Eric Kurlander, PhD, was quoted in The New York Times on Nov. 13 in an article titled, "NASA Renames Object After Uproar Over Old Name's Nazi Connotations." Kurlander describes the Nazi connotation associated with the term Ulma Thule, which previously was given as NASA's unofficial name for a space object. "This isn't just some obscure element among hundreds of others in the Nazi cosmology," Kurlander said. "They named a tank division after Thule in World War II. It keeps popping up, which is why it probably makes sense not to name something that anyone has any interest in Thule. It has too much baggage as this point."
• Stetson College of Law Dean Michèle Alexandre was featured in Florida Trend's "11 Florida women in leadership roles." Alexandre said she grew up in Port-au- Prince, Haiti, and experienced income inequality firsthand. "In Haiti, it's 0.001% rich, and everyone else is struggling," she said. Her working-class parents emphasized education and studying hard. "My mom had a favorite saying: 'Life doesn't owe you anything.' The reality in Haiti is it was cutthroat."
• Chair of Finance Stuart Michelson, PhD, was quoted in the Nov. 14 U.S. News & World Report article, "How to Invest in Preferred Stock ETFs."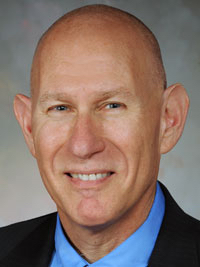 • Royal Gardner, director of the Institute for Biodiversity Law and Policy at Stetson University, was quoted in the Nov. 5 article, "Bringing the World's Buried Wetlands Back From the Dead" by The Associated Press.
• Law Professor Ciara Torres-Spelliscy's tweet was quoted on ComicSands.com in a Nov. 13 article, "Rudy Giuliani's Op-Ed Defending Trump Against Impeachment Backfires Big Time," and on a Huffington Post article, "Rudy Giuliani's Op-Ed Defense Of Donald Trump Backfires Spectacularly," and again on Raw Story in an article called, "Rudy Giuliani harshly mocked after admitting Trump's guilt in new WSJ column."
• Law Professor Peter Lake was mentioned in a Nov. 11 post on Freedom Bunker Daily in an article called, "Joe Biden's record on campus due process has been abysmal. Is it a preview of his presidency?"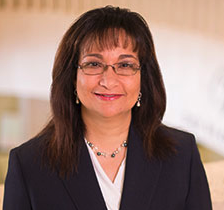 • Double Hatter Lila A. Jaber, BA '88, JD '90, regional managing shareholder at Gunster, has been appointed to the Chesapeake Utilities Corporation Board of Directors, effective Jan. 1, 2020, according to a press release from Gunster. She was appointed to the Board of Trustees of Stetson University in May 2019.
Other News:
• Law Professor Peter Lake was quoted in The Columbia Spectator in a Nov. 14 article called, "Students and Faculty Say Gender-Based Harassment and Discrimination at Columbia is Systemic. Why Are They Turning Away From the System Built to Address It?"
• Stetson's Reimagining Advocacy conference and Law Professor Stacey-Rae Simcox was mentioned in a Nov. 11 blog post called "Advocating for Veterans" by Hilary Reed on the Appellate Advocacy Blog.
• Law Professor Kirsten K. Davis wrote a Nov. 14 blog called, "Digital Public Commentary:" A New Rhetoric for Lawyers? for the Appellate Advocacy Blog.
• Law Professor Rebecca C. Morgan wrote the following blogs for the Elder Law Prof Blog: Nov. 10, The Wrong Goodbye; Nov. 11, Elder Justice Toolkit Released; Nov. 12, More Student Views on Recent Events; Nov. 13, Older Americans Act Reauthorization Passes House; and Nov. 15, Two Recent Articles About Dementia.
• Adjunct Law Professor Joe Bodiford continues to be featured on WCTV for analysis of the Segura trial. You can view the complete video clip.
Alumni News: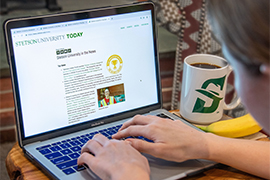 • Suzanne Forbes was named managing partner at James Moore Company on Nov. 1, according to a memo from The Greater Tallahassee Chamber of Commerce.
• Law alumna Wendy DePaul is entering the race for Hillsborough Circuit Court Judge Group 39, according to Florida Politics.
• Law alumnus Ben Sorrell, an associate with the law firm of Syprett Meshad, has been appointed to the Realtor-Attorney Joint Committee of the Realtor Association of Sarasota and Manatee (RASM), according to Tampa Bay Newswire. Sorrell's two-year term with the committee begins January 1, 2020.
• Law alumnus Mark J. Joseph joined Aloia, Roland, Lubell & Morgan, PLLC as an associate attorney, according to a press release.
• Law alumnus Brian Kramer, Gainesville prosecutor, has filed paperwork to run for Eighth Circuit state attorney to replace Bill Cervone when he retires next year, according to the Gainesville Sun.