University Presents Awards to 8 Alumni During Homecoming Weekend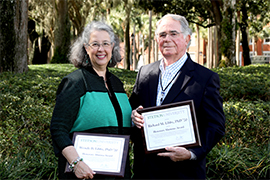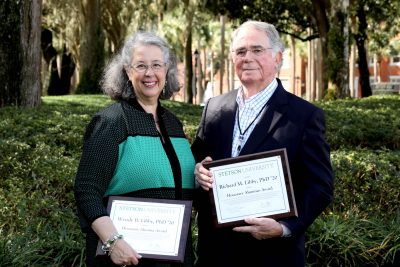 Stetson University presented awards to eight alumni on Saturday morning and surprised retiring President Wendy B. Libby, PhD, by naming her and her husband, Richard M. Libby, PhD, as "honorary alumni."
Alumni, faculty, staff and students gathered on a sunny Saturday morning on the Stetson Green for the annual President's Champagne Breakfast and Awards Presentation. Libby provided a brief update on the university and the successful completion of its fundraising campaign.
"Seven years ago, we launched the quiet phase of our campaign, Beyond Success – Significance, and we had a $200 million goal, which seemed pretty audacious to a lot of people," she told guests. "But not only did we meet that goal, we exceeded it and we raised $218 million for our faculty, staff and students."
Libby will retire in June 2020 after 11 years as president. She will be succeeded by Christopher F. Roellke, PhD, currently Dean of the College Emeritus and Professor of Education at Vassar College. He will become Stetson's 10th president effective July 1, 2020.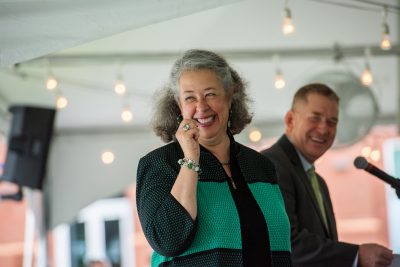 Libby said she and her husband, a former college president, plan to remain in DeLand after she retires. They are looking forward to spending more time with family, friends and each other.
"We really don't ever want to leave this community because it has been so ingrained in our hearts," she said.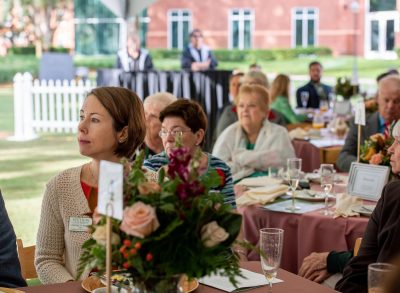 Joe Cooper '79, MBA '82, Chair of the Board of Trustees, said the Libbys have served the university with "courageous leadership" that will "continue to forever elevate the significance of Stetson."
"On behalf of Stetson University, the Board of Trustees and the Stetson University Alumni Board who have voted unanimously for us to announce that from this day forward we recognize you, Wendy B. Libby, and you, Richard M. Libby, as honorary alumni of Stetson University," he said.
The university also presented awards to eight alumni for their outstanding achievement, distinguished service and commitment to their alma mater.
The university presented two Distinguished Alumni Awards for 2019 to: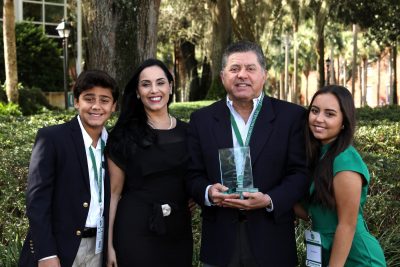 Gino Santos '82, Miami. The son of a Cuban bandleader, Santos is president of AMN Distributors/Premium Blend, which sells wine-based liquors in 39 states. Last year, he established the Orestes Santos Music Scholarship at Stetson in honor of his father.
Andrew Daire '91, MS '93, Moseley, Virginia. Daire was named dean of the Virginia Commonwealth University School of Education in 2016. He previously served in administrative leadership, faculty and research positions at the University of Central Florida, and has received more than $16 million in sponsored research funding.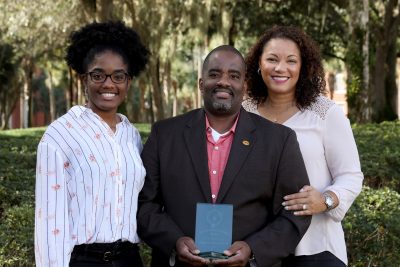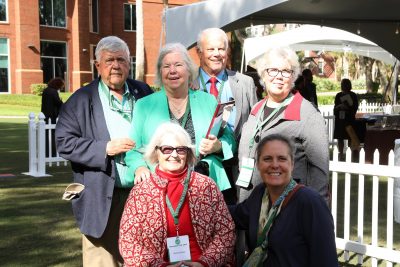 The George and Mary Hood Award, which recognizes an individual's commitment to Stetson, went to Nancy W. Bayless '62, Hendersonville, North Carolina. Bayless is a former teacher, programmer and systems analyst. After retiring, she and her husband started a consulting firm to analyze assessments and survey data for school systems. She currently serves on the university's College of Arts and Sciences Board of Advisors.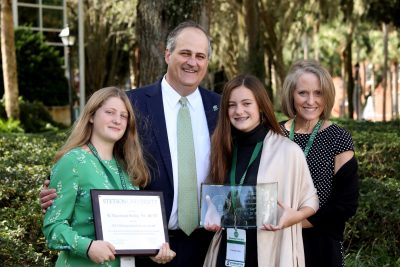 Two Distinguished Service Awards for dedicated service to the advancement of the university went to Judge William "Ray" Holley '91, JD '97, Jacksonville, and Becky O'Mara '03, Atlanta.
Holley was recently reappointed to a third term as a judge of Compensation Claims for the Jacksonville District. He served on the Alumni Board of Directors from 2011 to 2019 and was board president from 2016 to 2019.
O'Mara and her husband founded the nonprofit Bearings Bike Shop in Atlanta, where children can earn and maintain a bicycle while also developing the skills and character to be successful. The organization recently raised $2.25 million to expand and reach more youth in the community.
The Doyle E. Carlton Award for devotion to Christian higher education and contributions to Stetson was given to Rev. Priscilla J. "Prissy" Tunnell '66, Rome, Georgia. She has worked as a missionary in Vietnam for the Southern Baptist Convention and, upon returning to the United States, was assistant director of the Refugee Resettlement Office. She has held many positions in the church, including minister of music.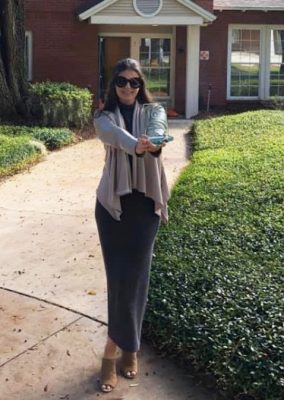 Two Outstanding Young Alumni Awards went to Kristina Tsipouras Miller '07, Milton, Massachusetts, and Peter Urscheler '06, Phoenixville, Pennsylvania.
Tsipouras started Moroccan Magic, which sells lip balm in more than 20,000 stores nationwide. She also wrote the book, "Busy Girl's Guide to Happiness," and is creating other products for her Moroccan Magic line.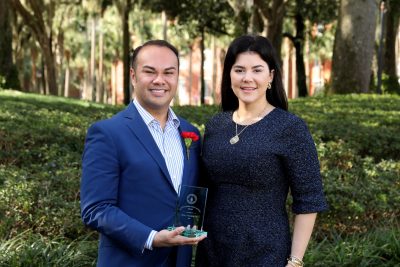 Urscheler was elected mayor of Phoenixville, Pennsylvania, in 2017, becoming the youngest mayor in the borough's 169-year history. He also was named one of the Nation's Ten Outstanding Young Americans for 2019 by JCI USA.