The Journey of an Entrepreneur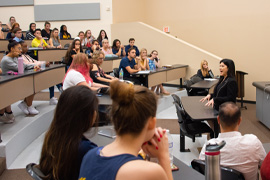 Stetson alumna and fashion designer Ashley Lauren Kerr '07 started her designer dress business, ASHLEYlauren, from the ground up about a decade ago.
Her creations have graced everyone from Eva Longoria to Miss Universe and Miss World contenders and are sold in specialty boutiques across the globe.
While Kerr has found success as an entrepreneur, the path was rarely easy, including when she was a student at Stetson, she said.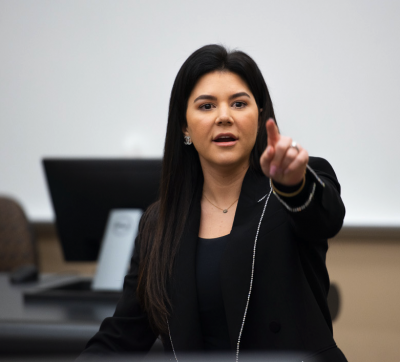 "I struggled academically when I was a student here and barely graduated, even though I always attended classes and worked hard. I could recite every word I read in 'Vogue' magazine but not a textbook," Kerr acknowledged to a packed house of nearly 150 students in Rinker Auditorium on Nov. 7.
The National Dress Day Founder was the speaker for "Entrepreneurship Thursdays," a series featuring nationally recognized speakers, pitch competitions and start-up advice to promote engagement and creative thinking.
"But I gained so much here that helped me and it can help you, too, if you're willing to be engaged and work hard for your passion. Just by being here at Stetson and enrolled in this amazing program already puts you a step ahead of your peers," she said.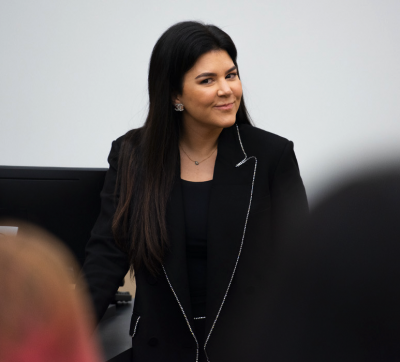 Kerr was complimentary about Stetson's Prince Entrepreneurship Program, even as she spoke candidly that her journey – like any successful entrepreneur – required persistence and hard work.
"You must be true to yourself and your ideas. You are in control. Shoot for your goals and work hard. Take advantage of things going on here at campus. Now that I'm in the 'real world,' I can see just how superior the experience is for students who attend Stetson," said Kerr.
Many students who attended Kerr's lecture were grateful for her forthrightness.
"I really appreciated how honest she was about her academic struggles here," explained Payton Kramer, a junior entrepreneur major from DeLand. "I struggle with some of my classes and hearing from Ashley inspires me to keep working hard and not give up on my dreams."
Just prior to the lecture, Kerr, who serves on the Prince Entrepreneurship Advisory Board, met with a small group of Stetson's brightest budding entrepreneurs – the Prince Entrepreneurship Leaders.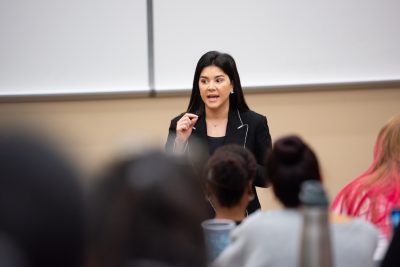 One student, Bryson Pritchard, a junior entrepreneurship/pre-med major from Ormond Beach, was the first in the group to talk about his patent for a syringe and seek her advice. What did he go home with? Another brilliant connection to none other than Kerr's dad, George, who, along with her mom, Cynthia, accompanied her on the visit to campus.
"Speaking with George really let me gain insight on how licensing agreements are conducted with ideas not yet proven in the market," said Pritchard. "He had the experience and knowledge to help someone who is just now going through it."
These valuable, genuine connections and pieces of advice are what having speakers like Kerr come to campus is all about.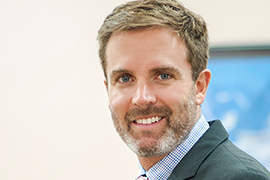 "We aim to give our students speakers who are relatable … entrepreneurs who have been in their shoes and been successful, who tell a genuine story about their ups and downs in the business," explained Lou Paris, assistant professor of Practice/Management and assistant director of the Prince Entrepreneurship Program.
"We showcase speakers who can give valuable feedback, advice and mentorship to our students. Having someone like Ashley who is an alumna of Stetson is even more relatable because she can make references that fellow alums and students understand. She's been here and can connect to them in a lot of little, important ways," he said.
Gifts of Designer Gowns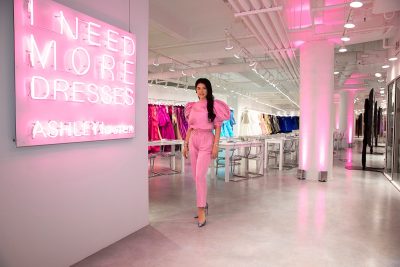 Kerr's visit included a perfect event to share and showcase her work: The Campaign Celebration on Nov. 8.
This black-tie event marked the culmination of the Beyond Success – Significance Campaign, which raised more than $200 million for student scholarships, faculty and academic support, and endowment.
True to her generous nature, Kerr gifted some of her designer gowns to five female music students who performed that evening.
Lua Hancock, vice president for Campus Life and Student Success, a self-proclaimed "soccer mom" who hadn't been in a formal dress since her wedding nearly 20 years ago, had an ASHLEYlauren custom designer dress created for the occasion.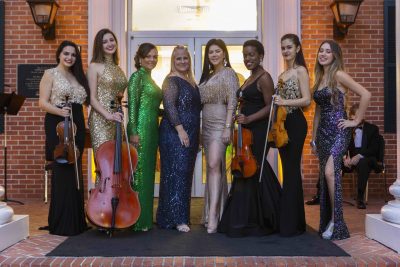 "It was fun to get glammed up and celebrate the amazing fundraising goals and give thanks to our wonderful donors," explained Hancock. "I love that Ashley makes dresses for real women. The average size she sells is a 10. I love that she wants women to feel strong and confident in her gowns."
The music majors to whom Kerr generously gifted her formalwear agreed.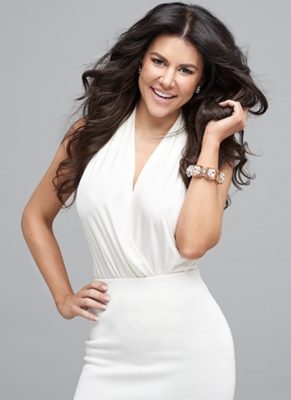 "Wearing the gown simply felt like being a part of royalty!" exclaimed Gabriella Martinez, a senior violin performance major from Miami. "As a performer, image is an extremely important factor. I strongly believe that not only should you play the part but also look the part.
"I am always in search of gorgeous performance dresses to play in and getting to perform in an ASHLEYlauren gown was an experience like no other. This experience has inspired me to work harder as a violinist as I aspire to one day perform around the world in stunning gowns," she said.
It seems fitting that they felt this way as Kerr often says: "Dresses aren't going to change the world. The women who wear them will."

-By Trish Wieland