A Stetson Trailblazer Returns to Campus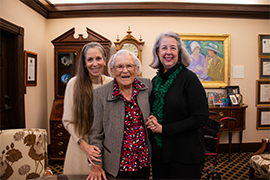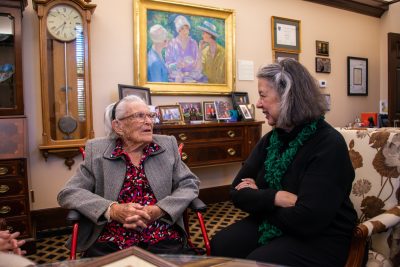 Eloise Newell Clark was a trailblazer when she arrived at Stetson in 1947 as an instructor hired to teach physical education and health courses.
At age 99, she recently returned to campus to meet Stetson President Wendy B. Libby, PhD, and other faculty, staff and administrators. She was struck by how much the campus has changed over the years.
"I've just been looking at it," she said of the campus. "All these buildings are new to me."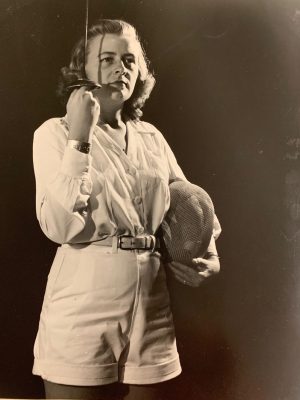 Eloise Newell taught at Stetson from 1947 to 1950, including classes in fencing, archery, tennis, kinesiology and health topics. She was a groundbreaker, earning a bachelor's degree in 1942 and a master's degree in 1947 from the University of North Carolina. Afterward, she landed a teaching job at Stetson.
She arrived in DeLand as veterans of World War II were arriving back home and enrolling in college.
"The best thing was when the war ended and all of them – I think there were about 47 who had been in the war and were coming to Stetson. And I had the best time talking to them – by myself," she said wryly, recalling that she was among a small number of female faculty.
Back then, the Stetson College of Law was located on the DeLand campus and one of its students, a war veteran, asked her on a date. Jeff Clark was a twin son of Professor Richard E. Clark, PhD, ThD, who was head librarian at Stetson and started the Sociology Department.
"When Mom met Dad in '49, he was finishing up law school," said her daughter, Dale Ann Clark of New Smyrna Beach.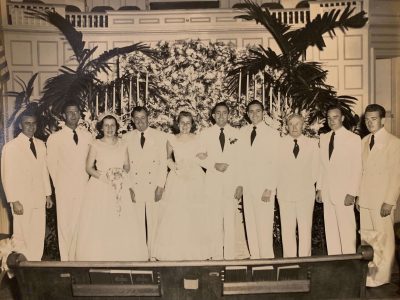 They married in 1950 and Eloise resigned her position to follow her husband to such places as New York City, Boston and Washington, D.C., while he worked as a Special Agent for the FBI for 10 years. They had three children and moved in 1960 to New Smyrna Beach where Jeff opened a law practice.
Eloise went to work as an instructor for what was then Daytona Beach Junior College, according to her daughter, and became the first female instructor hired there. Eloise was an accomplished fencer, and the sport took her twice to Russia and China.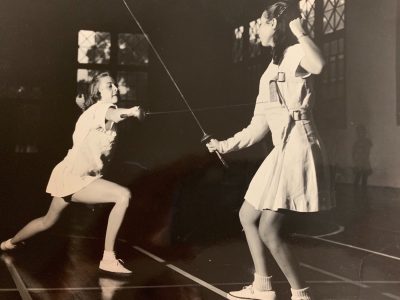 "Those women were groundbreakers in so many ways," President Libby said during her meeting with Eloise, "and not just by their education. They had to make their way in a culture that didn't necessarily think they ought to be leading."
Eloise and her daughter also met with Stetson Archivist Kelly Larson during a visit in November, spending a few hours in the duPont-Ball Library looking through old documents about her time at Stetson and her father-in-law Richard E. Clark.
Eloise's daughter wanted to learn more about the family's history at Stetson. And she arranged a tour of the campus (in a golf cart) for her mother, who turned 99 on Nov. 29.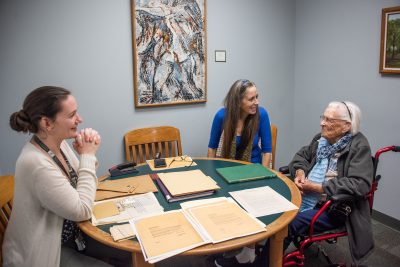 According to documents in the Stetson archives, Richard Clark came to work for Stetson in 1930 as "head of the library and department of sociology which was then in its infancy. His challenge was to get the library accredited so that John B. Stetson University could be accredited. Once this was accomplished he chose to devote his full time to teaching and continued as head of the sociology department until his retirement from Stetson in 1952."
The file on Eloise in the archives reveals an assertive young woman for her time. In one letter in 1948, she wrote to university President J. Ollie Edmunds, saying her master's degree and experience warranted more than $2,200 that she was being paid for the nine-month academic year. Edmunds agreed and increased her rank to assistant professor and her salary to $2,600.
In her resignation letter in May 1950, she wrote that she had heard the Women's Department of Physical Education may face a staff cut from five to four teachers. She appealed to President Edmunds, urging him "if it is at all possible please keep the high standards that the Women's Department of Physical Education has obtained."
He responded and wrote, "We are going to miss you here at Stetson, but we extend to you our very best wishes wherever you may go. You may be sure that whatever we do in regard to the Physical Education Department will be with the idea of raising standards of the entire University, and I know we will have your help in doing this."