Christmas Candlelight Concert Tickets on Sale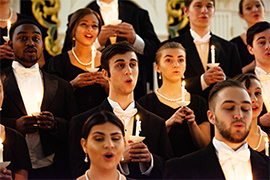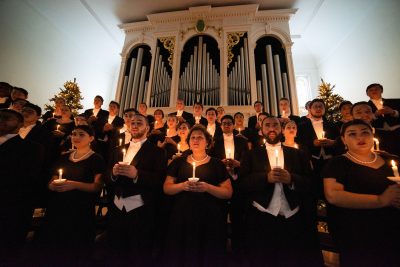 A limited number of tickets went on sale Monday, Dec. 2, for Stetson's beloved holiday tradition, the Christmas Candlelight concerts, which will begin this Wednesday night in Lee Chapel.
Three performances are set for 7:30 p.m. Wednesday, Dec. 4, through Friday, Dec. 6, in Lee Chapel inside Elizabeth Hall on the DeLand campus. The final performance will take place Saturday, Dec. 7, at 7:30 p.m. in the First United Methodist Church of Orlando, 142 E. Jackson St. in downtown Orlando.
The Christmas Candlelight concerts bring together more than 200 student musicians from three choirs — Stetson's premier touring choir, the Concert Choir, as well as the Women's Chorale and the Stetson Men. These singers will be joined by the Stetson Chamber Orchestra, members of the brass and winds from the Symphonic Band, and an organist.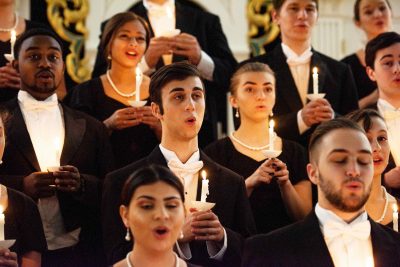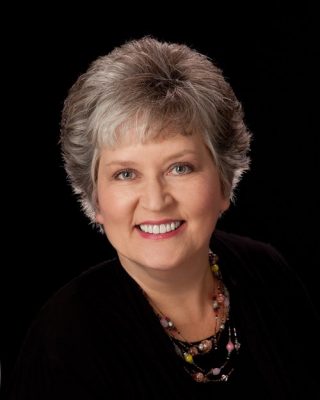 Sandra Peter, DMA, acting director of Choral Activities for the Stetson School of Music; Tim Peter, DMA, dean of the School of Music; and Andrew Larson, DMA, associate dean, will be conducting. Stetson organ Professor Boyd Jones, DMA, will perform as University Organist.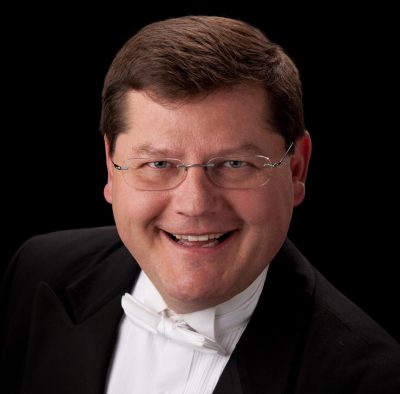 The three performances in Lee Chapel sold out months ago, but the School of Music made available a few dozen tickets for sale on Monday morning. About 50 tickets still are available for Saturday night's performance in Orlando.
Tickets cost $35 for adults, $20 for youth (ages 4-21) and $20 with a Stetson ID.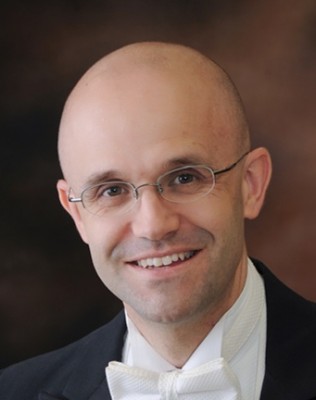 Stetson ID tickets are available only in person from Presser Hall with a university ID. Limit one ticket per ID.
To purchase tickets, visit the Stetson School of Music concert tickets website or call 386-822-8950 for more information.