Stetson dedicates Jeffrey and Diane Ginsburg Hillel House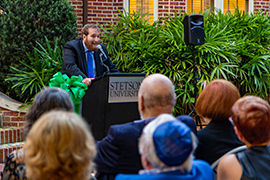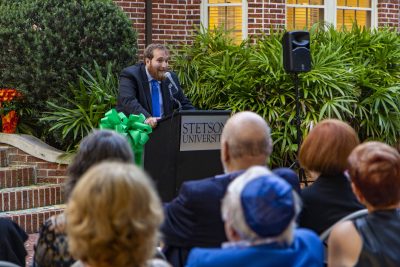 When Jeffrey Ginsburg arrived at Stetson University in the late 1980s, he "discovered that the Jewish community he had grown up with didn't seem to exist at Stetson."
He decided to create that community by starting the first chapter of Hillel, the international Jewish campus organization. A plaque inside Stetson's new Jeffrey and Diane Ginsburg Hillel House reveals how he did it: "Like any good Jewish boy, Jeffrey started with bagels."
"My dad started Hillel when he went here," said Stetson junior Joseph Ginsburg during the dedication Friday, Nov. 22, of the newly renovated, red-brick, 1930 Tudor-style home on Florence Avenue. The opening of the building, which bears the names of his late parents – both Stetson graduates — marks the first time Stetson Hillel has had its own dedicated place on the DeLand campus.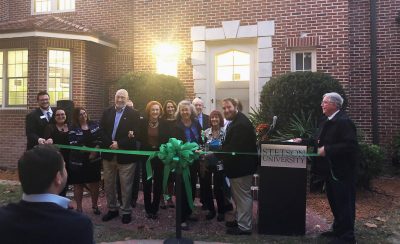 "Jews love bagels, bagels love Jews – it's a symbiotic relationship," Joseph Ginsburg jokingly told the crowd. "My dad was just one guy who really wanted to grow a community where people could have good interactions with each other. He went around with a red wagon and he would just hand out bagels to everyone. That's how the first Hillel community started here."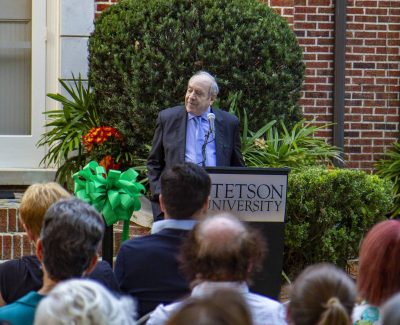 The Hillel House renovation received its major funding from a $2 million gift by the Winter Park-based Ginsburg Family Foundation, chaired by Joseph's grandfather, real estate developer Alan Ginsburg. Joseph Ginsburg is on the foundation's board.
The establishment of a physical Hillel House "was really kind of Joe's idea," Alan Ginsburg said during his remarks at the dedication and ribbon-cutting ceremony. "We are very, very proud of this."
Alan Ginsburg also praised Stetson President Wendy B. Libby, PhD, who gave the opening address at the ceremony and attended with her husband, Richard.
"Wendy, you are leaving a legacy here for everyone and for Jewish students," Alan Ginsburg said. "You have taken such an interest in preserving, promoting and advancing Jewish life here in DeLand and at Stetson. Not a lot of people would think about Stetson University having a true Jewish life program, but it really does and it's very, very exciting."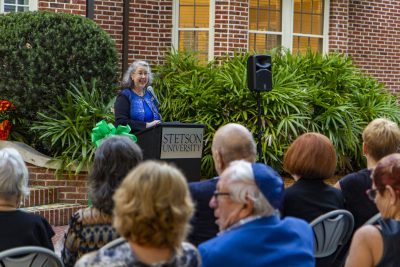 Sam Friedman, director of Hillel at Stetson, told the audience that "when I was growing up, my mother always told me that the best part about being Jewish was that no matter where you go, if you find the Jewish community, you will find family. The Jeffrey and Diane Ginsburg Hillel House is the promise that the Jewish community makes to itself. Here Jewish students can come together to watch TV, do homework and spend time with each other. …
"This house is the physical manifestation of the Jewish value that 'all of Israel is responsible for one another.' It's also the modern version of Abraham's tent: open on all sides and welcoming to anybody who passes by and anybody who needs us."
The Jeffrey and Diane Ginsburg Hillel House would not have come to Stetson had it not been for what Joseph Ginsburg described as "a truly magical and fairytale romance of two people who against all odds found each other on this wonderful campus."
"My parents met here at Stetson University very, very long ago," he said. "My mom was a New Yorker of Italian descent who came here with big dreams and a family who had just moved down to escape the evil cold. … Then one day my dad ran into my mom, and my dad decided, 'All right, cool. I'm going to eventually marry this woman.' My mom had no idea about this."
Even though Jeffrey Ginsburg graduated from Stetson in 1988 and Diane followed in 1990, it wasn't a sure thing that Joseph would follow his parents to the school. He considered other colleges, but decided that Stetson was his destiny.
In fact, his decision came down to a coin toss.
"I flipped the coin eight times and seven of those eight times it landed on Stetson. That's when I knew there was a little bit of faith and destiny involved going to the place where my parents met and had the most beautiful love story of all time," he said.
"This community (Stetson's Hillel) was started by my dad a very long time ago, and I know the one thing he and my mom would have wanted to see more than anything else is their son give a long-winded speech in front of a red brick house that was renovated to look like it was done 20 years ago," Joseph Ginsburg said. "I just want to try to do the right things for the right reasons as my dad did so long ago starting the Hillel community. I hope that many great memories are had in this building."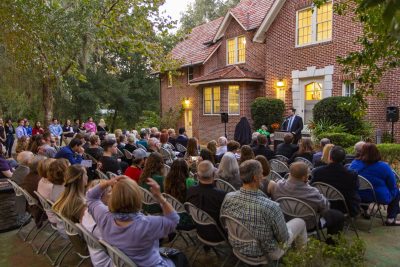 Stetson Hillel benefactors Gus Gibbs and his sister Marcia Berman, who President Libby described as "among the very first if not the first Jewish family here in DeLand," each addressed the crowd.
"I grew up in DeLand and I didn't think there would ever be a Hillel House here at Stetson University," Gibbs said.
Berman expressed a similar sentiment: "I used to take piano lessons around the corner and play my recitals in Elizabeth Hall. Who ever thought there would be a Hillel House on this campus? Never in a million years."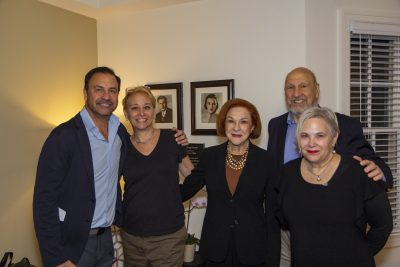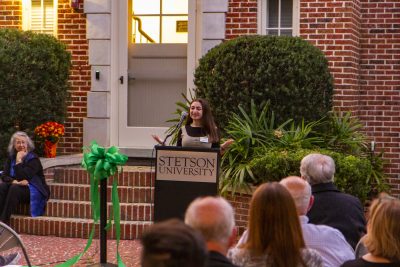 Lana Kolchinsky, a sophomore and president of Stetson Hillel, told the audience it is a tradition in Judaism to hang a mezuzah from the door whenever a new house is dedicated. A mezuzah is a piece of parchment inscribed with specific Torah verses and contained in a decorative case.
"This mezuzah is very special — it was handmade in Israel," Kolchinsky said. She recited a blessing in Hebrew as she hung the mezuzah on the door.
Afterward, the guests headed to the Stetson Room in the Carlton Union Building to enjoy a traditional Shabbat Dinner together.
— Rick de Yampert