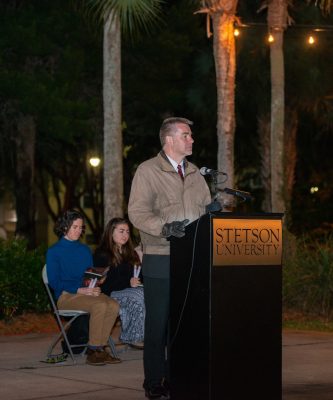 On a chilly night, the Stetson Community gathered to observe one of the university's oldest traditions, lighting the Yule Log to usher in the holidays and prepare for a new year with new opportunities.
At Stetson, the tradition can be traced back to 1938 when students lit candles in the women's residence halls. The Yule Log ceremony was added 10 years later and, according to tradition, brings good luck and happiness to those who take part. Participants cast sprigs of greenery into the fire, letting go of past burdens and starting out fresh for the new year.
Originally a pagan ritual around the winter solstice, people in ancient times in northern Europe would drag a tree in from the forest and light it for warmth. The ceremony was later adopted by Christians, although Stetson emphasizes religious inclusivity with participation by students of many faiths, including Islam, Judaism and Christianity. There were readings from the native American and Buddhist traditions, as well, said Stetson Chaplain, Sensei Morris Sullivan.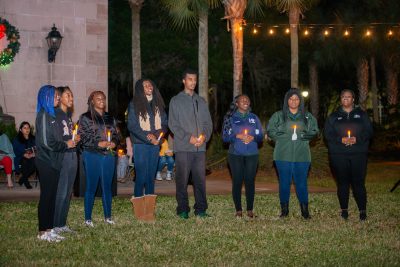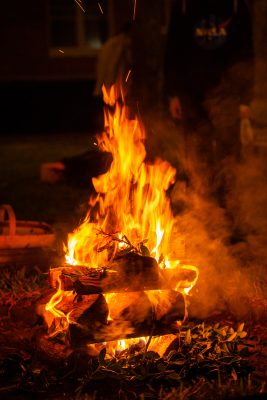 On Tuesday night, Dec. 3, the 71st annual ceremony felt in keeping with Yule Log tradition as the temperature hovered around a chilly 50 degrees. Students, faculty, staff and others bundled against the cold and lingered by the warmth of the fire.
–Stetson Today