Hatter Food Pantry Seeks Donations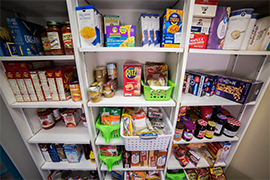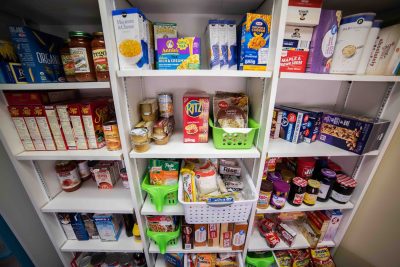 The Hatter Food Pantry is seeing an increase in students needing food and toiletries, and is asking for donations to help.
The Hatter Food Pantry is a confidential program, located in the Stetson Counseling Center, that provides food and hygiene products to students in need. The pantry is seeing more students requesting assistance as the service becomes more widely known across campus, said Nicole Currie, administrative specialist in the Counseling Center.
"The word is getting out more about the pantry, so we've seen an increase in students coming to use it that were not aware that we had it prior," she said.
The requests also increase the need for donations. Last year, the food pantry began partnering with Residential Living & Learning to put donation bins in the residence halls before winter and summer breaks for students to donate nonperishable food items. Those bins will appear again this month.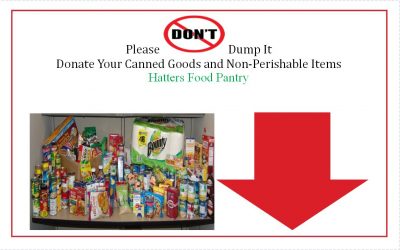 Other programs have helped to raise donations, including Stetson Rotaract and The Fellowship of Christian Athletes Club. Some staff members donate almost weekly, Currie said.
Faculty and staff who attend the Annual Holiday Luncheon by the Quality of Service Council on Wednesday, Dec. 11, will receive additional raffle tickets to win prizes if they bring donations for the Hatter Food Pantry.
"With the increase in students, the more we are trying to get donations," Currie said. "The donations are only from faculty, staff and some students. If we're running low, it's not like we can go out and buy more."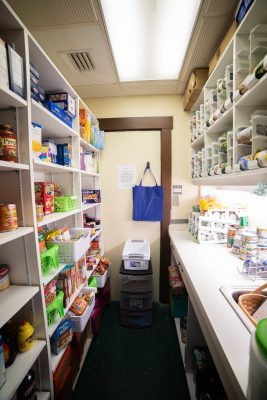 For people wanting to donate, Currie said the most popular food items for students are: granola bars, instant oatmeal, instant macaroni and cheese cups, snack crackers, peanut butter and jelly, soups, canned chicken and tuna, and ramen noodles.
Those items are convenient for students who live in residence halls and only have a microwave and small refrigerator. For students in apartments or living off-campus with full kitchens, the pantry also carries spaghetti sauce, pasta, stuffing mix and items for larger meals.
Students request assistance for a variety of reasons, Currie explained. Sometimes, their work hours may be reduced in on- or off-campus jobs and they have less money to spend. Their parents may be dealing with temporary or permanent financial issues and may not be able to contribute as much money. Whatever the reason, Currie wants students to feel comfortable coming in for a few items or a tote bag full of food and toiletries to last several days.
"The students come from all demographic groups," she said.
Currie started the pantry in 2013 when she began hearing from students in the counseling center who were struggling with food insecurity. One year later, Professor Rajni Shankar-Brown, PhD, associate professor and Jessie Ball duPont Chair of Social Justice Education and Faculty Advisor for Stetson's Student Homeless Coalition, joined the effort.
Shankar-Brown, also an Executive Board Member of the National Coalition of Homelessness, works with K-12 schools and institutions of higher education across the nation to help meet the needs of students living in poverty and homelessness through community-engaged efforts, such as creating campus pantries and resource centers.
As a co-coordinator for Stetson's pantry, Shankar-Brown works closely with Currie to increase awareness of student poverty, collect needed supplies, support students with allocating needed resources, and ensure sustainability for the pantry. Currie is also a board member of Shankar-Brown's Poverty and Homelessness Conference.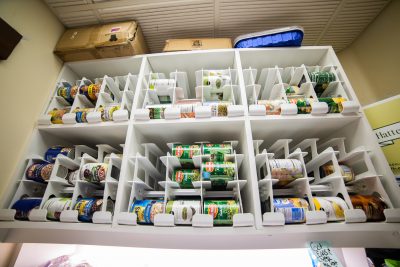 Student Counseling Services relocated into Griffith Hall in fall 2017 and a larger space was added for the pantry. The size of a walk-in closet, the pantry was filled on a recent day with canned soups, vegetables and meats, as well as snack foods, peanut butter and jelly, oatmeal, pasta and other items.
"Now that we have a bigger space, we are able to help more students," Currie said.
Students needing assistance can visit the Counseling Center. Or for more information, visit the Hatter Food Pantry webpage, call the Counseling Center at 386-822-8900 or email Nicole Currie at [email protected] or Rajni Shankar-Brown at [email protected].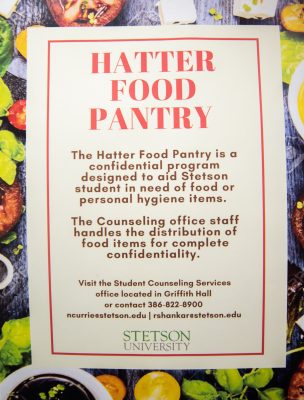 REQUESTED NON-PERISHABLE ITEMS (Note: non-glass is preferred):
Peanut butter
Almond butter
Sunflower seed butter
No or low-sugar added jams
Low-sodium canned vegetables and fruits (light syrup or preferably in natural juice)
Low-sodium canned tomatoes, pasta sauce
Rice
Low-sodium canned beans
Quinoa
Whole grain pastas
Applesauce
Multigrain cereals, oatmeal, grits, pancake mix
Crackers
Baking mixes (such as biscuit or muffin)
Instant coffee
Teabags
Spices
Healthy snacks (tortilla chips and salsa; nuts; dried fruit; low-sugar protein bars; granola; peanut butter crackers)
HOUSEHOLD ITEMS:
Paper towels
Tissues or Kleenex
Toilet paper
Hygiene items (dental products, soap, body wash, deodorant, lotion, etc.)
Feminine products (pads and tampons)
Laundry detergent
Dishwashing detergent
OTHER ITEMS:
School supplies (pencils, notebooks, folders with pockets, book bags, etc.)
Reusable tote bags
Lightweight blankets and socks