Hatterthon raises record $84,407.20 for 'Miracle Kids'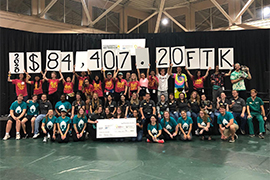 Melanie Doubleday introduced her 8-year-old daughter as "our miracle child Lauren" to the attendees of the fourth annual Hatterthon, a benefit for Orlando Health Arnold Palmer Hospital for Children held Saturday in Rinker Field House.
Then Lauren, who had undergone open-heart surgery when she was three days old, tugged on her mother's arm and whispered as they and her dad, Patrick, stood on the Hatterthon stage. "Sorry," Melanie Doubleday told the crowd. "It's Princess Lauren."
The appearance of the smiling "princess" was just one of the many activities at Hatterthon, a 10-hour event which organizers billed as a "celebration" as much as a fundraiser.
Hatterthon is part of the Miracle Network Dance Marathon, a nationwide, student-led campaign that raises funds and awareness for any one of the 170 Children's Miracle Network Hospitals in the United States and Canada — in this case, the Orlando Arnold Palmer facility. This year Hatterthon raised a record $84,407.20 for the cause, up from $62,000 last year.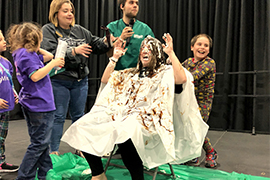 Along with periodic line dances by the 150 students in attendance to hit songs by Lil Nas X, Britney Spears and Justin Timberlake, Hatterthon featured six "Miracle Families" – parents and their children – who took the stage to share their stories of how they had benefitted from the services of the Palmer hospital, and to express their gratitude for the fundraising efforts of the students. Other Miracle Families also attended the event.
Hatterthon also featured games such as Twister and Jenga played by Stetson students with the "Miracle Kids" and their siblings, and quirky contests such as a human version of Hungry Hungry Hippos, which pitted student fundraising teams against each other. Attendees also "voted" via on-site donation jars to determine which member of the Hatterthon student executive board would be turned into a "human sundae," an honor that went to executive director Tara Tovkach.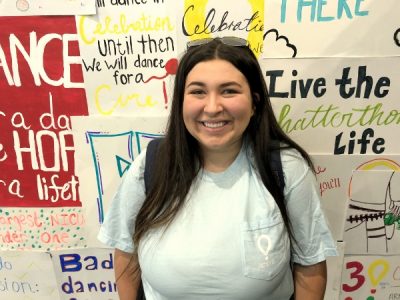 Taylor Jordao, a senior communications and media studies major who has participated in every Hatterthon since its founding, said her highlight is "getting to see the kids and interact with the kids, the actual patients from the hospital who come here every year, seeing their joy and their zest for life and how thankful they are. This event is really different than a lot of other organizations and other fundraisers, because you see firsthand the effect that you have."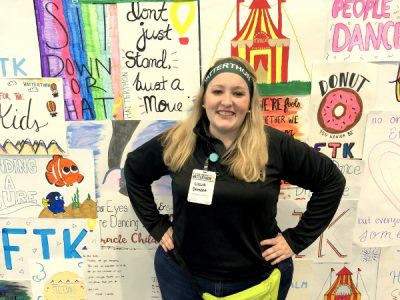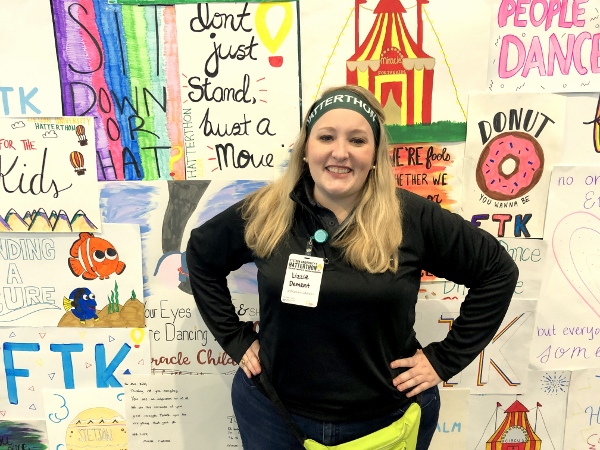 "Students fund-raise all year-round through different programs," said Lizzie Dement, Stetson's assistant director of Student Development and Campus Vibrancy, and Hattherthon's staff advisor. "Hatterthon is a culminating event that happens each year where the students stand and dance for 10 hours straight to raise money. There also will be some fundraising happening."
Tellingly, there were no chairs in the fieldhouse – students stood or danced virtually the entire 10 hours.
This year's $84,407 total was announced during a "reveal" at the end of Saturday's event. Hatterthon raised $10,000 its first year, $31,000 its second year and $62,000 last year.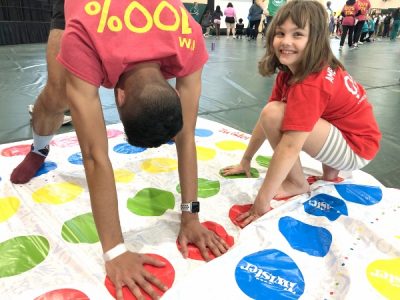 "Hatterthon is in the top five programs nationally for year-over-year growth," said Tovkach, a senior business management major who, as executive director of Hatterthon, oversees an "internal" staff of 60 students that includes a board and "morale captains" who organize and spearhead the fundraising effort.
The event's top-five growth status "is huge for Stetson," Tovkach said. "It shows how much the Stetson community is supporting us."
Tovkach began working for the University of Florida's Dance Marathon while she was a high school student in Gainesville, and she was a member of the team that founded Hatterthon.
Stetson President Wendy B. Libby, PhD, addressed the Hatterthon participants during opening ceremonies.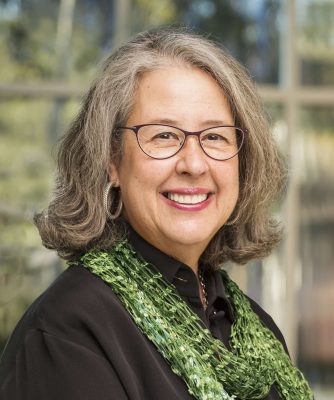 "What to me is most important is that our students and everyone at the university live our values, and the value of supporting our community is critical," Libby said before taking the stage. "And that's what we are all here to do. I'm delighted that Tara and her entire team have gotten our students energized to do this for the kids. About 10% of our student body is involved with this. That's grand."
At the conclusion of Hatterthon, awards were presented to teams and individuals for top fundraising, most spirit and other categories.
The newly christened Bellah South Bravery Award is in memory of Bellah, a Miracle Kid who died in August after attending Hatterthon for several years. A tearful Tovkach read an emotion-packed letter from Julie South expressing her family's gratitude for all that the Hatterthon community had done for her daughter.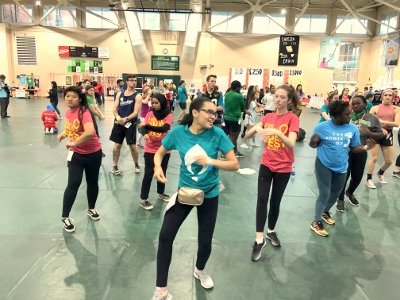 "Bellah was the bravest child I've ever met in my life," Tovkach said. "It was very tough to start the year like that, but it just ingrained deeper why we do this, because no child should have to pass away at that age."
The Bellah South Bravery Award was won by Alpha Chi Omega. Other awards were given to teams, categorized by size, for a combination of top donation amounts and top participation. This year's awards included:
• Hope Award — Pi Kappa Phi (top small team – 25 or less members)
• Healing Award — Phi Sigma Kappa (top medium team – 26 to 50 members)
• Compassion Award — Alpha Chi Omega (top large team – more than 50 members)
• The top individual fundraiser was Kelly Wu with $3,725.
• The top team was the executive board with $22,740.
— Rick de Yampert