Introducing the Dr. Wendy B. Libby Scholarship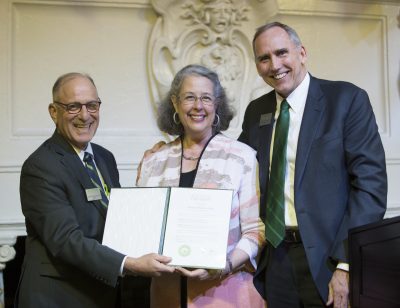 The name of Stetson President Wendy B. Libby, PhD, widely has been thought to carry significant impact long after she retires from the university on June 30.
Now, there's a new reason: the Dr. Wendy B. Libby Scholarship.
In honor of Libby's numerous contributions during the past 11 years, the Stetson University Board of Trustees has created and endowed the Dr. Wendy B. Libby Scholarship for Stetson Law students who have a Stetson undergraduate degree and a devotion to social justice.
Libby has been instrumental in uniting campuses under One Stetson, and because of the critical importance of scholarship funding and her strong commitment to issues of social justice – a commitment that aligns with the rich history and mission of Stetson – the board believed the scholarship would be "fitting tribute to a president who has done so much for this university," according to Joe Cooper '79 MBA '82, chair of the Board of Trustees.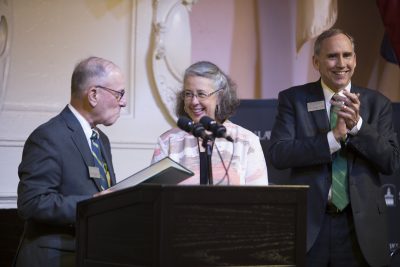 Libby received the surprise scholarship announcement Feb. 6, during a Board of Trustees dinner at Stetson's College of Law in Gulfport. As guests, the College of Law Board of Overseers also was present.
Already, internal fundraising efforts have totaled more than $111,250 from Stetson's Board of Trustees, Board of Overseers, Alumni Board and advisory boards of the College of Arts and Sciences, College of Business Administration and School of Music. The scholarship was endowed at $25,000.
With the announcement, a public fundraising effort has been launched to further grow the scholarship.
To make a gift toward the Dr. Wendy B. Libby Scholarship online, go here.
-Stetson Today