Stetson to Consolidate Remaining Students on campus March 27-29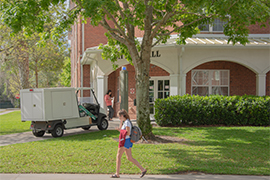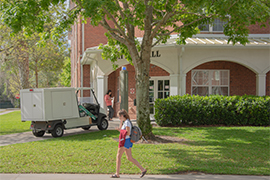 Tentative plans for Stetson students choosing to remain in on-campus housing after Monday, March 23, call for them to be consolidated for the remainder of the spring semester to Hatter Hall, University Hall or specific campus apartments.
That will mean more private living space for those students, according to Larry Correll-Hughes, assistant vice president for Campus Life and Student Success and executive director of Residential Living & Learning.
Consolidation will occur during the weekend of March 27-29.
"The consolidation will result in students moving into spaces that provide greater social distance and less student contact with others, allow on-call professionals to more efficiently conduct rounds and respond to safety needs, and offer more contingencies for resident safety, food service or higher levels of self-sufficiency in the event that movement and services are significantly restricted in the future," Correll-Hughes said.
Tentative plans also include moving assistance for students. Students leaving on-campus housing are required to do so by March 23.
As of post time for this article, the campus will remain open until the end of the spring semester on May 5, but all classes moved online March 18 for the remainder of the term. Students in on-campus housing are required to submit an online "What's Your Plan?" form by March 20, indicating if they are leaving or staying on campus.
For updates on these and other developments in response to the COVID-19 virus, see the university's web page here.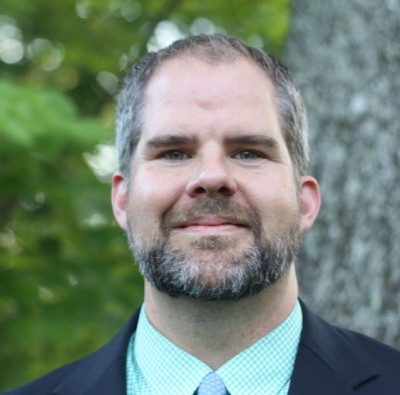 Students also should check their email for updates, and parents can go to the Stetson Parents Facebook page.
The consolidation plan is based "on the number of residents who have indicated to us their intention of staying or leaving campus by March 23," Correll-Hughes said, noting the action is "based upon current information."
A message outlining the tentative consolidation plan was sent to student residents the evening of March 18.
Students can provide input about any apartment/suitemate requests by resubmitting the form with that information.
"This is a tremendous undertaking to manage in a short time period, and trying to accommodate roommate requests is a significant undertaking in itself," Correll-Hughes said. "We will not be taking specific building requests. We have student accommodations on file and will be taking those into consideration when assignments are made."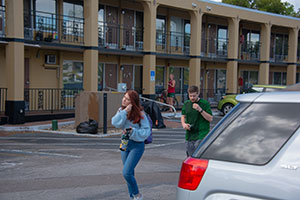 Residential Living & Learning is hoping to provide residences with individual bedrooms and with private/semi-private bathrooms.
Moving assistance "is largely dependent on the number of students that we end up relocating," Correll-Hughes added. Current plans call for Residential Living & Learning to provide a truck/trailer on March 28 to help students move belongings across campus to their new building, within designated windows of time for each building.
"Students will still be responsible for packing their belongings, carrying them to the truck/trailer and carrying them from the moving truck/trailer outside buildings," Correll-Hughes said. "If you choose to utilize this service, any items you would like transported must be clearly labeled. More information will be shared about this as we get closer to that time."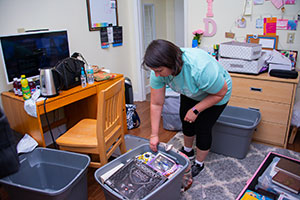 Residential Living & Learning previously had announced that students who decide not to remain in on-campus housing will need to make personal arrangements, move out and complete express check-out by March 23.
"Express check-out means to leave your room clear of personal belongings, reasonably clean and turn in your key to either the Residential Living & Learning office at University Hall, 644 N. Woodland Blvd., between 8 a.m. and 8 p.m., or with an available Resident Assistant," the announcement read. "You may move out at any time between now and March 23, if you submit the online form. If you need a move-out extension, please communicate the expected date and time on the form. Parents and family may help you move out, but we would ask you to limit their time in the buildings by having items packed and ready."
Correll-Hughes hopes departing students completing their move-out on March 23 can do so "as early as possible, but before the close of business is preferred."
"We always work with students who have extreme extenuating circumstances, and anyone who is leaving but unable to leave by the end of the day on March 23 should resubmit their form with that information in the comments section and we will reach out to them if necessary," he said.
Students in residential housing taking the option to return home early, who notify Residential Living and Learning through their online form by March 23, will receive a $400 credit for Fall Semester 2020 housing. Graduating seniors will receive a $400 refund.
The campus will remain open and services such as dining, the duPont-Ball Library, Health Service, counseling and on-campus tutoring will still be available. However, the hours those services operate may be limited, depending on the number of students who choose to stay.
– Rick de Yampert