Stetson University Outlines New Measures for Business Continuity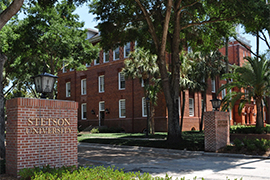 Stetson University continues to adjust its services and hours, following a stay-at-home order from Florida's governor, aimed at slowing the coronavirus outbreak.
Gov. Ron DeSantis issued an executive order effective Friday, April 3, that requires people statewide to stay at home until April 30, except to conduct essential activities.
Under the order, private colleges and universities are considered essential. But activities are allowed only as needed to maintain or facilitate the online delivery of academic programs and to accommodate students who cannot return home, the university wrote in an email this week to students, faculty and staff.
Many offices, including Career and Professional Development, Academic Success, Wellness and Recreation, Community Engagement, Counseling Services, the duPont-Ball Library and Diversity and Inclusion, are providing their services to students virtually.
Given the order, residential students are no longer allowed to have visitors on campus, unless the visitor is approved to help the student move out. Currently, 394 students remain in residence halls on the DeLand campus.
Commuter students are asked to visit campus only for essential services, such as accessing the Hatter Food Pantry, using a meal plan and attending a health service appointment.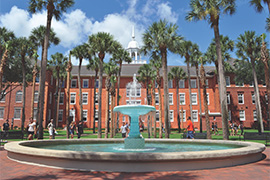 Prospective students and their families can continue to access Stetson's new daily Virtual Information Sessions and Virtual Tour.
Here are other key updates for Stetson's DeLand campus. Stay up to date on the university's announcements by visiting the Stetson Coronavirus Communication website.
• Stetson Health Service remains open from 8 a.m.-noon and 1-4:30 p.m., Monday through Friday. For everyone's protection, you must call ahead to schedule an appointment at 386-822-8150. If you have an urgent after-hours COVID-19 concern, call Public Safety at 386-822-7300 to be connected to assistance.
• Student Counseling Services is offering individual counseling services via telephone/telehealth for the rest of the semester. For an appointment, please call (386) 822-8900 during office hours, Monday through Friday from 8 a.m. to 4:30 p.m. (closed daily from noon to 1 p.m. for lunch). If you are experiencing an immediate mental health crisis, call WellConnect at 833-848-1765 to speak with an on-call counselor.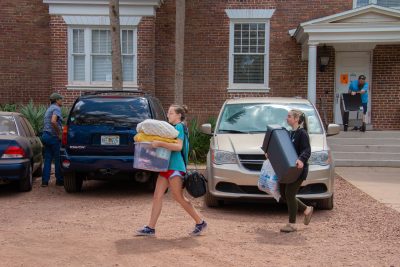 • Public Safety remains available 24/7 by calling 386-822-7300. They also can be reached through a Blue Light Phone on campus or the Stetson Safety App.
•The Carlton Union Building will remain open 24 hours a day, 7 days a week with card access. Card access points are on the North Lobby entrance door (near the Bookstore) and the Coffee Shop door. Feel free to use the CUB space with appropriate social distancing. The CUB will have a staff member at the Welcome Desk or at tables outside of the Coffee Shop on Monday through Thursday from 10 a.m. to 2 p.m. to answer any questions.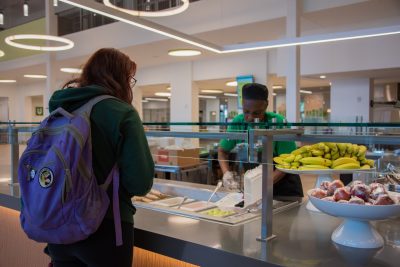 • The Lynn Commons Dining Hall is open 9 a.m.-1 p.m. for brunch and 5-7 p.m. for dinner, seven days a week. The Coffee Shop is open 7 a.m.-4 p.m., Monday through Friday. Food orders are to-go only and the hours will continue to be assessed. Einstein Bros Bagels and BYOB: Build Your Own Burrito are closely temporarily.
• The One Stop (Registrar, Bursar and Financial Aid offices) is open through card-scan access into the Welcome Center on Monday-Friday, 10 a.m.-2 p.m. Students who plan to return to Stetson for the 2020-21 Academic Year should complete their FAFSA as soon as possible.
• Effective Monday, April 6, the Post Office will be open for mail and package pick-up on Monday-Friday, 10 a.m.-2 p.m. To have mail forwarded to a non-Stetson address, use this form.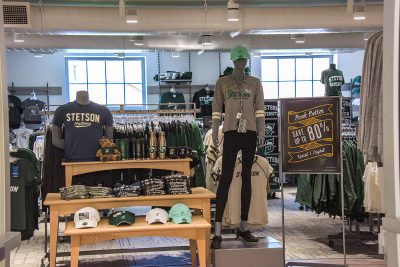 • The Campus Bookstore will be open Monday through Friday, 10 a.m. to 2 p.m., effective Monday, April 6.
• The 24/7 Computer Lab (Room 15 L) on the ground floor of the duPont-Ball Library remains open. Use the card swipe to enter and practice social distancing while in the library. Other services through the duPont-Ball Library will continue to be offered online and by email. Equipment can be checked out and picked up outside by appointment only. See more information on library services here.
• The Hatter Food Pantry is accessible by calling Public Safety at 386-822-7300 and setting up a time to meet them at Griffith Hall for pantry access.
• The Prayer and Meditation space in Griffith Hall is open from 8 a.m. to 10 p.m. daily. The office asks that only one person use the space at a time, in order to maintain safe social distancing.
•Residential Living & Learning will remain open Monday-Thursday, 10 a.m.-2 p.m. in University Hall.
Other Key Information:
What to do if you or someone else is sick or fears exposure?
Any member of the Stetson community who has been to campus in the last 14 days and feels they may have come into direct contact with the virus causing COVID-19 or is experiencing flu-like symptoms (fever over 100.3, cough, shortness of breath, possible nausea/diarrhea, possible loss of taste/smell) should alert Stetson immediately. Fill out this online form: Stetson University: COVID-19 Report a Concern Form. During business hours, call Health Service (386-822-8150). After business hours, call Public Safety (386-822-7300). If you are concerned about someone else's exposure, also let us know — don't just tell them to do so. This applies to our College of Law students, faculty and staff.
To reach Career & Professional Development: All career-advising services are provided virtually through phone or video appointments, or a new Career Chat. Students can still take advantage of the various services and career competency information (such as exploring careers and majors, internship/job searching, and preparing for graduate/professional education), which are available on the webpage. There will also be online internship orientation and virtual career fairs available in April. Students seeking Summer Internships will find notifications posted on HatterJobs and the CaPD webpage, and should watch social media and their email for other availabilities. Graduating students will receive a phone call offering assistance with their future plans during March or April.
To reach Academic Support: All of the Academic Success services are available online. These include Academic Advising, Tutoring and Student Peer Instruction, Accommodations and Disability Services, Success Coaching, the Writing Center and Services for Student Athletes. For more information or to schedule services, visit the Academic Success website, email [email protected] or call (386) 822-7345.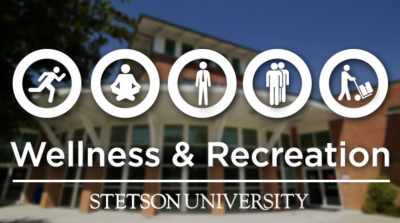 For Wellness and Recreation: The Hollis Center is closed until further notice. Wellness and Recreation is offering a number of virtual options for the community to engage in health and wellness, regardless of their location. Check out the online fitness, yoga and meditation classes.
For Religious and Spiritual Life: Chaplains will provide Pastoral care with one-on-one meetings in-person or via technology. Chaplains will continue to manage outreach regarding students and hospitalization, grief, etc. Meditations are being conducted online at 8 a.m. on Wednesdays. Anyone interested can contact Sensei Morris Sullivan at [email protected]. Hillel will host a livestream every Friday of candles, kiddush and challah. Anyone interested in participating can contact Sam Friedman at [email protected].
For the offices of Diversity & Inclusion, and Student Development & Campus Vibrancy: The Cross Cultural Center is closed temporarily. All activities for LEAD, FOCUS, Fraternity & Sorority Involvement, and Campus Organizations will move forward on a virtual platform. Watch your email and social media for more information.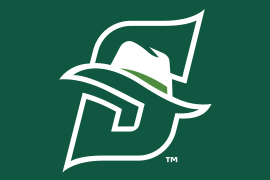 For Technical Support: Stetson's Office of Information Technology is available for assistance with MyStetson, Blackboard and email. There are several online resources on the main IT page and an online form to report problems.
For free Internet: Charter, the parent company of Spectrum News, operates in 41 states, and is offering free broadband and Wi-Fi by calling 844-488-8395.
-Compiled by Stetson Today