Dr. Wendy B. Libby Week, June 1-8, 2020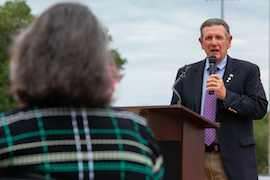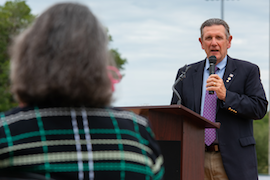 The setting seemed especially appropriate.
Since the announcement of her retirement more than 16 months ago, it has been widely viewed that Wendy B. Libby, PhD, hit a home run as the ninth president of Stetson University.
So, there she was on May 18, standing near home plate at Melching Field in front of a few university officials and DeLand city administrators — as social distancing suggests — to be recognized for exceptional achievement.
In honor of her university presidency and in gratitude for her 11 years of cooperation and commitment to the local community, Robert Apgar, mayor of DeLand, proclaimed June 1-8, 2020, as Dr. Wendy B. Libby Week. Libby also received a Key to the City.
The event was a surprise to Libby, who had arrived expecting to be at the stadium for a different reason.
The Official Proclamation detailed Stetson's impressive growth and development since July 2009, when Libby took office, replacing the retired H. Douglas Lee, PhD. Effective June 30, Libby will do the same, departing with another ambitious leader waiting in the wings, Christopher F. Roellke, PhD, who will arrive from Vassar College in New York.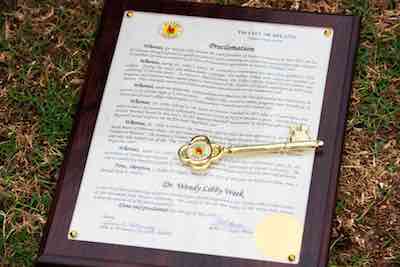 Libby's list of legacy accomplishments at Stetson is lengthy. As highlighted in the proclamation, the university eclipsed the goal for its recent capital campaign, with Libby serving as the chief fundraiser. In turn, those donor dollars helped to build new facilities. Also, during her tenure the university's endowment more than doubled.
Meanwhile, undergraduate enrollment on the DeLand campus nearly doubled to an all-time high of approximately 3,100 students; Stetson Football returned following a 57-year hiatus, and new sports teams were added; numerous academic programs were introduced; and the physical appearance of the campus rose to match the university's overall enhanced stature.
Further, Libby was active and influential in the community. At the podium, after Apgar read the proclamation, he recalled his first meeting with Libby and the impression she left.
"She had it … and she had a vision for the university," he stated.
Apgar revealed that initially he hoped Libby would build on the foundation that existed between the city and Stetson. "Little did I know," he said. "I just envisioned maybe a 'three-story building.' It turned out to be a 'skyscraper.'"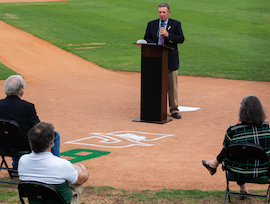 Apgar praised Libby's leadership and pointed to the recently renovated Carlton Union Building on campus as a shining example of her impact at Stetson. He cited that the city's original plan to honor her included a Stetson game at city-owned Melching Field, where the university had helped to grow the facility and where the Hatters had enjoyed great success over the years.
Subsequently, due to the pandemic, that plan was shifted to outside the CUB. Then it was moved back to Melching, the result of new social-distancing restrictions near the CUB.
"The way that [CUB] facility has been transformed is very representative of her. She truly have been a transformational leader for this university," Apgar said.
Also, Apgar thanked Richard Libby, PhD, Libby's husband seated nearby, for his service and urged him, with a smile, to try to "slow her down and get her to change from 90 miles an hour to maybe 25 miles an hour."
Finally, when presenting the Key to the City, Apgar commented, "What this key to Dr. Libby best represents is her ability to unlock the hidden potential of Stetson University."
Libby, at the podium, offered an altered version of her first meeting with Apgar and other city leaders. Eleven years ago, that meeting came weeks after originally scheduled because she had been sick. Even at the meeting, she still didn't feel well and shortly thereafter had her gall bladder removed.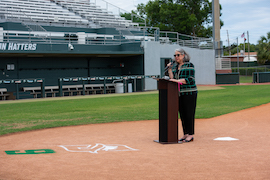 "I didn't have the most auspicious beginning when I started here with the city," Libby said. "But everything from that point on has been a real pleasure, as well as a treasure for us."
Libby then spoke about her plans to remain a resident of DeLand — "Richard and I have always felt embraced by the city" — and she thanked the small gathering of university dignitaries in attendance for never losing sight of academics. Among others, they included Provost Noel Painter, PhD; Bob Huth, executive vice president of finance and CFO; Lua Hancock, EdD, vice president of Campus Life and Student Success; Athletics Director Jeff Altier; and longtime donors Hyatt and Cici Brown.
"If we hadn't had vibrant academic leadership," she said to them, "we would never be where we are."
And, of course, Libby thanked her husband, who was in tears, before she starting to shed her own. In a time of great uncertainty everywhere, that wasn't a surprise.
In the end, the City of DeLand's proclamation, presented on a baseball field at home plate, provided further affirmation of a presidency that is coming to a close.
Libby, indeed, had hit it out of the park.
-Michael Candelaria