Keeping the Stetson Community informed, May 27 update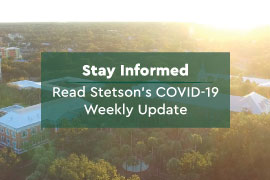 Weekly Update, May 27, 2020
This is a weekly status report on the work of the COVID-19 Budget Priorities Working Group for the DeLand campus, the Safer Campus Task Force for both the College of Law and DeLand, and other ongoing academic, safety and health, student life and fiscal planning that may impact the Stetson community. Our next update will be Wednesday, June 3, at 10 a.m., but additional information may be released or posted as needed.
Webinars took place on Wednesday, May 27, for DeLand faculty and staff, and College of Law faculty and staff in Gulfport. A webinar for current students and parents was held on Friday, May 29, and a webinar for new students is scheduled for this week.
The webinars are being recorded and posted to the Coronavirus Communications website.
Academic Planning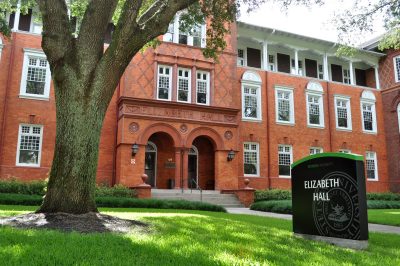 Academic planning at both the DeLand campus and College of Law is active and underway. The provost and deans have formed working groups to tackle three primary issues facing Stetson University as it prepares to welcome students back:
Fall 2020 Schedule Working Group: The purpose is to address the fall calendar, examining everything from start date, end date, fall break, even Values Day, to determine the preferred schedule for the fall semester in scenarios that include residential and online education. The group will be chaired by Provost Noel Painter, PhD, and includes faculty and staff representatives from across the DeLand campus with experience, expertise and connection to academic calendar issues, including representation from undergraduate and graduate programs, the registrar's office, the Academic Affairs Committee of the Faculty Senate and CLaSS.
Face-to-Face (F2F)/Socially Distanced Education Working Group: Assuming the university is able to have residential education in the fall, this group will discuss what needs to be put in place in order for that to safely occur for students, staff and faculty. Some questions to be addressed include: What does it look like to have in-person classes in a safe way? How do we build in the flexibility necessary for quarantined students or faculty in a semester, or international students who can't travel, or high-risk students and faculty who need to be accommodated? There are questions about technology that we may need to invest in now to facilitate the fall semester. The group will be chaired by Neal Mero, PhD, dean of the School of Business Administration, and includes faculty representatives from each school and college, IT and facilities staff, a public health expert and a faculty senate representative.
Fall 2020 Special Policies Working Group: Knowing that the fall 2020 semester will involve remote or online learning to a greater extent than our current policies address, the Special Policies group will consider what revised policies, or newly created polices, may be considered in order to advance normal faculty processes (e.g., peer observation), ensure the best student experience (e.g., examining expectations for synchronous pedagogy in online classes), and other academic policies (e.g., pass/fail). The group will be chaired by Elizabeth Skomp, PhD, dean of the College of Arts and Sciences, and includes members of the Council of Undergraduate Associate/Assistant Deans; members of UCCAP and a faculty senate representative.
Special Summer Session
In addition to Fall 2020 planning, the DeLand campus announced special summer sessions for new students and special seminar experiences.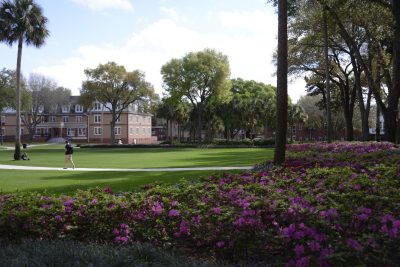 Starting June 18, Stetson is offering new students the opportunity to participate in one-unit, credit-bearing classes in a variety of courses specifically for incoming students, including public speaking, psychology, health and wellness, digital arts, economics, history, math or computer science. For this special session, faculty also are offering students a chance to get an early start on our signature Stetson First Year Seminar. Some of the courses may apply to general education requirements, but all of them provide a great opportunity for new students to engage with Stetson faculty in learning, exploring and expanding their Stetson experience.
During the session, faculty also will be offering short, concentrated virtual seminar experiences of one, two or three partial days. These are non-credit, non-graded learning adventures and there is no cost to the student for participating.
Budget Priorities Working Group
The COVID-19 Budget Priorities Working Group is preparing to provide an interim report on budget priorities based on scenarios and potential budget shortfalls of 5%, 10% and 15% to President Wendy B. Libby, PhD, and President-elect Christopher F. Roellke, PhD, by Monday, June 1. A more in-depth set of recommendations are expected prior to a Thursday, June 25, special Board of Trustees meeting.
On Tuesday, May 26, the working group reviewed operating budget reductions provided by each department and research on potential savings from hiring freezes. There was also great support for ensuring recommendations are consistent with Stetson's mission and the working group's principles. The working group meets again on Thursday to review recommendations and remains on track to deliver their interim report.
Comments and questions can be sent to [email protected]. The working group can't respond to all the emails but will review the information.
Safer Campus Task Force
The Safer Campus Task Force continues its work on creating a safe campus environment and wants the Stetson community to know about its extensive protocol to respond to illness and potential COVID-19 exposure in the Stetson community. Stetson has an existing Infectious Disease Management Protocol that was launched in March in response to the COVID-19 pandemic, even though there weren't any known cases of the disease on campus at that time.
The protocol is designed to better ensure the health and safety of the Stetson community, to assist community members in receiving the services they need, and to mitigate the impact of infection if it is discovered on campus. It seeks to bring together all of the expertise from across Stetson into a unified team.
Stetson has instituted a series of steps that are followed to ensure that students — living both on and off campus – will receive the support they need, from dining services to academic assistance and financial relief. Employees are provided assistance through Human Resources.
An outline of Stetson's response is available along with a list of frequently asked questions focused on health care and assistance. However, if you have additional questions, this group established [email protected] to gather community comments and feedback. We want to thank everyone for their comments. Though we cannot respond to each comment individually, we are reviewing the comments and questions received.