Keeping the Stetson community informed, May 20 update
May 20, 2020, Update:
Starting with this update, the university will report weekly on the status and work of the COVID-19 Budget Priority Working Group for the DeLand campus, the Safer Campus Task Force for both the College of Law and DeLand, and other ongoing academic, safety and health, student life and fiscal planning that may impact the Stetson Community. Our next update will be Wednesday, May 27, at 10 a.m., but additional information may be released or posted as needed. Webinars are scheduled for DeLand faculty and staff on Wednesday morning, May 27, and for DeLand students on Friday afternoon, May 29. Check your email for times and information on how to register.
Budget Priorities Working Group
The recently formed COVID-19 Budget Priorities Working Group is informed and guided by Stetson principles of integrity, transparency and confidentiality, and learning excellence. It is focused on the health and safety of our community, and the university's financial stability and strength. Comprising faculty, staff and a student, it is co-chaired by the university's Provost and Chief Financial Officer. The purpose of the working group is to make recommendations by early June to President Libby and President-elect Roellke based on the impact of the COVID-19 pandemic on Stetson University with potential scenarios of 5%, 10% and 15% reductions in financial resources. These reductions would be focused in DeLand where the substantial financial strains are expected to occur. The College of Law is projected to meet enrollment goals although there are still concerns with the strength of the college's waitlist and the level of discount offered to incoming students.
The group recently established [email protected] to gather community comments and feedback. We want to thank everyone for their comments to date and wish we could respond to each one.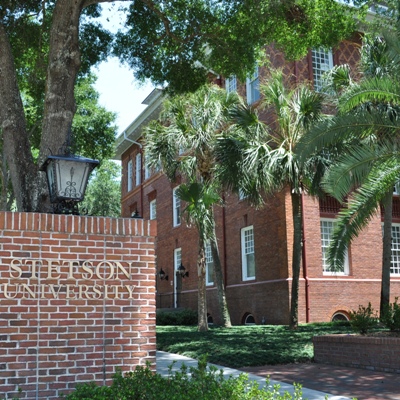 Like many institutions Stetson is grappling with the immediate and long-term financial shock of COVID-19 beyond the uncertainty of fall enrollment, and including the substantial loss of net revenue from the cancellation of programs, camps, housing and dining revenue during the summer.
According to the most recent entering enrollment projections for the DeLand campus, improvements in undergraduate fall recruitment over the past few weeks is encouraging, moving from a double-digit deficit to single digit, but the pandemic has introduced a high measure of uncertainty. To inform our academic program decisions and enrollment forecasting for this upcoming fall, Stetson has engaged the Art & Science Group, a nationally recognized research firm, to assess new and continuing student sentiment towards learning modality, preferences, and health and safety. Results will be available in early June and will sharpen our planning and forecasting.
The past few meetings of the Budget Priorities Working Group featured wide-ranging discussions with Melissa Peter, associate vice president for Budget & Financial Planning, examining the university budget, and potential reductions in operational expenses, salary and benefits, and capital expenditures. As we have seen recently announced by other small- to mid-sized institutions, these might include reductions in whole categories of operating expense such as travel and memberships, or in elimination of salary increases for the upcoming year, a graduated scale of pay reductions, reductions in retirement program deposits, and delays in renewal and repair expenses.
President Libby and President-elect Roellke will receive and consider the working group's budget recommendations, along with guidance from our Safer Campus Task Force. These will inform decisions for the final 2020-21 budget due to be submitted to the Board of Trustees at a specially called meeting on June 25. That budget may include triggers for further reductions as fall enrollment, housing and dining revenue are solidified. The late June date was requested to allow as much time as possible for the university to fully understand the legal, regulatory and financial impact of the pandemic on the institution and community. Stetson remains committed to returning to an in-person, on-campus learning environment, but will make its final announcements on plans for Fall 2020 in June.
Safer Campus Task Force Update
Stetson University has been making plans for the return of students, staff and faculty to campus. The Safer Campus Task Force (SCTF) is tasked with advising university leadership on the operational elements and programs necessary to prepare Stetson University campuses in DeLand and Gulfport. We put health and safety at the forefront of all of our decisions, following protocols and guidelines established by the Centers for Disease Control and Prevention (CDC) and the Florida Department of Health (DOH). Additionally, the senior medical experts at the NCAA are working with the CDC to inform recommendations regarding athletic competitions and practices.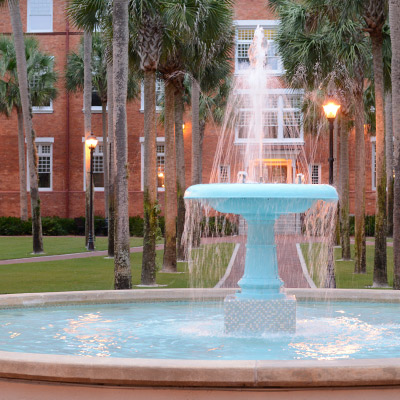 Bringing the community back together involves many decisions and moving parts – the volume is daunting. Nevertheless, the task force wants to keep the community updated as decisions are made and the work comes together.
We are committed to a phased-in return to campus for staff, faculty and students. We encourage your ideas and suggestions. Please send them to [email protected]. Because of the volume of work to be done, we will not be able to respond to all of your emails, but we appreciate your suggestions and feedback.
For now, below is a list of the work that has already been completed or is actively being developed.
Personal protection
One reusable mask will be provided to each person in the community. Masks should be washed after use. If you need more masks, please bring them with you to campus.
Appropriate additional PPE will be provided to workers whose jobs require it (Facilities, Public Safety, RAs, Health/Sports Health, On-Call staff) and student athletes.
Disinfecting wipes and hand sanitizer will be available through the University Warehouses and College of Law Facilities Department for daily cleaning of frequently used surfaces. Offices do not need to purchase these items on their own independent of the university.
Hand sanitizer will be placed throughout the university in commonly used spaces
Location of installation of plexiglass barriers is under active consideration.
Cleaning
Increased cleaning protocols have been implemented by Facilities Management including:

More frequent cleaning of surfaces that are touched often such as doorknobs, light switches, countertops, etc.
Increased frequency of cleaning bathrooms and use of EPA-registered disinfectant
Installation of hand sanitizers in common areas throughout campus
Review and modification of custodial schedules to manage increased cleaning frequencies as campus locations re-open.
Health care
A detailed protocol is in place for community members who may have COVID-19 or may have been exposed to someone who has COVID-19. The protocol includes support from Health Service, the DOH, campus professionals, Residential Living and Learning, and Human Resources.
Students, staff and faculty on all campuses have access to Health Service (386-822-8150) during regular office hours. After hours COVID concerns should call Public Safety at 386-822-7300. They also can use an online form at Stetson.edu/report-it.
Options for expanded testing for the presence of COVID-19 and/or antibodies are being considered.
A screening process for all university members and visitors has been established.
Information
Campus-wide signage will include (departments or other areas do not need to order their own):
6-foot social distancing markings on floors in commonly used spaces
Door signage, yard signs
Social media messaging
Health messaging
An updated and re-designed COVID-19 website is being developed.
Videos are being created to help viewers understand how to prevent the spread of COVID-19, what to do if you feel sick, the importance of cleaning commonly used spaces, and other information.
Gatherings
Limits on the size of gatherings will be continually re-evaluated.
Options for various types of residential space are being considered.
A virtual FOCUS Orientation and new student check-in is being organized.
Guidelines for wearing a mask are being reviewed.
A social distancing policy is being developed.
Consideration is being given to re-opening some physical spaces for summer.